22 August in Indian and World History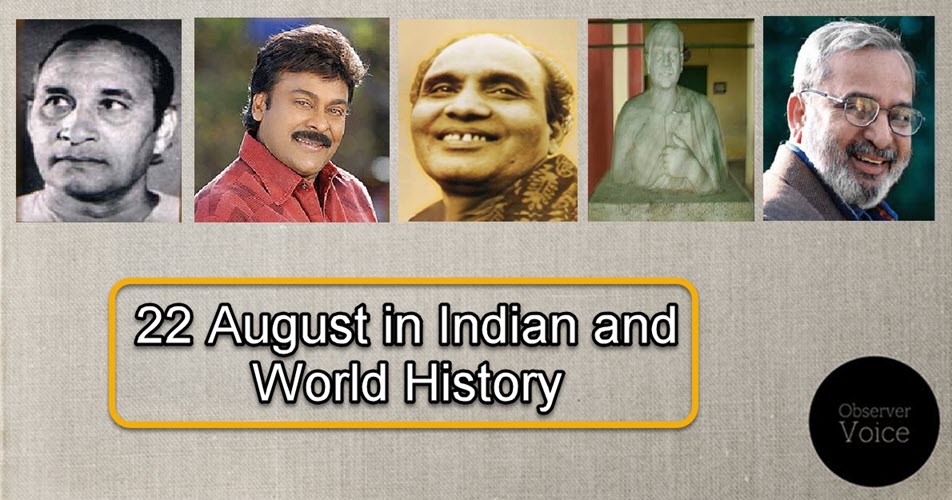 22 August in Indian and World History is celebrated, observed, and remembered for various reasons.22 August is the birth anniversary of Girijakumar Mathur, Harishankar Parsai, Iliyas Azmi, and Chiranjeevi.
22 August is also observed as the death anniversary of U. R. Ananthamurthy, and Dwarkanath Vidyabhusan.
Birth Anniversary
22 August in Indian history is celebrated as the birth anniversary of the following personalities:
Girijakumar Mathur (22 August 1919 – 10 January 1994), a poet, playwright, and critic. He served All India Radio for a long time. There are new uses of color, form, rasa, emotion, and craft in his poetry. The main poetry collections are, the main poetry collections are 'Destruction and Creation', 'Major, 'Paddy of Sunshine', 'Shoulder of Rock', 'Who could not bind', 'Witness the present', 'Journey within the river', 'I am of time' Front' and 'Shadow don't touch the mind' etc. He has also written short stories, plays, and critiques. Girijakumar Mathur's poetry collection 'Main Waqt Ke Hoon Samne' has been awarded the Sahitya Akademi Award. Apart from editing the literary magazine 'Gagananchal' of the Indian Council of Cultural Relations, he has also written stories, plays, and criticisms. He Born on 22 August 1919 in Madhya Pradesh.
Harishankar Parsai (22 August 1922 – 10 August 1995) a famous Hindi writer and satirist. He was the first Hindi writer, who gave satire the status of a genre and brought it out of the traditional purview of light-hearted entertainment, and linked it to the wider questions of society. His satirical creations do not create tickle in our mind Rather, it puts us face to face with social realities from which it is almost impossible for any person to stay away from it. Harishankar Parsai has caught very closely the truths of the middle-class mind, which is increasingly hollow in our social and political system. While ridiculing social hypocrisy and orthodox life-values, he has always presented conscience and scientific outlook in a positive way. There is a special kind of familiarity in their language and style. Harishankar Parsai was more influenced by 'Karl Marx'. Among his major works, "The Amulet of Virtue" was one of the famous works, in which he has prominently engraved the psychology of bribe-giving. Parsai was Born on 22 August 1995 in Madhya Pradesh.
Iliyas Azmi, an Indian politician. Azmi was a member of parliament from Uttar Pradesh. He represented Shahabad (Lok Sabha constituency) in 2004 and Kheri (Lok Sabha constituency) in 2009 from Bahujan Samaj Party. He later joined Aam Aadmi Party and quit Aam Aadmi Party and PAC in 2016. He married Late Smt. Badarunnisa on 2 May 1950. He has four sons and four daughters. He was educated at Roztul Olum, Phulpur as a Hafiz. He was Bon on 22 August 1934 in Utter Pradesh.
Chiranjeevi, a famous film actor and politician of South Indian cinema. Today's biggest lead of the Telugu film industry 'Tollywood', Chiranjeevi has played a leading role in more than 100 films in his film career spanning three decades. Chiranjeevi has been honored with the Nandi Award four times. Apart from this, the Government of India has also presented the 'National Award' to Chiranjeevi. Apart from films, Chiranjeevi is also active in politics. The craze of his fans towards him is worth seeing. Chiranjeevi's real name is 'Konidel Shiv Shankar Vara Prasad'. In the year 2008, Chiranjeevi founded a regional political party named 'Praja Rajyam Party, which means 'People's Raj', with the aim of providing social justice to all sections of the people in Andhra Pradesh. In the 2009 assembly elections, Chiranjeevi's party won eighteen seats, but in 2011 his party formally merged with the ruling Congress in Andhra Pradesh. Apart from his films and party, Chiranjeevi has also been recognized as a social worker. Chiranjeevi Charity Trust was established by Chiranjeevi in ​​1998 which has a blood bank and several eye banks (eye donation centers). The Andhra Pradesh government has also rewarded his organization for the highest blood donation. He was Bon on 22 August 1955 in Andhra Pradesh.
Read More: 21 August in Indian and World History
Death Anniversary
22 August in Indian history is observed as the death anniversary of the following personalities:
R. Ananthamurthy (21 December 1932 – 22 August 2014), a noted Kannada writer, critic, and educationist who was awarded the Jnanpith Award. He is considered to be the 'pioneer of the Navya movement' of Kannada literature. His most famous work is 'Sanskar'. He was the sixth of the eight Kannada litterateurs to receive the 'Jnanpith Award. He also served as the Vice-Chancellor of 'Mahatma Gandhi University, Thiruvananthapuram, and 'Central University, Gulbarga. He was awarded 'Padma Bhushan' by the Government of India in 1998 for his remarkable contribution to the field of literature and education. In the final list of 2013 Man Booker Prize winners, U.K. R. Ananthamurthy was also chosen. He has also been the Vice-Chancellor of 'Mahatma Gandhi University in Koyattam, Chairman of National Book Trust, and President of Kendriya Sahitya Akademi, New Delhi. He died on 22 August 2014.
Dwarkanath Vidyabhusan (1820 – 22 August 1886), an Indian scholar, editor, and publisher of the trendsetting weekly Bengali newspaper Somprakash. After initial education in the traditional center of village education, the pathshala, Dwarkanath joined Sanskrit College, Kolkata in 1832, and studied there up to 1845, winning many prizes and earning fame as a scholar. He won the title of Vidyabhusan in his last examination. He had a short stint as a teacher in Fort William College and then joined Sanskrit College as a librarian. He published a monthly magazine Kalpadrum for some time. Once he went and stayed in Varanasi for some time and was shocked by the wretched situation of religion and morals. He died on 22 August 1886.
Read More: 20 August in Indian and World History
Notable events on 22 August in Indian and World history
22 August 1894 – The Natal Indian Congress was founded by Mahatma Gandhi.
22 August 1918 – India's first proficient pilot Inderlal Rai was killed in aerial combat with Germany in London during the First World War.
22 August 1921 – The Father of the Nation Mahatma Gandhi lit Holi of foreign clothes.
22 August 1979 – President Neelam Sanjiva Reddy dissolved the Lok Sabha.
22 August 1996 – The state government changed the name of Madras to Chennai.
22 August 1999 – The International Labor Organization's Action Plan for Equal Remuneration for Equal Work came into force.
22 August 2007 – Egyptian archaeologists discovered human footprints about two million years old in an area outside the Western Desert.
22 August 2007 – Spacecraft Endeavor, on a two-week mission to repair the International Space Station, landed safely at the Kennedy Space Center in Florida.
22 August 2008 – The Madhya Pradesh government decided to do away with the simple forest offense cases and recovery of compensation for the Banavasis.