Mirza Ghalib, an Indian poet.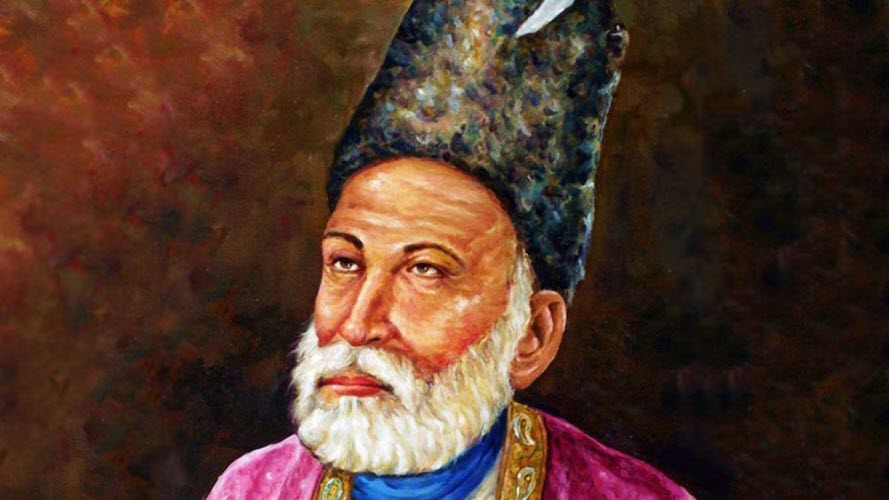 Mirza Ghalib was an Indian poet. He wrote mostly in Urdu and Persian.
EARLY LIFE
Mirza Ghalib was born on 27 December 1797 in Agra, Uttar Pradesh, India. He studied Persian and Arabic and at 11, he started writing poetry. At 13, he got married to Umrao Begum, and moved to Delhi, where he spent the rest of his life.  He spoke Turkish and Arabic, as well as Urdu and Persian. When Ghalib was a teenager, an Iranian tourist who had converted to Islam stayed at his house for two years and taught him Persian, Arabic, philosophy, and logic.
In his letters he chronicled his sense of humour, the mischief he took part in, and his sense of history. He describes his marriage in one of his letters as the second imprisonment after the first ones. It's a recurring theme in his poetry that life is an endless struggle that ends only when life itself ends.
Before he was a teenager, Ghalib started writing poetry. Also fluent in Turkish and Arabic, he spoke Urdu and Persian. The writer and journalist Khushwant Singh wrote in Outlook magazine in 2003, "It's strange how Ghalib thought deep emotions could only be expressed in Persian and didn't write in Urdu." "Fortunately, he changed his mind in time and left behind a veritable treasure trove of gems."
AT MUGHAL COURT
Mirza Ghalib got the title "Dabir-ul-Mulk" from Emperor Bahadur Shah Zafar in 1850. It also got the title "Najm-ud-daula" from the emperor. Mirza Ghalib became part of Delhi's nobility after being awarded these titles. As a result of receiving the title of 'Mirza Nosha' from the emperor, he got the name Mirza. During the reign of the emperor, he was also a major courtier. Since the Emperor was himself a poet, Ghalib became his poet tutor in 1854. He was also appointed as the royal historian of the Mughal Court and tutor to Prince Fakhr-ud Din Mirza, the eldest son of Bahadur Shah II.
DEATH
He died on 15 February 1869, Chandni Chowk, Delhi, India