22 November in Indian and World History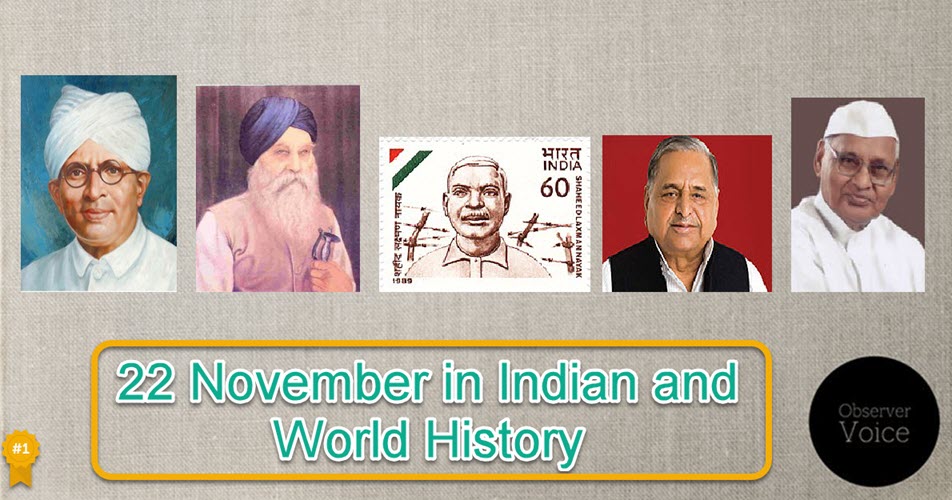 22 November in Indian and World History is celebrated, observed, and remembered for various reasons. 22 November is the birth anniversary of Jhalkari Bai, Walchand Hirachand, Santi Ghose, Laxman Nayak, and Mulayam Singh Yadav.
22 November is also observed as the death anniversary of Master Tara Singh, Ram Naresh Yadav, and Viveki Rai.
Birth Anniversary
22 November in Indian history is celebrated as the birth anniversary of the following personalities:
Jhalkari Bai (22 November 1830 – 1890), the commander of the women's wing 'Durga Dal', in the regular army of Rani Lakshmibai of Jhansi. She was also a lookalike of Lakshmibai, so she used to fight in the guise of a queen to deceive the enemy. Even in her last days, she was caught by the British while fighting in the guise of a queen and the queen got an opportunity to escape from the fort. She thwarted many attacks of the British army while fighting with amazing valor against the British army along with the Rani of Jhansi in the First War of Independence. If one of Lakshmibai's generals had not betrayed her, the 'Jhansi Fort' would have been almost impenetrable to the British army. The story of Jhalkari Bai can still be heard in the folklore and folk songs of Bundelkhand. She was born on 22 November 1830 in Bhojla Village, Jhansi.
Walchand Hirachand (22 November 1882 – 8 April 1953), one of the famous industrialists of India. They were pioneers in upgrading the country at the level of industries and facing foreigners. Walchand Hirachand established a factory in Visakhapatnam for the manufacture of ships. He was born on 22 November 1882 in district Solapur, Maharashtra.
Laxman Nayak (22 November 1899 – 29 March 1943), a tribal civil rights activist of South Odisha in eastern India. He belonged to the Bhumia tribe of Odisha.
Santi Ghose (22 November 1916 – 1989), an Indian nationalist who, along with Suniti Choudhury, assassinated a British district magistrate when she was 16 years old. She is known for her participation in an armed revolutionary struggle. Ghose was born on 22 November 1916.
Mulayam Singh Yadav (22 November 1939), a famous politician and former Chief Minister of Uttar Pradesh. He is a farmer leader and known as 'Netaji' and 'Dhartiputra' among the people. Mulayam Singh has been the Chief Minister of Uttar Pradesh thrice, from 1989 to 1991, from 1993 to 1995, and from 2003 to 2007. He has also decorated the post of Defense Minister once in the Central Government. He is the former President of the 'Samajwadi Party' of India. About Mulayam Singh Yadav, Chaudhary Charan Singh used to say – "He is a big leader of small stature". He was born on 22 November 1939 in Etawah, Uttar Pradesh.
Read More: 21 November in Indian and World History
Death Anniversary
22 November in Indian history is observed as the death anniversary of the following personalities:
Master Tara Singh (24 June 1885 – 22 November 1967), a famous staunch Sikh leader, recruited Sikhs to join the army during the First World War. As a result of this, the British Government had given separate communal representation to Sikhs like Muslims in the 'India Act' of 1919. Apart from being a Sikh leader, Tara Singh was also a journalist and writer. He also supported the 'Civil Disobedience Movement' of the Father of the Nation, Mahatma Gandhi. He did the work of headteacher in the school of Lyallpur, due to which the word 'master' was associated with his name forever. He died on 22 November 1967 in Chandigarh.
Ram Naresh Yadav (1 July 1928 – 22 November 2016), a well-known name in Indian politics as a politician. Progressing socially as a teacher and an advocate, Ram Naresh Yadav later came to be called an honest and value-oriented helper of the common man and a veteran politician. Ram Naresh Yadav, a lawyer by profession, joined the 'Janata Party' influenced by the ideas of Rajnarayan. In 1977, he became a member of the Sixth Lok Sabha by winning the Azamgarh Lok Sabha seat. During this time, he became the Chief Minister of Uttar Pradesh on 23 June 1977 and remained in this post till 15 February 1979. Later he joined the Congress Party and also held various positions in the organization. He died on 22 November 2016 in Lucknow, Uttar Pradesh.
Viveki Rai (19 November 1924 – 22 November 2016), a famous litterateur of Hindi and the Bhojpuri languages. He was the representative creator of rural India. Vivek Rai had authored more than 50 books. He was well-versed in fine essays, fiction, and poetry. Even today Vivek Rai is known by the nickname 'Kaviji'. He died on 22 November 2016 in Varanasi.
Read More: 20 November in Indian and World History
Notable events on 22 November in Indian and World history
22 November 1943 – US President Franklin Delano Roosevelt, British Prime Minister Winston Churchill, and Chinese ruler Chiang Kai-shek met to defeat Japan during World War II.
22 November 1950 – 79 people died in a rail accident in Richmond Hills, USA.
22 November 1963 – the United States in Dallas (Texas). The assassination of US President John F. Kennedy.
22 November 1967 – The United Nations passed the 242nd resolution directing Israel to return the land.
22 November 1968 – The proposal to change the name of Madras State to Tamil Nadu was approved by Lok Sabha.
22 November 1971 – India and Pakistan violated each other's air borders and air conflicts began between the two countries.
22 November 1975 – Juan Carlos became King of Spain on this day.
22 November 1989 – Mars, Venus, Saturn, Uranus, Neptune and Moon came in the same line.
22 November 1990 – Announcement of resignation by British Prime Minister Margaret Thatcher.
22 November 1997 – India's Diana Hayden became the world beauty.
22 November 1998 – Controversial Bangladeshi writer Taslima Nasreen surrendered in Dhaka court.
22 November 2000 – Sanctions by the United States on Pakistan and Iran.
22 November 2002 – hundreds of people were killed in the riots that broke out in Nigeria against the organization of the Miss World pageant.
22 November 2005 – Renowned Hindi poet Kunwar Narayan was selected for the Jnanpith Award for the year.
22 November 2006 – India and six other countries of the global consortium signed a historic agreement in Paris to set up a primary fusion reactor that produces solar-like energy.
22 November 2007 – Strict announcements were made to tackle the problem of illegal migrants in the UK.
22 November 2008 – Mahendra Singh Dhoni, the captain of the Indian cricket team, threatened to leave his post.