Time is an asset that is distributed equally among all living species regardless of their existence as humans, animals, poor, rich, white, or blue-collar professionals. just 24 hours — neither a second less nor a second more. However, different individuals use their 24 hours very differently. Some of us use our body, some of us use our mind. Some of us use neither and remain flowing with what comes in takes us through. Effective usage of mind and body truly defines what we pursue in our life. Also, we are in a world, where attention is becoming an extremely rare commodity because of the presence of social media, glaring advertisements. These are pulling our attention towards them. As a result, it is extremely important to conserve energy and apply where these should be applied. Here are five books on Time Management that will help you to conserve your time and energy and help to carry out your goals.
How to Live on 24 Hours a Day by Arnold Bennett
This is possibly the shortest and time-proven book on time management. The shortness of the book also aligns with the ethos — how to convey the message in the shortest time and number of pages. Also, a classical book was initially published 100 years back in 1907 and is extremely relevant in today's context as well. The author instructs his readers on how to live life to the fullest, given that there are twenty-four hours in a day and always so much to conduct. Managing time, not money, is the true route to happiness. you can get more money. But time is parceled out at the same rate for everyone, no matter their class or income. Time, the rarest commodity, cannot be made to last, but it can be lived. And by living it properly, anyone can improve their level of satisfaction and happiness. The book advice to separate the 24 hours into two parts: 8 hours for the workday and the remaining 16 hours for personal time. Further, advice includes focusing on one job for an extended period, on average 50 minutes. The author also recommends starting small and reminding yourself about the future courses of work while you walk to prepare yourself subconsciously.
The author does not recommend reading novels for self-improvements, but his preference is poetry. In his view, literature is not the only means of self-improvement. Other reading can be beneficial, including learning more about your business, learning about the "causes and effects" of things, and learning about history and philosophy which are often perceived as contrary to today's thoughts.
Four Thousand Weeks: Time Management for Mortals by Oliver Burkeman

Burkeman authored the book. He is an award-winning feature writer for The Guardian, where he wrote the weekly column, "This Column Will Change Your Life". He's also the author of The Antidote: Happiness for People Who Can't Stand Positive Thinking. The book was published in 2021.
The book derives its name "Four Thousand Weeks" based on assumption that any human will live four thousand weeks if there is a life span of eighty years. The author sees the reckless need of keeping and checking to-do lists; the ceaseless battle against distraction; becoming more productive; a deluge of advice on becoming more productive and efficient end up in making human life uglier and worst.
The book draws understanding from philosophers, psychologists, and spiritual teachers to present an entertaining, humorous, practical, and profound guide to time management. Rejecting the futile modern fixation on "getting everything done", The introduces readers to tools for constructing a meaningful life by embracing finitude, showing how many of the unhelpful ways we've come to think about time aren't inescapable, unchanging truths, but choices we've made as individuals and as a society—and that we could do things differently.
15 Secrets Successful People Know About Time Management by Kevin E. Kruse
The book was written by New York Times bestselling author, Kevin Kruse and published in 2015. The book derives insight from an interview of seven billionaires, thirteen Olympic athletes, twenty-nine straight-A students, and 234 entrepreneurs, and presented as 15 secrets of phenomenally successful people.
In this book, you'll learn: Why millionaires don't use to-do lists, how to cure procrastination with the "Time Travel" trick, how to find your REAL priorities, how to get to zero emails in your inbox using 321Zero, how the simple E-3C system will double your productivity, how to reduce stress with the Richard Branson Tool, how to leave work at 5:00 without feeling guilty, how to run meetings like Apple, Google & Virgin, and how to conquer social media distractions.
Time Management for System Administrators: Stop Working Late and Start Working Smart by Thomas A. Limoncelli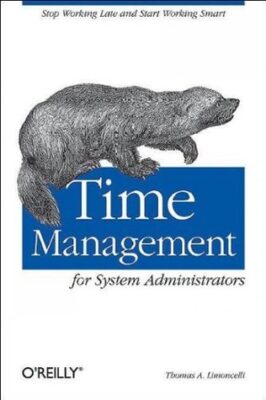 The book is written by Thomas A, an American system administrator, bestselling author, and speaker. It was published in 2005. It is written from a system administrator point of view; however, it is equally relevant to all time-management enthusiasts. The author observes that a system administrator is always interrupted with requests, preventing them from getting anything done. The answer to such a problem lies with time management. Thomas Limoncelli has put together a collection of tips and techniques that will help them to cultivate the time management skills they need to flourish as a system administrator. The book offers insight to manage interruptions, avoid timewasters, maintenance of effective calendar, a method to develop routines for things that occur regularly, automation of the certain process. Moreover, it also offers tips on how to apply these time management tools to our social life.
Do It Tom

orrow and Other Secrets of Time Management by Mark Forster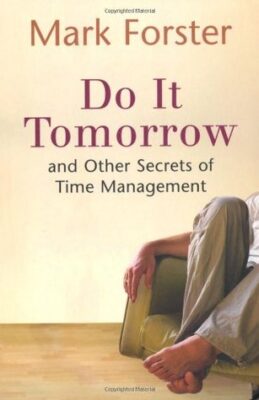 The book is written by Mark Forster, a British author, business coach, and army veteran. It was published in 2008. The book is focused on time-management enthusiasts who have trouble completing assignments on time as well as anyone looking to lead a well-organized life. This innovative handbook takes a unique approach to time management.
Efficiency expert Mark Forster shows that prioritizing tasks is never a sufficient approach to organizing a schedule and is rarely even helpful. In the place of prioritization, he posits several radical new ideas, including closed lists, the manyana principle, and the 'will do &' list. Innovative forms of communication that are designed to produce effective conversation and planning are also provided. The result is a complete system that will boost efficiency and simultaneously decrease stress and overworking.