Motorcycle Expedition to Dras Flagged in Honour of Kargil War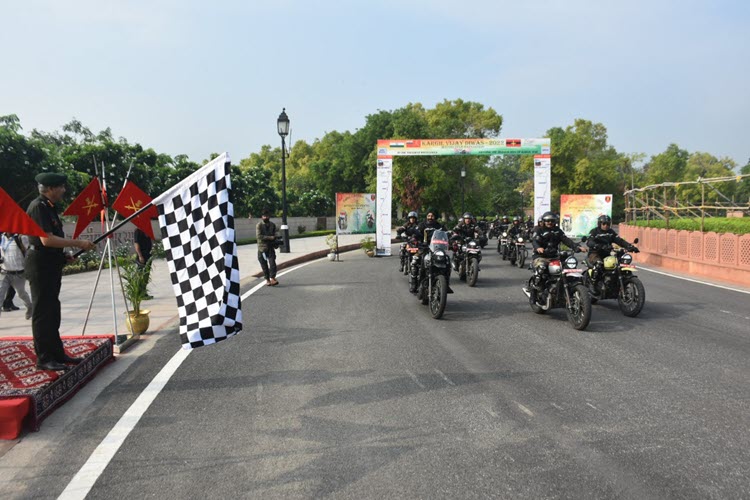 A Motor Bike expedition has been organized by the Indian Army from New Delhi to the Kargil War Memorial at Dras (Ladakh) to commemorate 23 years of victory over Pakistan in the Kargil War of 1999. On 18 July 22, Lt Gen B S Raju, the Vice Chief of Army Staff, flagged off the 30-member rally from the National War Memorial, New Delhi.
In the next six days, the team of 30 serving personnel will attempt to replicate the indomitable spirit of the Kargil brave-hearts by rekindling the spirit of strength, courage, and adventure that is synonymous with the Indian Army. The bike rally will pass through Haryana, Punjab, Jammu & Kashmir, and Ladakh before culminating at the Kargil War Memorial in Dras on 26 July 22. To provide maximum coverage, the rally is being split into two teams, travelling along two different axes; the Zojila Pass axis and Rohtang Pass axis, covering a distance of 1400 km and 1700 km, respectively. In an effort to reach remote locations along the route, the team will traverse high mountain passes and arduous tracks during the rally.
Through the rally, the message of patriotism will be spread by highlighting the bravery and determination demonstrated by our brave soldiers.
Another team of defence forces, to mark India's 75th anniversary, the Indian Army and Indian Air Force are teaming up to conduct a historic cycling expedition. Cycling 1600 km in 24 days will culminate at the Kargil War Memorial in Drass on 26th July 22 as a fitting tribute to the brave martyrs of the Kargil War.
Kargil Vijay Diwas is observed on the 26 July. On this date in 1999, India successfully took command of the high outposts. The Kargil war was fought for more than 60 days and ended on 26 July 1999.
It was on this day, the Indian Army recaptured all the Indian posts in Kargil that had been occupied by Pakistan's army. Since then, July 26 has been observed annually to commemorate the sacrifices made by soldiers in this war.
Read Also: Armed Forces Flag Day and its Significance