7 August in Indian and World History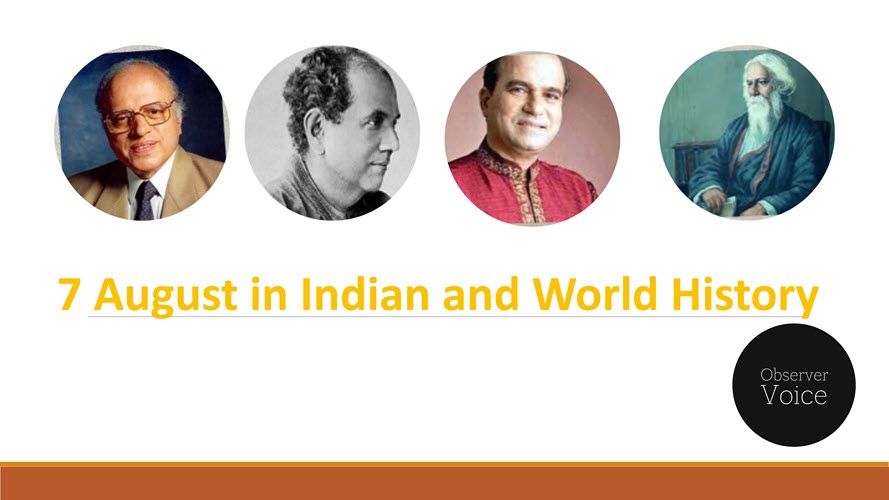 7 August in Indian and World History is celebrated, observed, and remembered for various reasons. 7 August is the birth anniversary of Abanindranath Tagore, Suresh Wadkar, M. S. Swaminathan, and Rajmohan Gandhi.
7 August is also observed as the death anniversary of Rabindranath Tagore and M Karunanidhi.
 Birth Anniversary
7 August in Indian history is celebrated as the birth anniversary of the following personalities:
Abanindranath Tagore (7 August 1871 – 5 December 1951) was the founder and principal artist of the "Indian Society of Oriental Art". In addition, he was the first major exponent of Swadeshi values in Indian art. He founded the Bengal school of art, which contributed to the development of modern Indian painting. He was born in Jorasanko, Calcutta, British India, to Gunendranath Tagore and Saudamini Devi. His grandfather was Girindranath Tagore, the second son of "Prince" Dwarkanath Tagore. An illustrious member of the Tagore family, he was a nephew of the poet Rabindranath Tagore. Gaganendranath Tagore, his elder brother, was also an artist.
Mankombu Sambasivan Swaminathan is an Indian agronomist, agricultural scientist, plant geneticist, administrator and humanitarian. In the green revolution, Swaminathan is regarded as a global leader. For his role in introducing and further developing high-yielding wheat and rice varieties in India, he has been called the principal architect of the green revolution. His leadership as Director General of the International Rice Research Institute (IRRI) in the Philippines was instrumental in his being awarded the first World Food Prize in 1987, recognized as the Nobel or the highest honours in the field of agriculture. He has been referred to as 'the father of economic ecology' by the United Nations Environment Programme. In 1925, he was born on 7 August.
Suresh Ishwar Wadkar is an Indian playback singer. He performs in both Hindi and Marathi films. He has sung songs in some Bhojpuri films, Odia albums and bhajans and in Konkani films. He was awarded the Sangeet Natak Akademi Award for 2018 for Sugam Sangeet. In 2020, the Government of India honoured him with the Padma Shri. He was born on 7 August 1955.
Rajmohan Gandhi is an Indian biographer, historian, and research professor at the Center for South Asian and Middle Eastern Studies, the University of Illinois at Urbana-Champaign, US. His paternal grandfather is Mahatma Gandhi, and his maternal grandfather is Chakravarthi Rajagopalachari. He is also a scholar in residence at the Indian Institute of Technology Gandhinagar. He was born on 7 August 1935.
Read More: 5 July in Indian and World History
Death Anniversary
7 August in Indian history is observed as the death anniversary of the following personalities:
Rabindranath Tagore (7 May 1861 – 7 August 1941) was a Bengali polymath – poet, writer, playwright, composer, philosopher, social reformer and painter. He was highly influential in introducing Indian culture to the West and vice versa, and he is generally regarded as the outstanding creative artist of early 20th-century India.  He not only gave the national anthems for two countries, India and Bangladesh but also inspired a Ceylonese student of his, to pen and compose the national anthem of Sri Lanka.
M Karunanidhi (3 June 1924 – 7 August 2018) was an Indian writer and politician who served as Chief Minister of Tamil Nadu for almost two decades over five terms between 1969 and 2011. He had the longest tenure as Chief Minister of Tamil Nadu with 6,863 days in office. Before entering politics, he worked in the Tamil film industry as a screenwriter. He also made contributions to Tamil literature, having written stories, plays, novels, and a multiple-volume memoir.
Read More: 4 July in Indian and World History
Notable events on 7 August in Indian and World History
 7 August 1905-Indian National Congress declares boycott of British goods.
7 August 1938 –  Konstantin Stanislavski, a seminal Soviet Russian theatre practitioner, died.
7 August 1947-The Bombay Municipal Corporation formally takes over the Bombay Electric Supply and Transport (BEST).
7 August 1985-Geet Sethi became the third Indian to become the World's Armature Billiard's Champion.
7 August 2018-Swedish furniture brand Ikea opens its first store in India in Hyderabad.
National Handloom Day is observed every year on 7 August. It aims to honour of the handloom industry and its weavers across India. This Year, India will observe the 7th National Handloom Day.