5 August in Indian and World History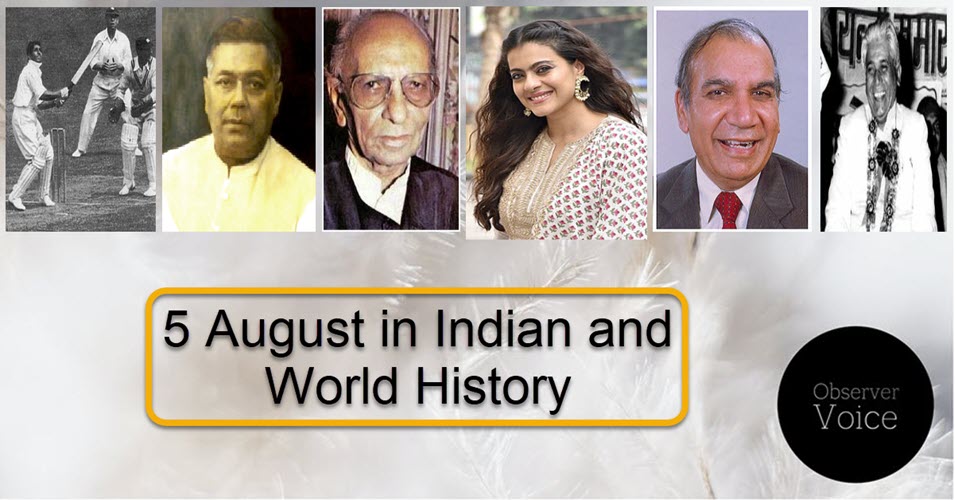 5 August in Indian and World History is celebrated, observed, and remembered for various reasons. 5 August the birth anniversary of Acharya Pyare Mohan, Dwarka Prasad Mishra, Shivmangal Singh 'Suman, and Kajol.
5 August is also observed as the death anniversary of Gopinath Bordoloi, Lala Amarnath Bharadwaj, and Pran Kumar Sharma.
Birth Anniversary
5 August in Indian history is celebrated as the birth anniversary of the following personalities:
Acharya Pyare Mohan (5 August 1852 – 2 December 1881) was a prominent nationalist of Orissa. He started the publication of a letter named 'Utkal in his student life itself.' In 1875, due to his efforts, a high school was established, which is now famous as 'Pyare Mohan Academy'. In the Oriya language, Pyare Mohan wrote the history of Orissa. Pyare Mohan started spending more of his time in social work. He wanted to bring social and political justice to the backward people of Orissa. For this purpose, Pyare Mohan started the publication of a newspaper named 'Utkal Putra' in his student life itself. He used to express his views fearlessly. He was Born on 5 August 1852 in Orissa.
Dwarka Prasad Mishra (5 August 1901 – 31 May 1988) was an Indian politician, freedom fighter, and journalist. He also became Chief Minister of Madhya Pradesh. Dwarka Prasad Mishra was associated with Mahatma Gandhi's 'Non-cooperation Movement'. He actively contributed to the nationalist movements. Due to differences with Jawaharlal Nehru, he had to undergo political exile for thirteen years. He also wrote many historical research texts. Dwarka Prasad Ji was very fond of Hindi, English, Urdu, and Sanskrit literature. Dwarka Prasad Mishra composed the epic 'Krishnayan' while in jail in 1942. The story from the birth of Krishna to his ascension is told in this epic. Krishna of Mahabharata was always the ideal of Dwarka Ji. Even as an intense journalist, Dwarka Prasad Ji edited 'Shri Sharda' monthly in 1921, 'Dainik Lokmat' in 1931, and weekly 'Sarthi' in 1947. Taking a break from politics in 1971, he devoted all his time to literature. Mishra was born on 5 August 1901 in Delhi.
Shivmangal Singh 'Suman (5 August 1916 – 27 November 2002) was the top poet of Hindi. In 1999, the Government of India honoured him with the Padma Bhushan in the field of literature and education. The most important moment in the life of Dr. Shivmangal Singh 'Suman' was when he was blindfolded and taken to an unknown place. He was bewildered when the blindfold was opened. Chandrashekhar Azad, the great warrior of the freedom struggle, stood before him. Azad had asked him; can you take this revolver to Delhi. Suman Ji accepted the offer without hesitation. Simple-natured Suman Ji always used to tell his fans; that I could not become a scholar. I have been able to touch the rim of scholarship. Along with being a professor, the pressure of administrative work prevented me from becoming a scholar. He got awarded Padma Shri by the Government of India in 1974, and Padma Bhushan in 1999. Deva Award in 1958. He was Born on 5 August 1916 in Utter Pradesh.
Kajol was a famous Hindi film actress.  Her mother Tanuja was an actress, and her maternal grandmother Shobhana Samarth was also an actress. Her younger sister Tanisha is also working in films now. Her father's name is Shomu Mukherjee. He used to make films. Kajol started her film journey with the film Bekhudi in which her character's name was Radhika. That film did not work but his later films became very famous. Like Baazigar and Dilwale Dulhania Le Jayenge. She married her colleague and boyfriend, Ajay Devgan on 24 February 1999. They have a younger daughter named Nyasa. She has a total of 6 Filmfare Awards and out of the 5 Best Actress Awards, which is a record. She shares this record with her aunt Nutan. She was Born on 5 August 1974 in Mumbai.
Read More: 4 July in Indian and World History
Death Anniversary
5 Augustin Indian history is observed as the death anniversary of the following personalities:
Gopinath Bordoloi (10 June 1890 – 5 August 1950) was a famous freedom fighter of India and the first Chief Minister of Assam. He has also been called the 'builder of modern Assam'. He also actively participated in the national movement. In 1941 AD, he had to go to jail for participating in 'Individual Satyagraha'. Gopinath Bordolai was again punished for his participation in the 'Quit India Movement in the year 1942. Gopinath Bordoloi was a person with progressive ideas and wanted to modernize Assam. He laid special emphasis on the industrialization of the state and got several universities established in Gauhati. Due to the useful work, he did for Assam, the people there gave him the title of 'Popular'.  He died on 5 August 1950.
Lala Amarnath Bharadwaj (11 September 1911 – 5 August 2000) was the father of Indian Cricket and was the first batsman ever to score a century for India in Test cricket. He was also awarded the Padma Bhushan by the Government of India. He was independent India's first cricket captain and captained India in the first Test series win against Pakistan in 1952. Amarnath was controversially sent back from the 1936 tour of England by the captain, the Maharaj Kumar of Vizianagram, for "indiscipline". Amarnath and others allege it was due to politics. Bharadwaj died on 5 August 2000.
Pran Kumar Sharma (5 August 1938 – 5 August 2014), also known as cartoonist Pran. Pran, the most successful and popular cartoonist of the Indian comic world, started making cartoons in 1960. The most popular characters created by Pran are 'Chacha Chaudhary', 'Sabu', Rocket, Billu, and Mrs. Chacha Chaudhary is probably one of the most popular cartoon characters in India. His author is cartoonist Pran Kumar Sharma, better known as Pran. Once Pran Saheb thought why not make an Indian comics character, an old man, who can solve problems in a pinch with his sharp mind, and thus Chacha Chaudhary was born on white paper. Sharma died on 5 August 2014.
Read More: 3 July in Indian and World History
Notable events on 5 Augustin Indian and World History
5 August 1775 – The King of West Bengal, Maharaja Nandakumar was hanged in Calcutta (now Kolkata), this was the last execution for fraud in India by British rule.
5 August 1781 – The Battle of Dogger Bank took place between Dutch and British armies.
5 August 1886 – The inventor of the car, Karl Benz, patented his first car on this day.
5 August 1961 – The Soviet Union launched its second cosmonaut four months after Yuri Gagarin's historic undertaking.
5 August 1991 – Justice Leela Seth became the first Indian woman to become a judge in the Delhi High Court.
5 August 1987–  Chava Flores, a Mexican composer and singer, died.
5 August 2008 – A magnitude 5.5 earthquake was felt in the Indian Ocean, 176 miles northeast of Andaman and Nicobar Islands, India.
5 August 2010 – 70% of Kenya's citizens supported the creation of a new constitution as part of democratic reforms in the referendum.
5 August 2010 – A cloudburst and subsequent floods killed 115 people in Leh, Kashmir (India).
5 August 2011 – The journal Science, NASA scientists claimed to have running water on Mars.
5 August 2011 – The spacecraft Juno was launched by NASA to study Jupiter on this day.
5 August 2013 – India's junior women's hockey team won the bronze medal by defeating England 3-2 (1-1) at the World Cup in Germany.
Blogger Day is observed annually on 5 August. Blogger was launched on the 23 of August 1999, by Pyra Labs. it is one of the earliest tools that was dedicated purely to publishing blogs.