Raksha Rajya Mantri visits NCC Republic Day Camp 2023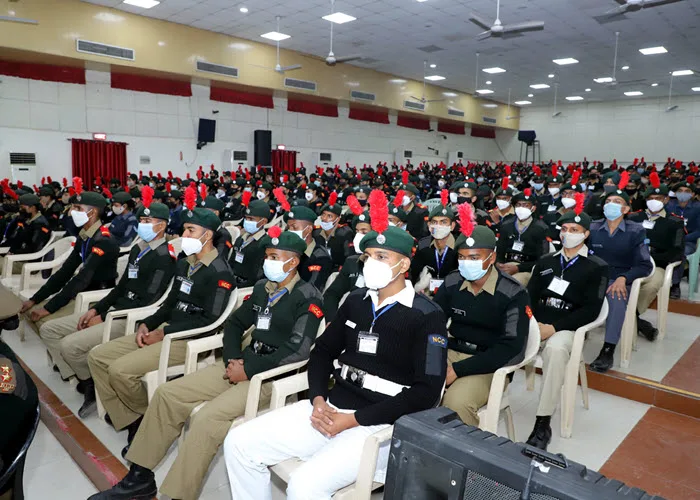 Ajay Bhatt, Rajya Mantri, says NCC is a shining example of "Unity in Diversity," and since its formation, it's played a big part in shaping the youth of the country by instilling discipline, character, adventure spirit, and selfless service values. Raksha Rajya Mantri was addressing NCC Cadets at Republic Day Camp 2023 at Delhi Cantt in New Delhi on 19 January 2023.
In his speech, Shri Ajay Bhatt emphasized that NCC stands for "Unity and Discipline" and has been strengthening the patriotic and secular values that are also enshrined in the Indian constitution.
Raksha Rajya Mantri stressed that the NCC is expanding as planned. As part of its expansion plans, NCC hopes to expand to coastal areas, border areas, and left-wing extremist hot spots with a special emphasis on transforming the youth in these places."
It's his hope that the special efforts will increase NCC's reach into rural and semi-urban areas by locating more jobs there. "It will definitely energize the youth in these areas and give them a chance to contribute to nation-building," he said.
 He appreciated the role NCC cadets played in community development and social service initiatives like the National Youth Festival, International Day against Drug Abuse and Illicit Trafficking, and Nasha Mukti Abhiyan.
"NCC's disaster relief efforts including the assistance to civil administration in various states and their exceptional service in Swachta Abhiyan, and Puneet Sagar Abhiyan have been praiseworthy. Our honorable Prime Minister's call for Har Ghar Tiranga on 15 August 2022 was literally transformed into a wonderful festival full of patriotic fervor as a result of NCC's efforts. The teamwork and values you've learned will always enable you to contribute positively to national objectives in the future as well," Raksha Rajya Mantri said.
IAF & Japan AIR self defence force Set to exercise jointly in Japan
The Army, Navy, and Air Force presented an impressive "Guard of Honour" to Raksha Rajya Mantri on his arrival. Following that, NCC cadets performed a fine band display. He also visited the 'Flag Area', where the NCC cadets displayed various social awareness themes and cultural activities. He got a detailed update on each State Directorate theme from the cadets.
Raksha Rajya Mantri also visited the NCC's Hall of Fame, where alumni photos, models, motivational videos, and other visual delights are displayed.
Later, Shri Ajay Bhatt and other distinguished guests watched the cadets' spectacular cultural program.
**News Source: PIB India**