India vaccination drive has recorded a significant achievement on Day-52.  More than 2 million vaccine doses were administered in the last 24 hours. The vaccination drive was rolled out on 16th January 2021. The rate is continuously rising as each day is passing by.
As of Day-52 of the vaccination drive (8 March 2021), 20,19,723 vaccine doses were given. Out of which, 17,15,380 beneficiaries were vaccinated across 28,884 sessions for 1st dose and 3,04,343  received 2nd dose of the vaccine.
So far, More than 2.3 cr (2,30,08,733) vaccine doses have been administered through 4,05,517 sessions.  It covers around 1.9 crores of the first dosage and around 0.4 crores fo the second dosage to HCWs, FLWs, beneficiaries aged more than 45 years with specific co-morbidities, and beneficiaries aged more than 60 years.
COVID Vaccination per million population
The national average per million population for India stands at 11,675 doses while it is 2,32,300 doses, 3,14,100 doses, 71,600 doses and 76,400 doses per million population for USA, UK, France & Germany respectively, at present. (source: www.ourworldindata.org). India is the second-most populous country in the world. It is in this context that vaccination per million population has to be appreciated.
As per the recommendation of the National Expert Group on Vaccine Administration for COVID-19 (NEGVAC), the COVID-19 vaccination drive in India begun with Health Care Workers and Front Line Workers that account for less than 2% of the population. Subsequently, as per the recommendation of NEGVAC, the next priority group of beneficiaries comprising of persons aged 60 years and above and those aged 45-59 years with comorbidities is being provided vaccination from 1st March 2021 at Government COVID-19 Vaccination Centres (CVCs) as well as at Private CVCs to speed up vaccination process.
COVID-19 cases across states
Maharashtra, Kerala, Punjab, Tamil Nadu, Gujarat and Karnataka continue to report a surge in the COVID daily new cases. They cumulatively account for 84.04% of the new cases reported in the past 24 hours.
15,388 new cases were registered in the last 24 hours. Maharashtra has reported the highest daily new cases at 8,744. It is followed by Kerala with 1,412 while Punjab reported 1,229 new cases.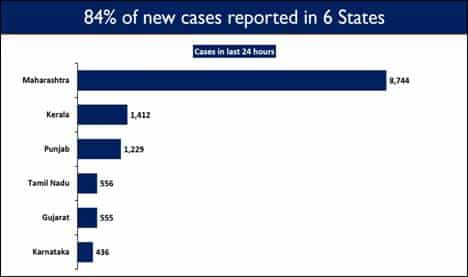 Tags:
COVID-19
,
India
,
India vaccination
,
India vaccination drive
,
observer voice