28 February in Indian History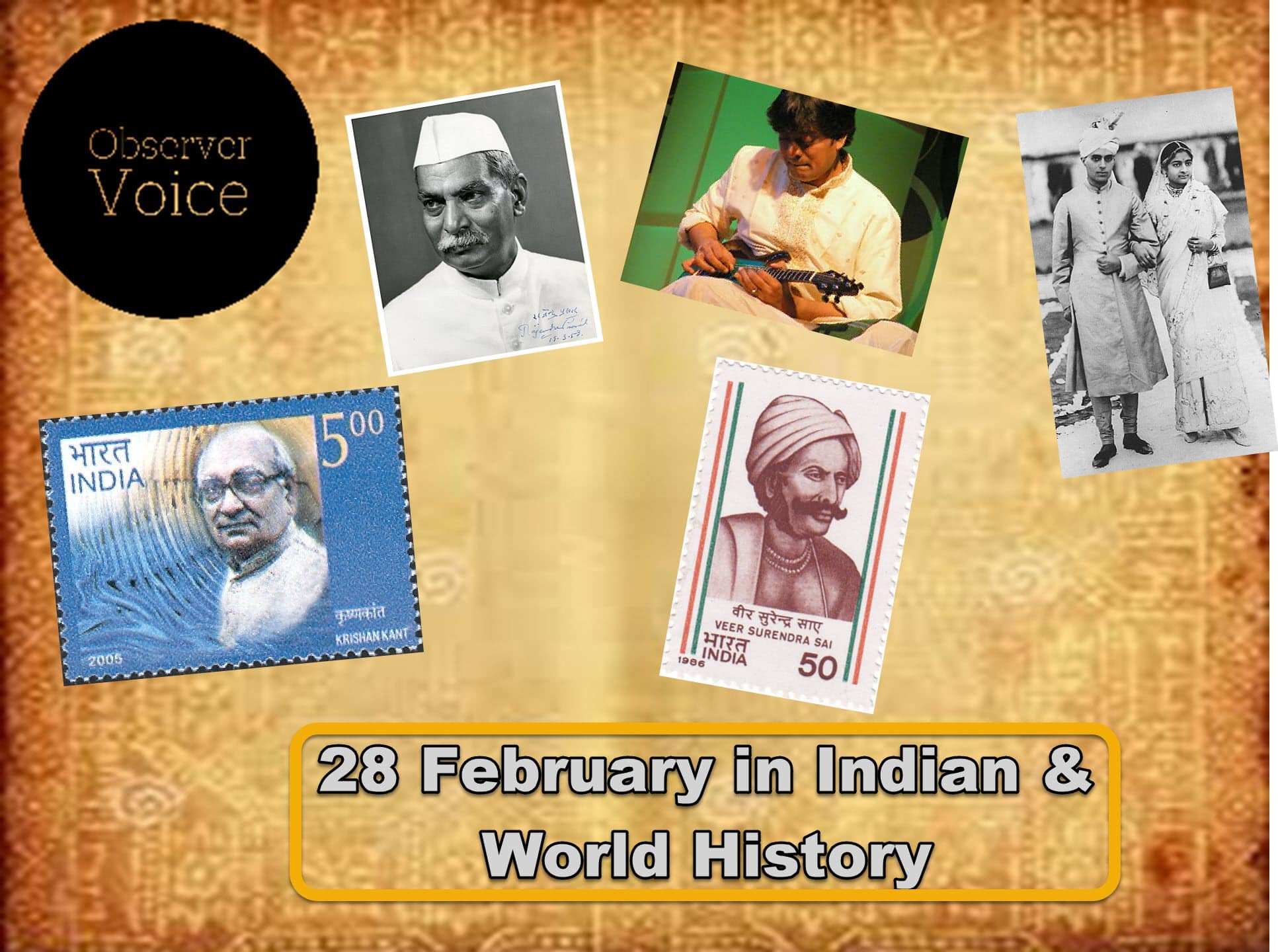 28 February in Indian history is celebrated, observed, and remembered for various reasons. Today is the birth anniversary of Chamaraja Wodeyar IX, Morarji Ranchhodji Desai, Acharya Aryanandi, Krishan Kant, and Uppalapu Srinivas. Today, 28 February, is also observed as the death anniversary of Surendra Sai, Kamala Kaul Nehru, and Rajendra Prasad.
Birth Anniversary
28 February in Indian history is celebrated as the birth anniversary of the following personalities:
Chamaraja Wodeyar IX (28 February 1774 – 17 April 1796), 21st maharaja of the Kingdom of Mysore from 1776 for two decades until 1796. He was born on 28 February 1774 in Chamarajanagar, Karnataka, India.
Morarji Ranchhodji Desai  (29 February 1896 – 10 April 1995), an Indian independence activist who served as 4th Prime Minister of India between 1977 and 1979. He was affiliated with Janata Party. During his long career in politics, he held many important posts in government such as Chief Minister of Bombay State, Home Minister, Finance Minister and 2nd Deputy Prime Minister of India. He is the oldest person to hold the office of the prime minister, at the age of 81, in the history of Indian politics. He was conferred with India's highest civilian honour, the Bharat Ratna. Morarji Desai was born on 29 February 1896 in Bhadeli, British India.
Acharya Aryanandi (28 February 1907 – 8 February 2000), a prominent Jain monk. He did an incredible job in establishing numerous Jain schools in Maharashtra, India. He was married in 1927 and had three children, however, in 1953 he retired and decided to give up worldly life. He took the brahmacharya vrata from Acharya Shantisagar in 1955. He was initiated as a muni by Muni Samanthabhadra at Kunthalgiri, Maharashtra, on 13 November 1959. He was born on 28 February 1907 in Karnataka, India.
Krishan Kant (28 February 1927 – 27 July 2002), the tenth Vice President of India from 1997 until his death. Prior to that, he was Governor of Andhra Pradesh from 1990 – 1997. He was also a member of the upper and lower house of the Indian parliament. Kant was born on 28 February 1927 in Amritsar district, British India.
Uppalapu Srinivas (28 February 1969 – 19 September 2014), an Indian mandolin player, music composer. He was also called "Mozart of Indian classical music". In 1988, he was honoured with the Padma Shri, fourth-highest civilian award, by the Government of India. He was also awarded the Sangeet Natak Akademi Award in 2009 given by Sangeet Natak Akademi. He was born on 28 February 1969 in Palakollu, Andhra Pradesh, India.
---
Also read: 26 February in Indian History
---
Death Anniversary
28 February in Indian history is remembered as death anniversary of following personalities:
Surendra Sai (23 January 1809 – 28 February 1884), an Indian freedom fighter who sacrificed his life fighting against the British. He imbibed the cause of the downtrodden tribal people in Sambalpur by promoting their language and culture in response to the higher castes. In 2009, The Government of Orissa changed the name of University College of Engineering the oldest engineering college of the state to the Veer Surendra Sai University of Technology, Burla in honour of this great leader. Surendra Sai died in Asirgarh Jail on 28 February 1884.
Kamala Kaul Nehru (1 August 1899 – 28 February 1936), an Indian independence activist and the wife of Jawaharlal Nehru. Her daughter Indira also served later as Prime Minister of India. She was born in a Kashmiri family. She was the eldest child and had two brothers. She married Jawaharlal Nehru at the age of 16. In his autobiography, Jawaharlal Nehru, referring to his wife, stated "I almost overlooked her." Kamala gave birth to a girl child in November 1917, Indira Priyadarshini, who later succeeded her father as prime minister and head of the Congress party. She died from tuberculosis in Lausanne, Switzerland on 28 February 1936.
Rajendra Prasad (3 December 1884 – 28 February 1963), an Indian independence activist, lawyer, scholar, and 1st President of India. He was born in Ziradei, in the Siwan district of Bihar. When Prasad was five years old, his parents placed him under the tutelage of a Maulavi, an accomplished Muslim scholar, to learn the Persian language, Hindi and arithmetic. Prasad joined the Indian National Congress during the Indian Independence Movement and became a major leader from the region of Bihar. A supporter of Mahatma Gandhi, Prasad was imprisoned by British authorities during the Salt Satyagraha of 1931 and the Quit India movement of 1942. He died on 28 February 1963 in Patna, Bihar, at an age of 78.
---
Read Also: 25 February in Indian History
---
Notable events on 28 February in Indian and World history
28 February 1568 – Chittorgarh Fort was captured by Mughal Emperor Akbar which was circled from outside since 20th October 1567. It was a part of the campaign of the Mughal Empire against the kingdom of Mewar in 1567. Forces led by Akbar surrounded and besieged 8,000 Rajputs and around 40,000 peasants under the command of Jaimal.
28 February 1918 – Srinivas Ramanujan, just 31, became the youngest Fellow in the history of the Royal Society.
28 February 1928 – C. V. Raman discovered a novel phenomenon of light scattering, which they called "modified scattering," but more famously known as the Raman effect. The day is celebrated by the Government of India as the National Science Day every year.
28 February 1953 – Cambridge University scientists James D. Watson and Francis H.C. Crick announce that they have determined the double-helix structure of DNA, the molecule containing human genes.
28 February 1968 – International City Auroville inaugurated the Aurobindo Ashram in Pondechery. It was founded in 1968 by Mirra Alfassa (known as "the Mother"). It is named after Sri Aurobindo.
28 February in Indian is celebrated as National Science Day to mark the discovery of the Raman effect by Indian physicist Sir C. V. Raman. The discovery brought him Nobel Prize in Physics in 1930.
28 February in Taiwan is marked as a national holiday and observed as Peace Memorial Day. An anti-government uprising in Taiwan that was violently suppressed by the Kuomintang-led Republic of China government, which killed thousands of civilians beginning on 28 February 1947. The number of Taiwanese deaths from the incident and massacre was estimated to be between 5,000 and 28,000. The incident is one of the most important events in Taiwan's modern history and was a critical impetus for the Taiwan independence movement.