5 July in Indian and World History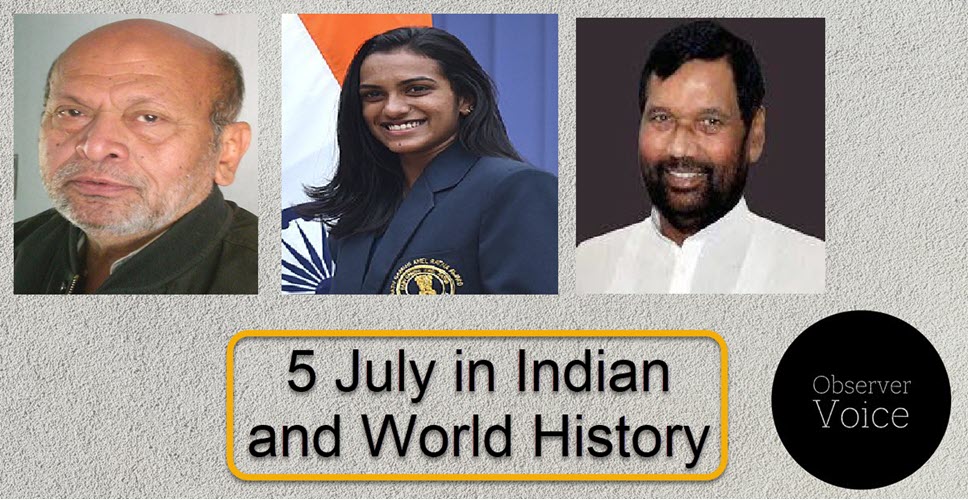 5 July in Indian and World History is celebrated, observed, and remembered for various reasons. 5 July is the birth anniversary of Asghar Wajahat, P. V. Sindhu, Ram Vilas Paswan, and Jyoti Khare.
5 July is also observed as the death anniversary of Lala Deen Dayal and P. Gopinathan Nair.
Birth Anniversary
5 July in Indian history is celebrated as the birth anniversary of the following personalities:
Asghar Wajahat, a Hindi scholar, fiction writer, novelist, playwright, independent documentary filmmaker, and television scriptwriter, and professor. He has composed many works in the field of drama, fiction, novel, travelogue, and translation. He has been the chairman of the Hindi department of Jamila Millia Islamia located in Delhi. He got many awards including Degree Story Award, Indu Sharma Story Award. Wajahat was born on 5 July 1946 in Fatehpur, Uttar Pradesh.
P. Sindhu, a famous badminton player from India. Sindhu won a silver medal in the singles badminton competition at the 2016 Rio Olympic Games in Brazil. Also, Sindhu is the first woman player from India to win a silver medal in the Olympic Games. She is currently the national champion of India. In the year 2012, She made it to the top 20 of the Badminton World Federation. On 10 August 2013, PV Sindhu became the first Indian woman to win a medal at the World Championships. PV Sindhu trains at 'Gopichand Badminton Academy' in Hyderabad and is supported by a non-profit organization named 'Olympic Gold Quest'. She was born on 5 July 1995 in Hyderabad, Andhra Pradesh, India.
Ram Vilas Paswan (5 July 1946 – 8 October 2020), an Indian politician from Bihar. He was the president of the Lok Janshakti Party. He remained one of the prominent leaders of Indian Dalit politics. In the 17th Lok Sabha, he was given the charge of the Ministry of Consumer Affairs, Food and Public Distribution. Ram Vilas Paswan was the union minister in the National Democratic Alliance government. In August 2010, he was elected as a member of the Bihar Rajya Sabha and was made a member of the Committee on Personnel and Pension Affairs and Rural Development. He was born on 5 July 1946 in Khagaria, Bihar, British India.
Jyoti Khare is considered one of the most celebrated poets of India. He is engaged in the literary practice of the Hindi language for the last thirty years and is equally active in almost all literary newspapers and magazines of India, AIR, Door darshan, and social media. Jyoti Khare's reputation becomes self-evident by the love shows of thousands of her fans spread across the length and breadth of the country through social media. He was born on 5 July 1956 in Jabalpur, Madhya Pradesh.
Read More: 4 July in Indian and World History
Death Anniversary
5 July in Indian history is observed as the death anniversary of the following personalities:
Lala Deen Dayal, an Indian photographer. His career began in the mid-1870s as a commissioned photographer; eventually, he set up studios in Indore, Mumbai, and Hyderabad. He became the court photographer to the sixth Nizam of Hyderabad, Mahbub Ali Khan, Asif Jah VI, who awarded him the title Raja Bahadur Musavvir Jung Bahadur, and he was appointed as the photographer to the Viceroy of India in 1885.
P. Gopinathan Nair (7 July 1922 – 5 July 2022) was an Indian social worker, Gandhian, independence activist, and chairman of the Mahatma Gandhi National Memorial Trust, commonly known as Gandhi Smarak Nidhi. He participated in the Quit India movement of 1942 and promoted the Bhoodan and Gramdan movements with Vinoba Bhave.
Among other honors, he got the Jamnalal Bajaj Award. For his contributions to society, he was awarded the Padma Shri, India's fourth highest civilian honor.
Freedom fighter and Gandhian P Gopinathan Nair died here on 5 July 2022. He was 99. He died in a private hospital at Neyyattinkara  due to age-related ailments.
Read More: 3 July in Indian and World History
Notable events on 5 July in Indian and World history
5 July 1658 – The Mughal ruler Aurangzeb imprisoned his elder brother Murad Baksh.
5 July 1955 – The Labor Party won the parliamentary elections in Britain.
5 July 1957 – The Indian Independence Act was introduced in the British Parliament which later got royal assent.
5 July 1955 – The BBC made the first television broadcast. Its duration was 20 minutes and it was prepared in advance.
5 July 1954 – Andhra Pradesh High Court was established on this day.
5 July 1962 – 96 people died in the massacre in Oran, Algeria.
5 July 1968 – India's first submarine arrived from Soviet Russia on this day.
5 July 1975 – American tennis player Arthur Ashe, 31, was the first black man to win a Wimbledon singles event on this day.
5 July 1977 – The Pakistani army under the leadership of General Zia-ul-Haq seized power in the country.
5 July 2002–  Katy Jurado, a Mexican-American actress who appeared in over 80 films, died.
5 July 2004 – The first presidential election in Indonesia was held on this day.
5 July 2007 – A landslide in Mexico's southern province of Tubala killed 60 people.
5 July 2008 – Nepal's interim cabinet passed a resolution to introduce a bill for a constitutional amendment.
5 July 2009 – Roger Federer of Switzerland won the Wimbledon title by defeating Andy Roddick.
5 July 2013 – 15 people were killed in a bomb attack on a mosque in the Iraqi capital Baghdad.
5 July 2015 – Yoichiro Nambu a Japanese American physicist, and Nobel Laureate, died.