26 February in Indian History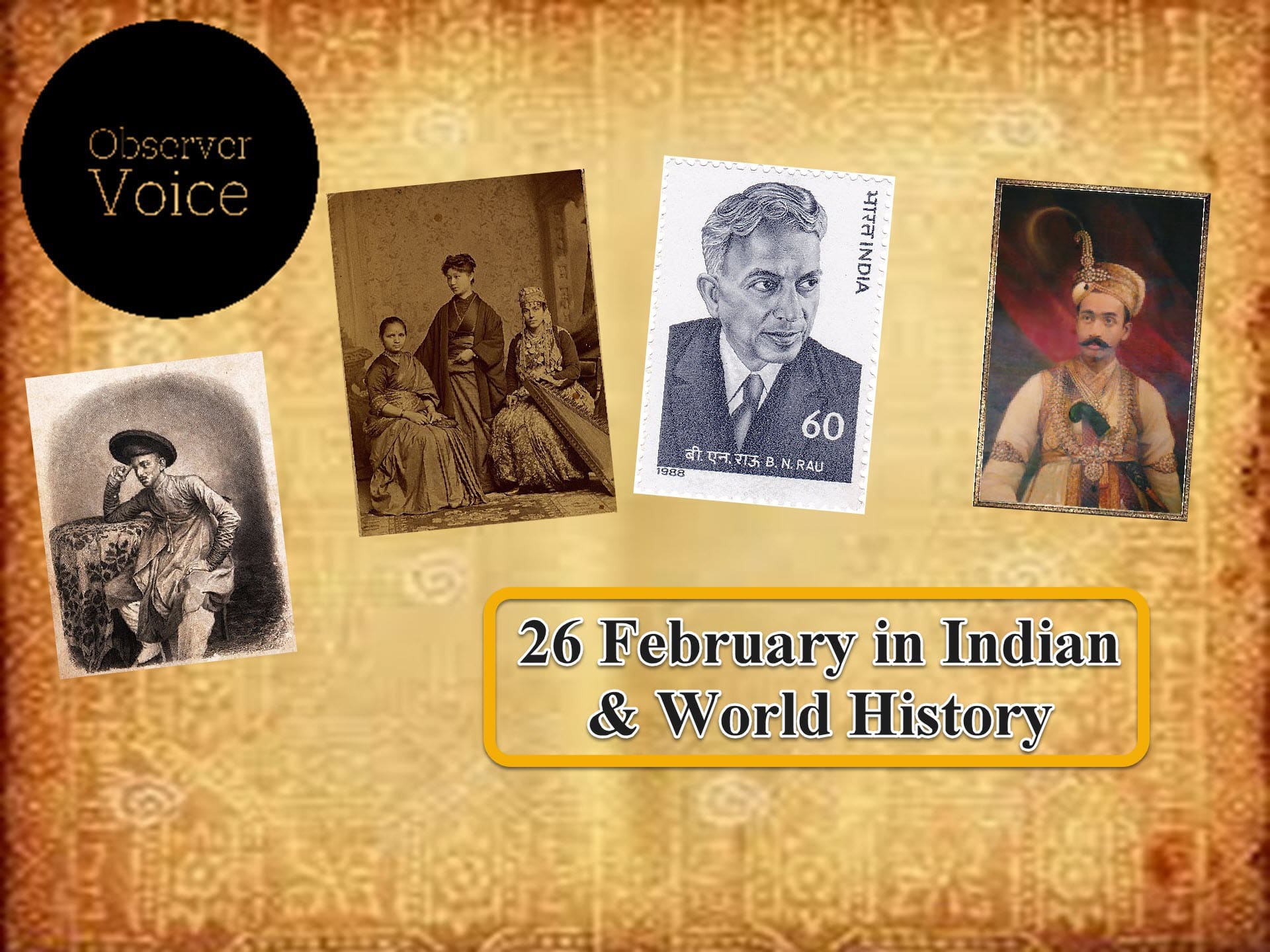 26 February in Indian history is celebrated, observed, and remembered for various reasons. Today is the birth anniversary of Sir Ghulam Muhammad Ali Khan, Sir Benegal Narsing Rau, Manmohan Krishna, Shaktikanta Das, and Mrinal Pande. 26 February, is also observed as the death anniversary of Narmadashankar Lalshankar Dave, Anandibai Gopalrao Joshi, Vinayak Damodar Savarkar, Shankarrao Bhavrao Chavan, and Sibnarayan Ray.
Birth Anniversary
Today, 26 February, in Indian history is celebrated as the birth anniversary of the following personalities:
Sir Ghulam Muhammad Ali Khan (26 February 1882–1952), fifth Prince of Arcot and ruled form 1903 – 1952. He was enthroned after death of his father, Muhammad Munawar Khan in 1903. Later, he was nominated to Madras Legislative Council. He was honoured with the title of "Khan Bahadur" on 22 June 1897. He was made a Knight Commander of the Order of the Indian Empire on 1 January 1909. This was upgraded to a GCIE in 1917. He was allowed to use the honorific "His Highness" from 1935 onwards. He was born 26 February 1882.
Sir Benegal Narsing Rau (26 February 1887 – 30 November 1953), an Indian civil servant, jurist, diplomat, and statesman. A graduate from University of Madras, he entered Indian Civil service in 1910. He represented India in UN Security Council from 1950 – 1952. From 1952 to till his death in 1953, he served as a judge of the International Court of Justice at The Hague. He was born on 26 February 1887.
Manmohan Krishna (11 August 1921 – 3 November 1990), an Indian actor, singer, and director. He worked for almost four decades in world of cinema. Though he was not in the world of movies from beginning, he started his career as a professor in Physics. His notable works were Deewar, Trishul, Daag, Humraz, Joshila, Kanoon, Kala Patthar, Dhool Ka Phool, Waqt and Naya Daur. He was also nominated for Filmfare Award for Best Director. He was born on 11 August 1921.
Shaktikanta Das, an IAS and 25th Governor of RBI. He is a retired 1980 batch Indian Administrative Service (IAS) officer of Tamil Nadu cadre. He was also a member of the Fifteenth Finance Commission, served as project director of Tamil Nadu State AIDS Control Society and Principal Secretary (Industries) He was born on 26 February 1957 in Bhubaneswar, India.
Mrinal Pande, an Indian television personality, journalist and author. She was chief editor of Hindi daily Hindustan. She was appointed chairperson of Prasar Bharati. She was born on 26 February 1946 in Madhya Pradesh, India.
---
Read Also: 25 February in Indian History
---
Death Anniversary
Today, 26 February, in Indian history is remembered as death anniversary of following personalities:
Narmadashankar Lalshankar Dave (24 August 1833 – 26 February 1886), poet, writer, essayist, orator, lexicographer and social activist. He is considered to be the founder of modern Gujarati literature. His poem Jai Jai Garavi Gujarat is now the state anthem of Gujarat state of India. He died on 26 February 1886, Mumbai, British India.
Anandibai Gopalrao Joshi (31 March 1865 – 26 February 1887), the first Indian female practitioner of western medicine. She was the first woman from the erstwhile Bombay presidency of India to study and graduate with a two-year degree in western medicine in the United States. After her return from the USA, she was appointed as physician-in-charge of the female ward of the local Albert Edward Hospital. She died of tuberculosis on 26 February 1887 before turning 22.
Vinayak Damodar Savarkar (28 May 1883 – 26 February 1966), a Hindu nationalist and freedom fighter. As the Muslim league gained momentum, Savarkar joined the Hindu Mahasabha and popularized the term Hindutva, a common and collective identity for Hindu. Though he was an atheist, he practised Hindu philosophy vehemently. He endorsed and supported the idea of Hindu-Rashtra. He died on 26 February 1966 in Mumbai, India, at an age of 82.
Shankarrao Bhavrao Chavan (14 July 1920 – 26 February 2004), an Indian politician and part of the Indian National Congress (INC). He served as Chief Minister of Maharashtra twice (1975 – 1977 & 1986 – 1988). He was also Finance Minister and Home Minister of India in the various government of India. He died on 26 February 2004, at an age of 83.
Sibnarayan Ray (20 January 1921 – 26 February 2008), an Indian thinker, educationist, philosopher and literary critic. He taught in many universities around the world including the University of London, Stanford University, and the University of Chicago. Bertrand Russell, commenting on Ray, once said that "… Sibnarayan Ray stands for a point of view which I consider important in every part of the world. … His writings ably represent a more reasonable point of view than that of most writers of our time." He died on 26 February 2008 in Kolkata, India. Following his wishes, his mortal remains were donated to the SSKM Hospital in Calcutta.
---
Read Also: 24 February in Indian History
---
Notable events on 26 February in Indian and World history
6 February 1910 – Mohandas Karamchand Gandhi supports the African People's Organisation's (APO) resolution to declare the day of arrival of the Prince of Wales in South Africa as a day of mourning in protest against the South Africa Act's disenfranchisement of Indians, Colored and Africans in the upcoming Union of South Africa.
26 February is also celebrated as National Tell a Fairy Tale Day. It celebrates the art of storytelling and captivating imagination.