23 May in Indian and World History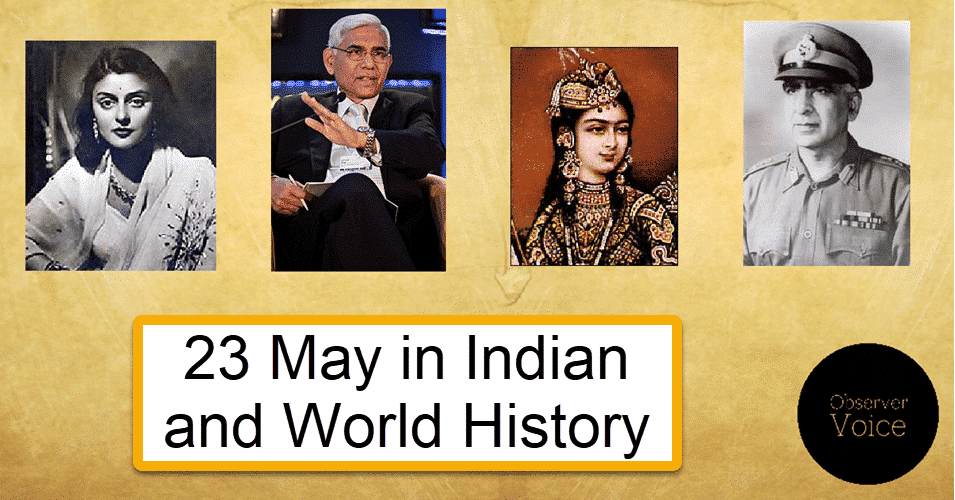 23 May in Indian and World History is celebrated, observed, and remembered for various reasons. 23 May is the birth anniversary of Pran Nath Thapar, Gayatri Devi, Ranajit Guha, K. Raghavendra Rao, Vinod rai, and Komtireddy Venkat Reddy.
23 May is also observed as the death anniversary of Rakhaldas Vandyopadhyay, Bhargavi Prabhanjan Rao, and Madhav Krishnaji Mantri.
Birth Anniversary
23 May in Indian history is celebrated as the birth anniversary of the following personalities:
Pran Nath Thapar (23 May 1906 – 23 June 1975), the fourth Chief of Army Staff of the Indian Army. He participated in World War II and Sino-Indian War. He was born on 23 May 1906 in Lahore, Punjab Province, British India.
Gayatri Devi (23 May 1919 − 29 July 2009), the third Maharani consort of Jaipur from 1940 to 1949 through her marriage to Maharaja Sawai Man Singh II. She became a successful politician in the Swatantra Party. Gayatri Devi was also famous for her classical beauty and became a fashion icon in adulthood. She served 12 years in Swatantra Party, during which she was a prominent critic of Indira Gandhi's government. She was born on 23 May 1919 in London, England, United Kingdom.
Ranajit Guha, a historian of the Indian Subcontinent, was the editor of several of the group's early anthologies. He was born on 23 May 1923.
Raghavendra Rao, an Indian film director, producer, screenwriter, and choreographer, known for his works predominantly in Telugu cinema and a few Hindi and Kannada films. Rao is best known for his direction in films such as Bobbili Brahmanna (1984), Pelli Sandadi (1996), Lekhalu (1977), Jagadeka Veerudu Athiloka Sundari (1990), Allari Priyudu (1993). Sri Manjunatha (2001), Sri Ramadasu (2006), Shirdi Sai (2012) and Om Namo Venkatesaya (2017). He was born on 23 May 1942 in Kolavennu, Madras Presidency, British India (now Andhra Pradesh, India).
Vinod rai, a former IAS officer who served as the 11th Comptroller and Auditor General of India. He is the current chairman of the UN Panel of External Auditors and Honorary Advisor to the Railways and a Railway Kaya Kalp Council member. He was born on 23 May 1948 in United Provinces, India.
Komtireddy Venkat Reddy, an Indian politician from Telangana. He is the Member of Parliament of Bhongir Lok Sabha constituency from 2019. He was Deputy Floor Leader, Telangana Congress Legislative Party, and former MLA of Nalgonda assembly constituency. Reddy was born on 23 May 1965 in Telangana, India.
Read More: 22 May in Indian and World History
Death Anniversary
23 May in Indian history is observed as the death anniversary of the following personalities:
Rakhaldas Vandyopadhyay (12 April 1885 – 23 May 1930), a famous archaeologist and historian. He was among the group of Indian archaeologists, most of whom gained considerable fame in the first phase of the 20th century as an associate of the then Director-General of the Archaeological Survey of India. He died on 23 May 1930 at the age of 45 in Kolkata, Bengal Presidency, British India.
Bhargavi Prabhanjan Rao (14 August 1944 – 23 May 2008), an eminent translator in Telugu Literature. She was actively involved in translating various works of author and playwright Girish Karnad. Her most famous works include Noorella Panta, a compilation of one hundred short stories by women writers of the twentieth century. Rao got many awards such as PS Telugu University Award (1999), Sakhya Sahiti Award (2000), and Grihalakshmi Award (2001). She died on 23 May 2008 due to a heart attack in Hyderabad.
Madhav Krishnaji Mantri (1 September 1921 – 23 May 2014), an Indian cricketer who played in four Tests from 1951 to 1955, and the uncle of former Indian cricket captain Sunil Gavaskar. He was a right-handed opening batsman and specialist wicketkeeper who represented Mumbai. Mantri died on 23 May 2014 at the age of 92 in Mumbai, Maharashtra, India.
Read More: 20 May in Indian and World History
Notable events on 23 May in Indian and World history
23 May 1420 – The Jews were expelled from Austria and Syria.
23 May 1788 – South Carolina was incorporated into the US Constitution as the eighth state.
23 May 1805 – Governor-General Lord Welledgeley arranged for a permanent provision for the Mughal emperor of Delhi.
23 May 1879 – Yowa State University established the Veterinary School in America for the first time.
23 May 1992–  Atahualpa Yupanqui, an Argentine singer, songwriter, guitarist, and writer., died.
23 May 1897–  Aleko Konstantinov, a Bulgarian author and playwright, died.
23 May 1901 – American forces captured Filipino rebel leader Emilio Aguinaldo.
23 May 1915 – At the time of the First World War Italy declared war against Austria, Hungary and Germany.
23 May 1923 – Belgium formed Sevana Airlines.
23 May 1939 – A plan was made to free Palestine in the British Parliament by 1949.
23 May 1984 – Bachendri Pal became the first Indian woman to conquer Everest, the world's highest peak in 1984.
23 May 2004 – In Bangladesh, 250 drowned due to the boat sinking in the Meghna river due to a storm. 4000 cars drowned due to a shipwreck in Singapore.
23 May 2008 – India successfully test-fired the surface-to-surface missile Prithvi-2.
23 May 2013 – The search engine Google acquired power in Makani to use its project Bhavag.
23 May 2014 – Russia and China exercised veto power in the United Nations Security Council to establish the International Criminal Court for war crimes in Syria.
23 May 2016 – The Indian Space Research Institute (ISRO) launched the space shuttle RLV-TD made entirely in India from Sriharikota Space Center in Andhra Pradesh.