22 October in Indian and World History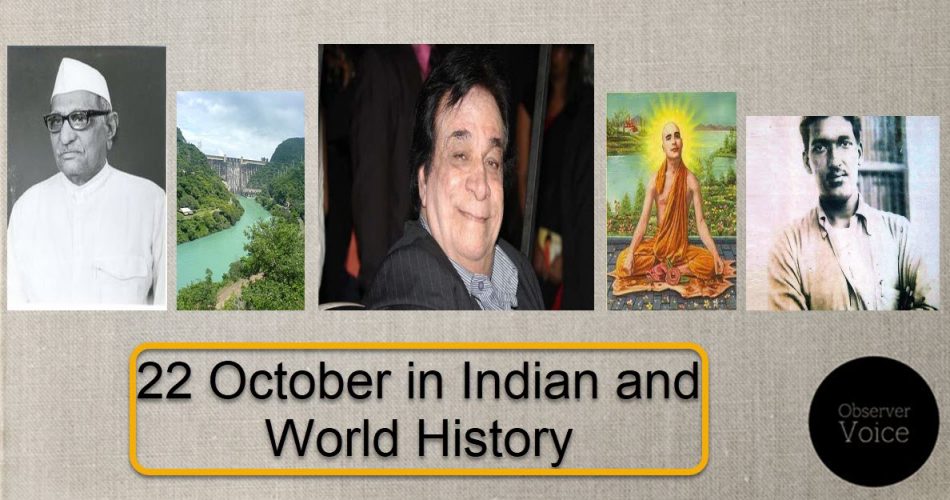 22 October in Indian and World History is celebrated, observed, and remembered for various reasons. 22 October is the birth anniversary of Swami Ramatirtha, Ashfaq Ulla Khan, Tribhuvandas Kishibhai Patel, and Kader Khan.
22 October is also observed as the death anniversary of Vithaldas Jhaverbhai Patel, and Jibanananda Das.
Birth Anniversary
22 October in Indian history is celebrated as the birth anniversary of the following personalities:
Swami Ramatirtha (22 October 1873 – 17 October 1906), a Hindu religious leader, noted for teaching practical Vedanta in a highly personal and poetic manner. Ramatirtha was a living idol of Vedanta. His original name was Tirath Ram. He used common experiences to describe the divine nature of man. For Ramatirtha every visible object was a reflection of God. In his short life, he attained the status of a great social reformer, a brilliant orator, an eminent writer, a brilliant ascetic and a high nationalist. Swami Ramtirtha who made his name in the whole world by his extraordinary works. He gave up his life at the age of just 32, but the many extraordinary achievements attached to his account in this short life prove that living an exemplary life does not require long life, but high willpower.
Ashfaq Ulla Khan (22 October 1900 – 19 December 1927) is counted among the famous immortal martyr revolutionaries of India. Ashfaq Ullah Khan, who sacrificed his life laughing for the freedom of the country, was a strong advocate of Hindu-Muslim unity. He was hanged in Faizabad Jail on 19 December 1927 in connection with the 'Kakori case'. Ashfaq Ullah Khan was the first Muslim who was sentenced to death for conspiracy. His heart was big, and his thoughts were very generous. The narrow sentiments related to Hindu-Muslim unity never entered his heart. It was his natural nature to treat everyone equally. Hard work, perseverance, perseverance, happiness, these were the special qualities of his nature. He was born on 22 October 1900 in Shahjahanpur, Uttar Pradesh.
Tribhuvandas Kishibhai Patel (22 October 1903 – 3 June 1994), considered the father of the Milk Revolution, also known as the 'White Revolution', in India. He brought the White Revolution to make India the world's largest milk producer, is credited for laying the foundation stone of the cooperative milk industry model in the country. He was born on 22 October 1903 in Gujarat.
Kader Khan (22 October 1935 – 31 December 2018), known in the Indian cinema world as a multi-faceted artist who has worked as a co-star, dialogue writer, villain, comedian, and character. He made his mark among the audience as an actor. Kader Khan, who has breathed life into every character from villain to comedian, has worked in more than 300 films till now, but his talent does not stop here. He has also proved his mettle in that direction by writing dialogues for more than 80 popular films. One of the features of Kader Khan's acting is that he is suitable for any kind of role. Be it the role of a 'brutal villain' in the films 'Coolie' and 'Variety' or a soulful act in 'Karz Chuna Hai', 'Jais Karni Vais Bharani' or 'Baap Numbri Beta Dus Numbri' and 'Pyaar Ka Devta' Comedy acting in movies like these is no answer to all these characters. He was born on 22 October 1935 in Balochistan, Pakistan.
Read More: 21 October in Indian and World History
Death Anniversary
22 October in Indian history is observed as the death anniversary of the following personalities:
Vithaldas Jhaverbhai Patel (27 September 1873 – 22 October 1933), a prominent national leader of India and elder brother of Sardar Vallabhbhai Patel. Only after completing his barrister studies, he got involved in the task of getting freedom for the country. He died on 27 September 1873.
Jibanananda Das (17 February 1899 – 22 October 1954), a famous Bengali poet and writer. He was such a Bengali poet who introduced the architecture of the narrative style in poetry. His novels and stories hold a special place among the people of the Bengali region. He was posthumously awarded the Sahitya Akademi Award for Best Poetry in 1955. The poetry of Jivanand Das ji enchanted many generations of Bengali society after Rabindranath. His poem 'Banalata Sen' is as if compulsorily memorized. He died on 22 October 1954 in Kolkata, West Bengal.
Read More: 20 October in Indian and World History
Notable events on 22 October in Indian and World history
22 October 1836 – Sen. Houghton became the first President of the Republic of Texas.
22 October 1867 – The foundation stone of the National University of Columbia was laid.
22 October 1875 – The first telegraphic connections in Argentina started..
22 October 1878 – The first rugby match at Sale fort was played between Broughton and Swinton.
22 October 1879 – The first sedition case against British rule was against Basudev Balwani Phadke.
22 October 1906 –  Cezanne, a French painter and Post-Impressionist artist, died.
22 October 1962 – India's largest multipurpose river valley project 'Bhakra Nangal' was dedicated to the nation.
22 October 1964 – French philosopher and writer Jean-Paul Sartre declined the Nobel Prize.
22 October 1975 – The landing of the 'Venus-9' spacecraft on the planet Venus.
22 October 2002–  Sandiah Ibu Kasur, an Indonesian artist, television presenter and educator, died.
22 October 2004 – According to UNCTAD report, India ranked 14th in foreign investment.
22 October 2007 – Chinese President Hu Jintao took charge of the ruling Chinese Communist Party for the second time.
22 October 2008 – ISRO launched India's first Chandrayaan mission Chandrayaan-1. This mission revealed the presence of water on the Moon.
22 October 2008 – Chandrayaan-1 was successfully launched from Satish Dhawan Space Center in Sriharikota.
22 October 2014 – Michael Jehaf Bidayu attacked Canada's parliament in Ottawa, killing one soldier and injuring three others.
22 October 2016 – India won the Kabaddi World Cup on this day.