21 May in Indian and World History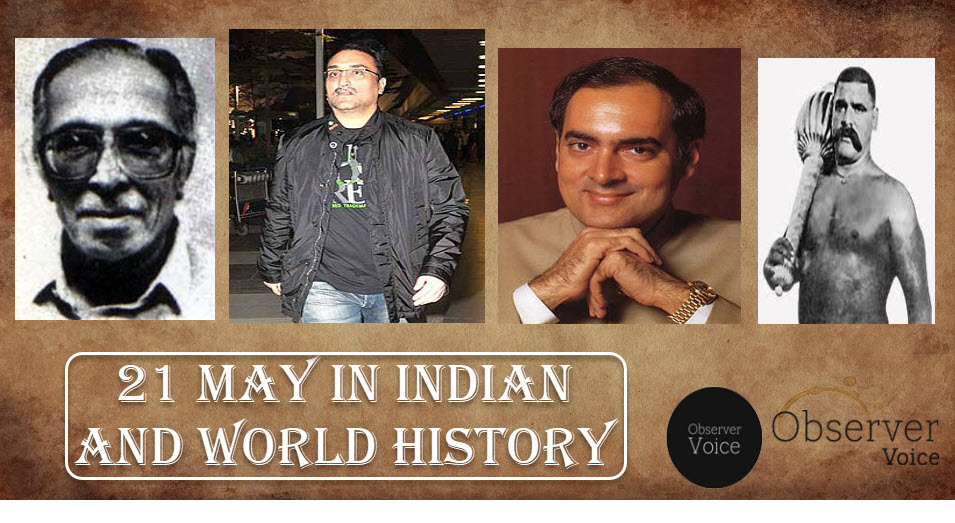 21 May in Indian and World History is celebrated, observed, and remembered for various reasons. 21 May is the birth anniversary of Sharad Joshi, Mohanlal Viswanathan, and Aditya Chopra.
21 May is also observed as the death anniversary of Gama Pehalwan, and Rajiv Gandhi.
Birth Anniversary
21 May in Indian history is celebrated as the birth anniversary of the following personalities:
Sharad Joshi (21 May 1931 – 5 September 1991), a unique satirist of his time. He looked very closely at the social, political and cultural discrepancies of his time. He expressed them in precise words with great clarity with his sharp pen. Sharad Joshi did not write satire earlier, but later he started writing satire after getting upset with his criticism. He was the first satirist in India, who first read prose on the stage of 'Chakkallas' in Mumbai in 1968 and became more popular than any poet. He was born on 21 May 1931 in Ujjain.
Mohanlal Viswanathan, an Indian film actor, film producer, playback singer, television host, and film distributor. He is known as Mohanlal and appears mainly in Malayalam films, although he has also appeared sporadically in Tamil, Hindi, Telugu, and Kannada films. He was born on 21 May 1960 in Elanthoor, Kerala, India.
Aditya Chopra, an Indian filmmaker who works in Hindi film. His films include Dilwale Dulhania Le Jayenge (1995), Mohabbatein (2000), Rab Ne Bana Di Jodi (2008), and Befikre (2016).  He was born on 21 May 1971 in Bombay, Maharashtra, India.
Read More: 20 May in Indian and World History
Death Anniversary
21 May in Indian history is observed as the death anniversary of the following personalities:
Gama Pehalwan (Original name: Ghulam Muhammad, 1880 – 21 May 1960), become a legend in India. Just as the example of Dara Singh is given for physical strength, similarly till some time ago the name of 'Gama Pehalwan' was taken. On 15 October 1910, Gama was declared the winner of the 'World Heavyweight Championship' (South Asia). He died on 21 May 1960 in Lahore, Pakistan.
Rajiv Gandhi (20 August 1944 – 21 May 1991), the son of India's first female Prime Minister Indira Gandhi and grandson of India's first Prime Minister Jawaharlal Nehru, and the ninth Prime Minister of India. His full name was Rajiv Ratna Gandhi. He was the leading General Secretary of the Congress party of India (since 1981) and became the Prime Minister of India (1984–1989) after the assassination of his mother. At the age of 40, Rajiv Gandhi, who achieved the distinction of being the youngest and ninth Prime Minister of the country, can be called "the architect of modern India". He died on 21 May 1991 in Sriperembudur, Tamil Nadu.
Read More: 19 May in Indian and World History
Notable events on 21 May in Indian and World history
21 May 1216 – Prince Louis of France entered England.
21 May 1840 – New Zealand became part of the British Colony.
21 May 1881 – The US Nation Lawn Tennis Association was founded.
21 May 1908 – The first horror film was celebrated in Chicago.
21 May 1924 – University of Chicago students Richard Lobb and Nathan Leopold murdered a 14-year-old Bobby Franks.
21 May 1970 – The USSR conducted nuclear tests.
21 May 1981 – Pierre Moreau was appointed Prime Minister of France.
21 May 1994 – South Yemen declared its separation from North Yemen.
21 May 1996 – the famous soft drink company Pepsi announced the world's first commercial film production in space.
21 May 1998 – Resignation of President Suharto, who ruled Indonesia continuously for 32 years.
21 May 2002 – Former Bangladesh President HM Ershad was sentenced to 6 months imprisonment.
21 May 2003 – More than 190 countries of the world ratified the International Treaty on Tobacco in Geneva.
21 May 2006 – Attack on Congress rally in Srinagar on this day.
21 May 2010 – An Air India flight IX-182 coming from Dubai to Mangalore crashed, killing 158 out of 166 passengers.
21 May 2010 – Madan Tamang, president of the All India Gorkha League, was assassinated in Darjeeling.
National Anti-Terrorism Day
Every year, May 21 is observed in India as Anti-Terrorism Day. This day is observed to dissuade the youth from terrorism and violence by highlighting the suffering of the common people and showing that it is detrimental to national interests.