2 September in Indian and World History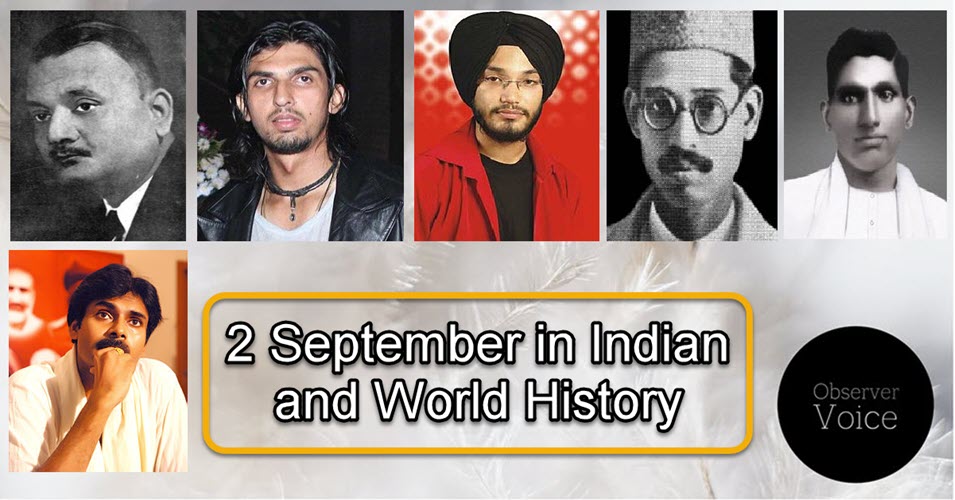 2 September in Indian and World History is celebrated, observed, and remembered for various reasons.1 September is the birth anniversary of T.K. Madhavan, Pawan Kalyan, Ishant Sharma, and Ishmit Singh.
2 September is also observed as the death anniversary Of Amarnath Jha, and Vishnu Sakharam Khandekar.
Birth Anniversary
2 September in Indian history is celebrated as the birth anniversary of the following personalities:
T.K. Madhavan (2 September 1885 – 27 April 1930), a noted social reformer and journalist from Kerala. He had agitated against many evils. He was a famous social reformer and Harijan leader of Kerala. The thoughts of Dadabhai Naoroji, Swami Vivekananda, Gandhiji, etc., and 'Srimad Bhagavad Gita' had a great influence on him. T.K. Madhavan rose to prominence as the leader of the Vaikom Satyagraha of 1924. Madhavan also had to go to jail during this Satyagraha. He was Born on 2 September 1885 in Kerala.
Pawan Kalyan, an Indian film actor. He has done many Telugu films and in March 2014 he entered politics by forming Jana Sena Party. She made her acting debut in the Telugu film Akkada Ammai Ikkada Abbai. In 2020 he started shooting for two films – Vakil Saab, directed by Venu Sriram, and Hara Hara Veera Mallu with director Krish. Mythri Movie Makers also announced a film with Kalyan in the direction of Harish Shankar. He was Born on 2 September 1971 in Telangana.
Ishant Sharma, an Indian cricketer who has represented India in Tests, ODIs, and T20Is. He is a 1.93 m tall right-arm fast-medium bowler. At the age of 18, Sharma was called to join the Indian squad for the tour of South Africa in 2006–07. In May 2007, Sharma was selected in the test team for the Bangladesh tour and played as a replacement for the fast bowler Munaf Patel. Over there he played for his national side in the second test where he bowled three overs including one maiden and conceded only five runs without taking a wicket. Ishant Sharma played for Kings XI Punjab in the Indian Premier League. In December 2018, he was bought by the Delhi Capitals in the player auction for the 2019 Indian Premier League. He was Born on 2 September 1988 in Delhi.
Ishmit Singh (2 September 1988 – 29 July 2008), the most talented budding singer of India. Singer Ishmit Singh of Ludhiana became the voice of Hindustan on 24 November 2007 by defeating Harshit Saxena of Lucknow, the 2007 winner of the Star Plus reality show Voice of India. After winning this competition, he became the heartbeat of millions of hearts through his captivating voice at the age of just 18. Swara Kokila Lata Mangeshkar had handed over the title of the winner to Ishmit with her own hands. He died suddenly in the Maldives due to drowning in the swimming pool. Many eminent personalities from the music world including Lata Mangeshkar, Asha Bhosle, Abhijit Bhattacharya, and Alka Yagnik have expressed their deep sorrow over Ishmit's demise. He was Born on 2 September 1988 in Panjab.
Read More: 1 September in Indian and World History
Death Anniversary
2 September in Indian history is observed as the death anniversary of the following personalities:
Amarnath Jha (25 February 1897 – 2 September 1955), an Indian scholar, litterateur, and educationist. He was one of the ardent supporters of Hindi. Amarnath Jha had made a valuable contribution to take Hindi to an honorable level and to make it the official language. He was also known as a skilled orator. He also authored several books. In view of his contribution in the field of education, he was awarded 'Padma Bhushan' in the year 1954. Amarnath Jha took over as the Vice-Chancellor of Banaras Hindu University for one year and was the chairman of the Public Leva Commission of Uttar Pradesh and Bihar. He died on 2 September 1955.
Vishnu Sakharam Khandekar (19 January 1898 – 2 September 1976), a well-known writer of the Marathi language. His fine essays are very much liked due to his language style etc. Apart from novels and short stories, he wrote plays, essays, and critical essays, etc. Vishnu Sakharam Khandekar was also honored with the 'Sahitya Akademi Award', 'Padma Bhushan' and 'Jnanpith Award' (1974). The publication of articles and poems of Vishnu Sakharam Khandekar started in 1919. Khandekar Ji believed in a close relationship between art and life. He died on 2 September 1976.
Read More: 29 September in Indian and World History
Notable events on 2 September in Indian and World history
2 September 1930 – The aircraft named 'Question Mark' took the first non-stop flight from Europe to America.
2 September 1945 – The six-year-long World War ended after Japan conceded defeat.
2 September 1946 -The Interim Government of India was formed under the Deputy Chairmanship of Jawaharlal Nehru.
2 September 1956 – 125 people died when a bridge collapsed between Jadcherala and Mehboob Nagar, a hundred kilometers from Hyderabad.
2 September 1969 – In New York, the USA, the automatic teller machine (ATM) was introduced to the world for the first time.
2 September 1970 – NASA canceled two of its Apollo missions to the moon.
2 September 1999 – Indian swimmer Bula Choudhary became the first Asian woman to cross the English Channel twice.
2 September 2008 – Uttar Pradesh Higher Education Department announced Saraswati Samman to Prof. BN Asthana, former Vice-Chancellor of Kanpur University.