2 December in Indian and World History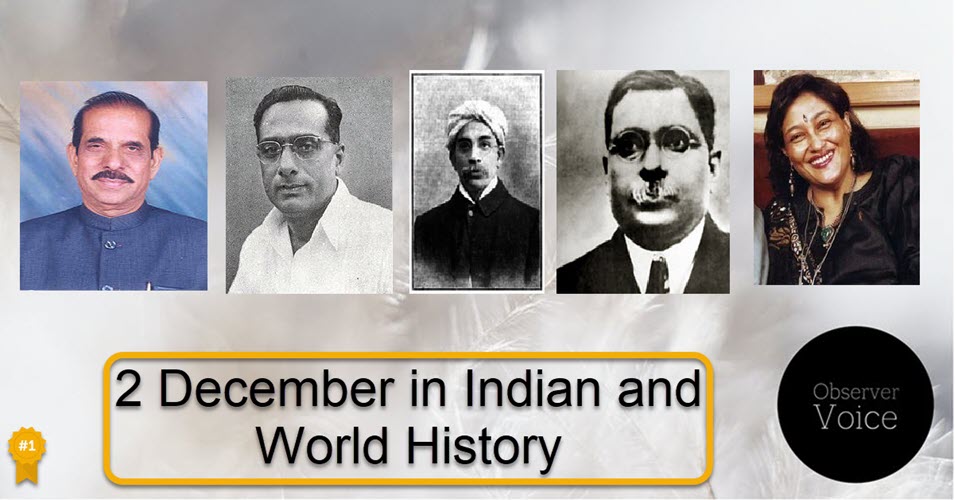 2 December in Indian and World History is celebrated, observed, and remembered for various reasons. 2 December is the birth anniversary of Narayan Ganesh Chandavarkar, Baba Raghavdas, Bommireddy Nagi Reddy, and Manohar Gajanan Joshi.
2 December is also observed as the death anniversary of Preeti Ganguly, and Deven Verma.
Birth Anniversary
2 December in Indian history is celebrated as the birth anniversary of the following personalities:
Narayan Ganesh Chandavarkar (2 December 1855 – 14 May 1923), the President of the Indian National Congress. His visit to England in 1885 marked the beginning of his political career. The reason was made, and he wholeheartedly engaged in the work of the Indian National Congress. He also became a judge of the Bombay High Court. He was born on 2 December 1855 Bombay in North Kanara.
Baba Raghavdas (2 December 1886 – 15 January 1958), a famous public servant and saint of Uttar Pradesh. He was also a preacher of Hindi and this For work, he opened the National Language School in Barhaj Ashram. Baba Raghavdas also participated in the freedom struggle and during this time he had to undergo several jail sentences. He was born on 2 December 1886 in Pune, Maharashtra.
Bommireddy Nagi Reddy (2 December 1912 – 25 February 2004), a famous film producer of Indian cinema. He was awarded the highest award of Indian cinema 'Dada Saheb Phalke Samman' in 1986 for his unprecedented contribution to cinema. He founded the Vijaya Vohini Studio in Chennai, which is considered to be the largest film studio in Asia.
Manohar Gajanan Joshi, an Indian politician and former Speaker of the Lok Sabha. He is one of the prominent leaders of the political party Shiv Sena and Manohar Joshi was also the Chief Minister of Maharashtra from (14 March 1995 – 31 January 1999). He was born on 2 December 1937 in Raigad, Maharashtra.
Read More: 1 December in Indian and World History
Death Anniversary
2 December in Indian history is observed as the death anniversary of the following personalities:
Preeti Ganguly (17 May 1953 – 2 December 2012) was a character actress in Hindi cinema, who played several comic roles in Bollywood in the 1970s and 1980s. She died on 2 December 2012 in Mumbai.
Deven Verma (23 October 1937 – 2 December 2014), a famous comedian of Hindi films in Indian cinema. He won everyone's heart with his brilliant comedic performances in Hindi films. Deven Verma acted in about 149 films. 'Golmaal', 'Angoor', 'Khatta Meetha', 'Nastik', 'Rang Birangi' etc. were one of the big films of his career. He also produced and directed a few films including 'Besharam'. He was also awarded the Filmfare Award for Best Comedian for the films 'Chori Mera Kaam', 'Chor Ke Ghar Chor' and 'Angoor'. He died on 2 December 2014 in Pune, Maharashtra.
Read More: 30 December in Indian and World History
Notable events on 2 December in Indian and World history
2 December 1804 – Napoleon Bonaparte has crowned Emperor of France.
2 December 1848 – France Joseph became the first Austrian emperor.
2 December 1911 – George V and Queen Mary became the first British monarchs to visit India The Gateway of India was built in memory of his arrival in Bombay (now Mumbai).
2 December 1942 – Sri Aurobindo Ashram School was established in Pondicherry (now Puducherry) which was later known as Sri Aurobindo International Center of Education.
2 December 1971 – The United Arab Emirates declared independence from Britain.
2 December 1976 – Fidel Castro became the President of Cuba.
2 December 1982 – Socialist majority in Spain's first parliament and Filip González elected prime minister.
2 December 1989 – Benazir Bhutto took over as the Prime Minister of Pakistan in 1988. Vishwanath Pratap Singh became the seventh Prime Minister of the country.
2 December 1995 – Nick Leeson, a well-known figure in the Bering's Bank scandal, was sentenced to six and a half years in prison by a Singapore court.
2 December 1999 -Private sector investment in the insurance sector was approved in India.
2 December 2002 – 219 people were rescued from a burning passenger ship 'Vidstar' off the island of Bora-Bora in the Pacific Ocean.
2 December 2008 – Punjab National Bank cut FCNR interest rates.
2 December is observed as National Pollution Control Day to raise awareness about pollution and its hazardous effects. This day is celebrated to memorize the people who lost their lives in the Bhopal gas calamity which is considered as one of the biggest industrial disasters.
International Day for the Abolition of Slavery is observed every year on 2 December. It is about raising awareness and reinforcing global efforts in combatting the torment of modern slavery. The day remind the people and government to abolish modern forms of slavery like trafficking, sexual exploitation, child labour, forced marriage, and forced recruitment of children into armed conflict.