28 December: Remembering Dhirubhai Ambani on his Birth Anniversary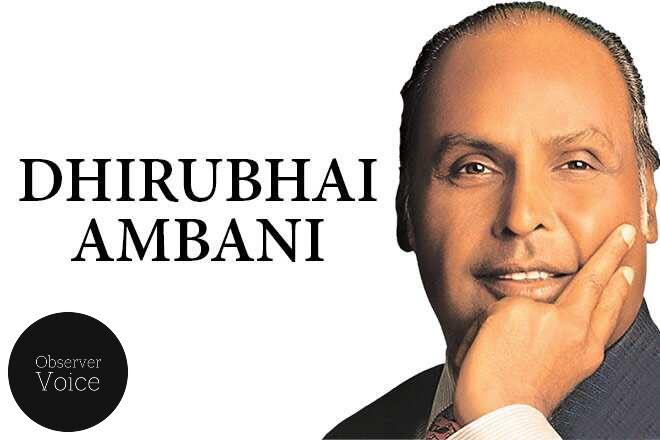 Dhirubhai Ambani (28 December 1932 – 6 July 2002) also known as Dhirajlal Hirachand Ambani, was an Indian industrialist who founded Reliance Industries, giant petrochemical, communications, power, and textiles conglomerate that was the biggest exporter in India and the first privately owned Indian company in the Fortune 500.
He had only studied till the tenth standard, but based on his determination, he established his own huge trading and industrial empire. In just three decades, he transformed his small business into a huge industrial company.
Early Life
Dhirubhai Ambani was born on 28 December 1932 in Chorwad, Junagadh district, Gujarat, India. His father was a teacher in a village school. From a young age, Dhirubhai was more interested in how to make money – he bunked school and choose to watch people in the streets selling their goods.
At the age of 17, he migrated to the British colony of Aden to join his brother. He started his career as a clerk at A. Besse & Co., which in the 1950s was the largest transcontinental trading firm east of Suez. There he learned trading, accounting, and other business skills. In 1958 Ambani returned to India and settled in Bombay.
In 1977 Ambani took Reliance public after nationalized banks refused to finance him. His agility in navigating a stodgy economy and crippling government regulations and bureaucracy led to allegations of political manipulation, corruption, and engineered raids on competitors, but investor confidence in Reliance remained unshaken owing in part to the handsome dividends the company offered, as well as the founder's charisma and vision. Ambani was credited with introducing the stock market to the average investor in India, and thousands attended the Reliance annual general meetings, which were sometimes held in a sports stadium, with many more watching on television.
Ambani handed over the day-to-day running of the company to his sons, Mukesh Ambani and Anil Ambani, in the mid-1980s but continued to oversee the company until shortly before his death in 2002.
Awards and recognition
In January 2016, he was honored posthumously with the Padma Vibhushan, India's second-highest civilian honor for his contributions to trade and industry. In August 2001, he won The Economic Times Awards for Corporate Excellence for Lifetime Achievement Award.
Dhirubhai Ambani was named the "Man of the 20th Century" by the Federation of Indian Chambers of Commerce and Industry.
Death
Dhirubhai Ambani was admitted to the Breach Candy Hospital in Mumbai on 24 June 2002 after he suffered a major stroke. It was his second stroke, the first had occurred in February 1986 and had paralyzed his right hand. He was in a coma for more than a week and several doctors were consulted. He died on 6 July 2002 in Mumbai, Maharashtra, India.
A Hindi film said to be loosely inspired by the life of Dhirubhai Ambani was released on 12 January 2007. Guru, directed by filmmaker Mani Ratnam, with cinematography by Rajiv Menon, and music by A.R. Rahman shows the struggle of a man striving to make his mark in the Indian business world with a fictional Shakti Group of Industries.