Top 5 Google's Searched keyword across India in 2022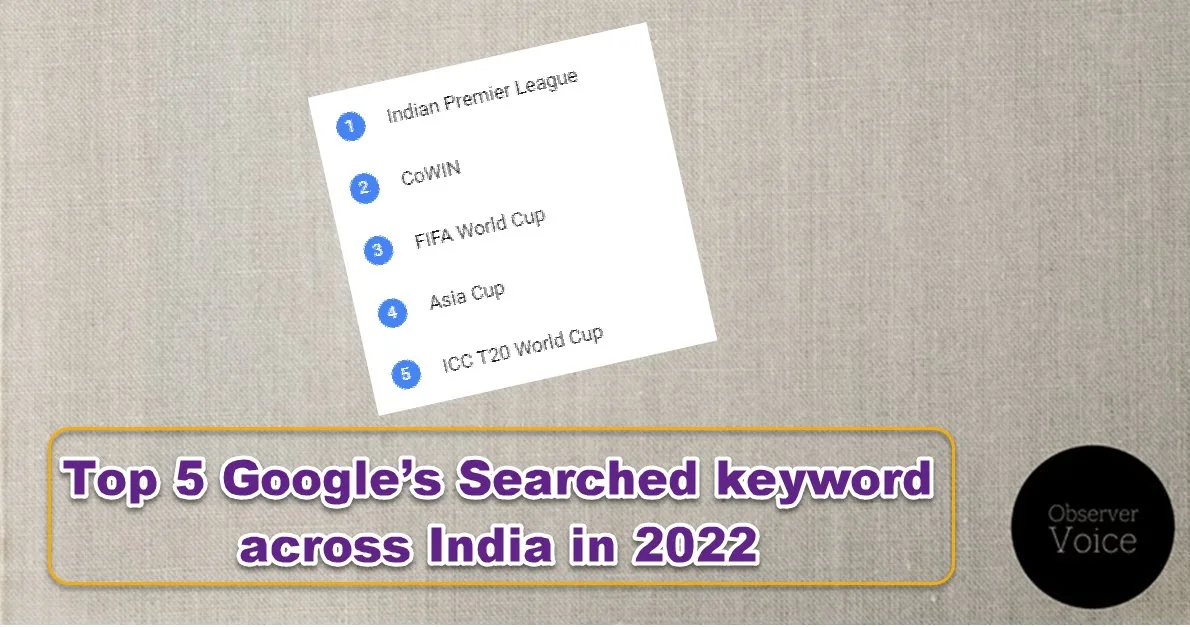 The Internet is mushrooming and reaching people at an unexpected pace. It is reaching every nook and corner of the world. India is not untouched by the pace. Currently, 45% of India's population has access to the internet, and the number is doubled in the last four years.  It is also expected that the pace of rising will pace up further — India may add 350 million smartphones by 2023. Thanks to the new giant JIO and spat between telecom giants which lead to cheap data with volume. Such connectivity brings transparency in people inquisitive to search and explores the subject.
Human curiosity with the accessible support of the internet and mobile phone helps people to know more about the world. They search for the world, places, and people of their interests. This write-up will cover the top 10 most searched keywords in India on Google in 2022.
1) Indian Premier League
The Indian Premier League, or IPL, is a professional cricket organization that has revolutionized the way cricket is played in India. Established in 2008 by the Board of Control for Cricket in India (BCCI), the IPL has become one of the world's most popular tournaments and a darling of television viewers everywhere. It's clear why this tournament is so beloved—it combines all aspects of sports entertainment, from thrilling matches to star players and plenty of fan support. Moreover, it's been successful not just because traditional markets have bought into it, but also because it appeals to newer generations who have no connection to cricket history.
This tournament encompasses more than just matches between teams; it's also about creating lasting memories and bonding over shared experiences with family members and friends alike.
Most searches for the keyword was made in Lakshadweep, Odisha, and Bihar.
2) CoWIN
As India battles, a second wave of the Covid-19 virus, the launch of CoWIN has been a major breakthrough. CoWIN stands for COVID Vaccine Intelligence Network, and it is an Indian government initiative to coordinate vaccine delivery and distribution across the country. This digital platform allows citizens to register and book their appointments through an Aadhaar card or mobile number. It also helps state governments to track immunization progress by capturing data in real-time.
The implementation of CoWIN has helped accelerate India's vaccination drive which promises hope to millions who have been affected by this pandemic. Not only does the technology ensure an efficient way to schedule vaccine appointments, but it also provides complete transparency regarding the availability of doses at particular sites around the country.
Most searches for keywords were made in Odisha, Assam, and Andaman & Nicobar Islands.
3) FIFA World Cup
The FIFA World Cup 2022 is sure to be an exciting event. With the host nation of Qatar, it will be the first World Cup in the Middle East and only the second time a Middle Eastern country has hosted any major international sporting tournament. The beautiful stadiums planned for construction have been designed with comfort and ease in mind, ensuring that both players and spectators have a pleasant viewing experience.
Qatar's commitment to creating an eco-friendly event is also evident, as some of the venues are planned to be powered entirely by renewable energy sources such as solar power. With competition expected from all across the globe, I am looking forward to watching this historic tournament unfold.
Most searches for the keyword was made in Manipur, Nagaland, and Lakshadweep.
4) Asia Cup
The Asia Cup has proven to be an exciting event and it's only getting bigger each year.
In this tournament, teams from around the world come together and play against each other as they compete to become champions of Asia. This year's edition will take place in India and UAE which is sure to make it all the more interesting. With great players such as Virat Kohli, Mahendra Singh Dhoni, Lasith Malinga, and Shakib Al Hasan on show, this tournament will be full of excitement and drama.
Most searches for the keyword was made in Jammu & Kashmir, Odisha, Tripura, and other states.
5) ICC T20 World Cup
The ICC T20 World Cup is one of the most exciting tournaments in cricket. From its inception in 2007, it has become a massive global sensation and continues to grow every year. This tournament brings together all the best and brightest players from around the world for an intense competition that captivates fans from all over the world. Every four years, millions of cricket fans come together to witness this spectacle of skill, athleticism, and strategy.
From passionate national rivalries to stunning individual performances, the ICC T20 World Cup always delivers thrilling moments that will be remembered for years to come. Watching cricket super stars like Virat Kohli and AB de Villiers taking the game to new heights can be truly breathtaking; each season brings something new and unexpected as teams fight their way through round-robin matches before advancing into the knockout stages.
Most searches for the keyword was made in Odisha, Tripura, and Jammu & Kashmir.
Another 5 most searched keywords across India in 2022 were Brahmastra: Part One – Shiva, e-SHRAM Card, Commonwealth Games, K.G.F: Chapter 2, and Indian Super League respectively.