Remebering Shivshahir Babasaheb Purandare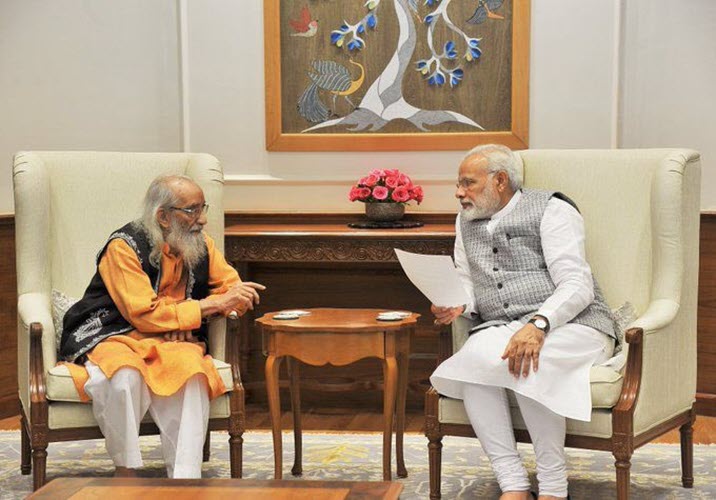 Image of Shivshahir Babasaheb Purandare & Narendra Modi | Source: Twitter/Narendra Modi
Babasaheb Moreshwar Purandare (29 July 1922 – 15 November 2021), also known as Babasaheb Purandare was a writer, historian, and legendary personality from Maharashtra. His works are mostly related to the life of Chatrapati Shivaji Maharaj, the 17th-century founder of the Maratha Empire. Because of that, he is also called as Shiv-Shahir. His noted works monumental two-volume "Raje Shivchhatrapati", "Jaanta Raja", "Maharaj", "Shelarkhind", "Gadkot Kille", "Agra", "Lal Mahal", "Purandar", "Rajgad", "Panhalgad", "Sinhagad", "Pratapgad", "Purandaryanchi Daulat", "Mujaryache Mankari", "Fulwanti", "Savitri", "Kalawantinicha Sajja". His creation Jaanta Raja is a depiction of Shivaji through a play and it was first staged in 1985. Since the year, the drama has been staged over 1,000 times in 16 districts of Maharashtra, Agra, Delhi, Bhopal and the United States and comprises 200-over artists.
He was also known for his significant contribution along with Madhav Deshpande & Madhav Mehere as senior party leaders in the early-1970s of Shiv Sena along with Balasaheb Thackeray.  In 2015, he was awarded the Maharashtra Bhushan Award which is the state's highest civilian award. He has also been awarded the Kalidas Samman by the Madhya Pradesh government for the year 2007-08 for his contribution to the field of drama.  He was awarded the Padma Vibhushan, India's second-highest civilian award on 25 January 2019.
He was admitted to Pune's Deenanath Mangeshkar Hospital and passed away on 15 November 2021.
PM launches initiatives for the welfare of Janjatiya community at Janjatiya Gaurav Diwas Mahasammelan
Remembrance
The Prime Minister, Narendra Modi has expressed deep sorrow on the demise of writer, historian and theatre personality, Shivshahir Babasaheb Purandare. He recalled Shivshahir Babasaheb Purandare's contribution in connecting coming generations to Chhatrapati Shivaji Maharaj. Shri Modi also posted his speech when Shri Modi had addressed his centenary year programme a few months ago.
In a series of tweets, the Prime Minister said:
"I am pained beyond words. The demise of Shivshahir Babasaheb Purandare leaves a major void in the world of history and culture. It is thanks to him that the coming generations will get further connected to Chhatrapati Shivaji Maharaj. His other works will also be remembered.
I am pained beyond words. The demise of Shivshahir Babasaheb Purandare leaves a major void in the world of history and culture. It is thanks to him that the coming generations will get further connected to Chhatrapati Shivaji Maharaj. His other works will also be remembered. pic.twitter.com/Ehu4NapPSL

— Narendra Modi (@narendramodi) November 15, 2021