9 July in Indian and World History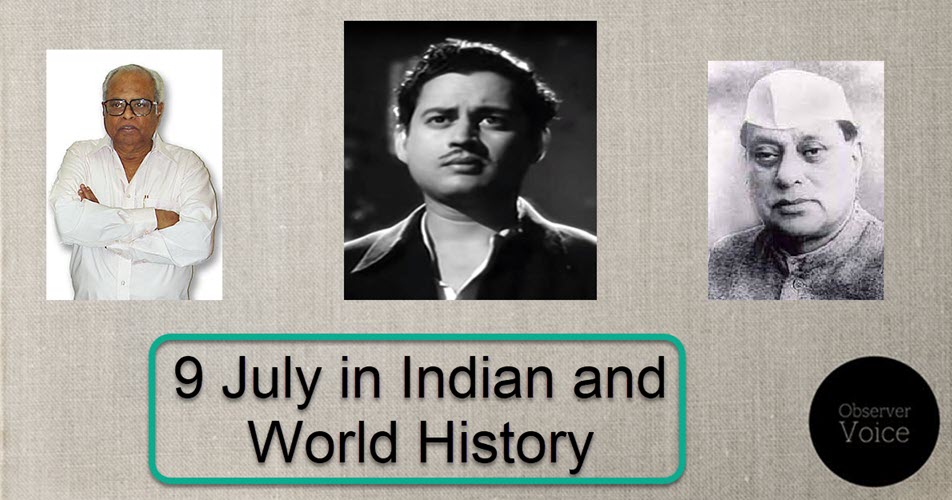 9 July in Indian and World History is celebrated, observed, and remembered for various reasons. 9 July is the birth anniversary of Satya Narayan Sinha, Guru Dutt, K. Balachander, and Sanjeev Kumar
9 July is also observed as the death anniversary of Rafiq Zakaria.
Birth Anniversary
9 July in Indian history is celebrated as the birth anniversary of the following personalities:
Satya Narayan Sinha (9 July 1900 – 26 July 1983), a prominent politician of the Indian National Congress and Minister of Parliamentary Affairs. He had been a member of the 'All India Congress Committee' for years. Satya Narayan Sinha was also a member of the First Lok Sabha, Second Lok Sabha, Third Lok Sabha, and Fourth Lok Sabha. From 1971 to 1977, he served as the Governor of Madhya Pradesh. Satya Narayan Sinha held many important positions in his political career. He was born on 9 July 1900 in Darbhanga, Bihar.
Guru Dutt (9 July 1925 – 10 October 1964), a film producer-director and actor in Indian cinema. The real name of 'Guru Dutt' was "Vasanth Kumar Shivshankar Padukone". Guru Dutt had the full eligibility to become a complete artist in his own right. He was a world-class film producer and director. At the same time, we can see glimpses of his literary interest and musical understanding in all his films. He was also a good dancer as he started his film career as a choreographer in Prabhat Films. The acting was never his first choice, but his simple, sensitive, and natural acting was admired by all. He had earlier selected Dilip Kumar for Pyaasa. He was also a creative writer and had previously written stories in the first 'Illustrated Weekly of India'. He was born on 9 July 1925 in Bangalore, Karnataka.
K. Balachander, a renowned film producer, director, and screenwriter. The prestigious Dadasaheb Phalke Award for the year 2010 for his incomparable contribution to the field of Indian cinema goes to senior filmmaker K. Balachander was given. He has presented with a Swarna Kamal and a cash prize of Rs.10 lakh as an award. This South Indian filmmaker has made his mark in North India with the Hindi film 'Ek Duje Ke Liye'. He was born on 9 July 1930 in Nannilam, Madras Presidency, British India.
Sanjeev Kumar (9 July 1938 – 6 November 1985), an Indian actor in Hindi films. His name was Haribhai Jariwal, but he is famous by his other name 'Sanjeev Kumar' in the film world. Sanjeev Kumar played the roles of hero, villain, and character artist. Famous movies starring him include 'Koshish', 'Sholay', 'Angoor', 'Trishul', 'Paras', 'Anamika', 'Toyona', 'Manchali', 'Chessranj Ke Khiladi', 'Sita Aur Geeta', 'Aandhi', 'Mausam', 'Vidhata', 'Dastak'. He was born on 9 July 1938 in Mumbai.
Read More: 8 July in Indian and World History
Death Anniversary
9 July in Indian history is observed as the death anniversary of the following personalities:
Rafiq Zakaria (5 April 1920 – 9 July 2005), an Indian politician and Islamic religious cleric. He was associated with the Indian independence movement and the Indian National Congress party. He was known for his advocacy of traditional Islam. He died on 9 July 2005 in Mumbai, Maharashtra, India.
Read More: 7 July in Indian and World History
Notable events on 9 July in Indian and World history
9 July 1815 – The first natural gas well in America was discovered.
9 July 1816 – The South American country of Argentina gained independence from Spain.
9 July 1875 – India's first stock exchange Bombay Stock Exchange was established on this day.
9 July 1877 – The first Wimbledon tennis tournament was held.
9 July 1889 – The American newspaper The Wall Street Journal began publication.
9 July 1944 – Netaji Subhash Chandra Bose accepted the leadership of Azad Hind Fauj to free India from British rule.
9 July 1951 – India's first five-year plan (1951-56) started on this day.
9 July 1969 – the lion was chosen as the country's national animal by the Wildlife Board.
9 July 1972 – The Soviet Union conducted an underground nuclear test.
9 July 1977 –  Alice Paul, one of the most prominent activists of the 20th-century women's rights movement, died.
9 July 1991 – South Africa was allowed to participate in the Olympic Games again.
9 July 2002 – The Organization of African Unity was renamed African Union.
9 July 2004 – the Asian Development Bank created a fund for its 42 member countries to fight terrorism.
9 July 2008 – Iran tested nine long- and medium-range missiles on this day.