7 July in Indian and World History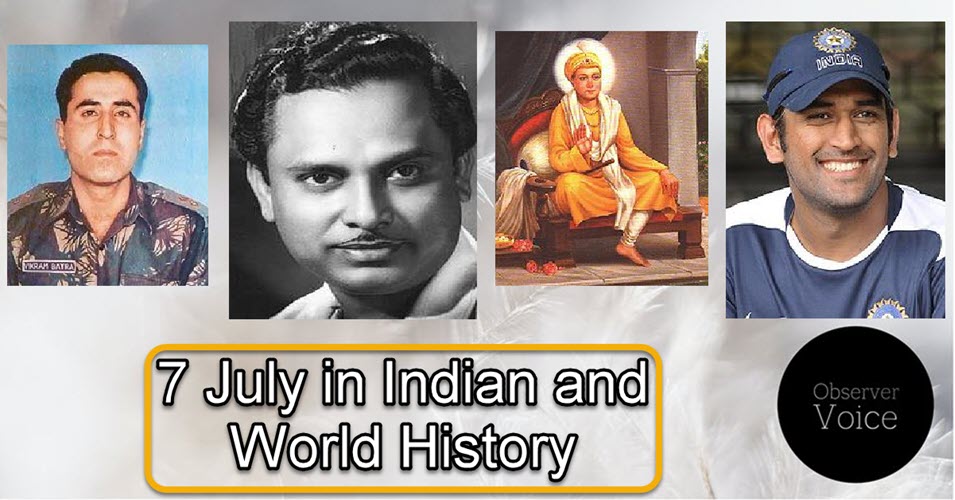 7 July in Indian and World History is celebrated, observed, and remembered for various reasons. 7 July is the birth anniversary of Guru Har Kishan Singh, Mohammad Barkatullah, Randhir Singh, Chandradhar Sharma Guleri, Anil Biswas, and Mahendra Singh Dhoni.
7 July is also observed as the death anniversary of Captain Vikram Batra, Abdul Qavi Desnavi, and Madan Lal Madhu.
Birth Anniversary
7 July in Indian history is celebrated as the birth anniversary of the following personalities:
Guru Har Kishan Singh (7 July 1656 – 30 March 1664), the eighth Guru of the Sikhs. He became the Guru on 6 October 1661 and remained in this post till 1664. He ruled for only three years, but he was very knowledgeable and used to amaze the Brahmins who came to him with the knowledge of the Hindu scripture Bhagavad Gita. Kishan Singh was born on 7 July 1656 in Kiratpur, Sivalik Hills.
Mohammad Barkatullah (7 July 1854 – 20 September 1927) an Indian freedom fighter. He was an anti-British anti-imperialist revolutionary who took us pains from the Sarva-Islam movement. Barkatullah spent most of his life abroad and supported the Indian independence movements. He was born on 7 July 1854 in Bhopal.
Randhir Singh (7 July 1878 – 16 April 1961), a famous Sikh leader and revolutionary. He was an opponent of untouchability and a supporter of women's rights. Singh was born on 7 July 1878 in Ludhiana, Punjab.
Chandradhar Sharma Guleri (7 July 1883 – 12 September 1922), a noted litterateur of Hindi literature. Before the age of twenty, he was selected in the group formed for the restoration and related research work of the observatory of Jaipur, and together with Captain Garrett he composed an English book titled "The Jaipur Observatory and its builders". He was born on 7 July 1883 in Guler Village, Kangra, Himachal Pradesh.
Anil Biswas (7 July 1914 – 31 May 2003), a famous Bollywood musician. Anil Biswas has been the charioteer of the golden age of Hindi films. Not only did he make film music classical, artistic, and melodious with his music, but he also carved many singers and singers and presented them like diamonds and jewels. Among them, the names of Talat Mahmood, Mukesh, Lata Mangeshkar, Suraiya can be counted prominently. Anil Biswas was well versed in folk music along with being a master of classical music. He was born on 7 July 1914 in Barisal, East Bengal.
Mahendra Singh Dhoni, a former captain and wicket-keeper batsman of the Indian cricket team. Under the captaincy of Dhoni, the Indian cricket team has achieved the number one crown in all three formats of cricket. First, he led India to victory in the T-Twenty World Cup 2007, then led India to number one in Tests and ODIs as well. After this, after 28 years in 2011, India got the title of ODI World Cup. With an intelligent captaincy, calm on-field attitude, and always ready to take any kind of risk, Dhoni is seen as a role model among the youth. He was born on 7 July 1981 in Ranchi, Bihar (now Jharkhand).
Read More: 6 July in Indian and World History
Death Anniversary
7 July in Indian history is observed as the death anniversary of the following personalities:
Captain Vikram Batra (9 September 1974 – 7 July 1999), an officer of the Indian Army, awarded with the Param Vir Chakra, India's highest and most prestigious award for valour, for his actions during the 1999 Kargil War. He led one of the toughest operations in mountain warfare in Indian history. Batra died on 7 July 1999 at the age of just 24 in Kargil, Jammu & Kashmir, India.
Abdul Qavi Desnavi (1 November 1930 – 7 July 2011), the famous Indian, made his mark as a writer of the Urdu language. He had a wonderful knowledge of literature, that is why he was a well-known figure in India and the world of the Urdu language. Abdul Qawi Desnavi was not only a famous writer but also an Urdu poet, critic, and linguist i.e. he had a great knowledge of the language. He died on 7 July 2011 in Bhopal.
Madan Lal Madhu (22 May 1925 – 7 July 2014) has been one of the modern bridge builders of Hindi and Russian literature. As editor-translator for nearly four decades at Moscow's leading publishing house Progress and Raduga Publications, he wrote more than a hundred classic Russian books, including classics by Pushkin, Mayakovsky, Tolstoy, Gorky, Chekhov, Turgenev, etc. Hindi translation made accessible to Indian readers. He died on 7 July 2014.
Read More: 5 July in Indian and World History
Notable events on 7 July in Indian and World history
7 July 1763 – Mir Jafar was reappointed as the Nawab of Bengal.
7 July 1799 – Maharaja Ranjit Singh captured Lahore on this day.
7 July 1843 – Camillo Golgi, an Italian physician, cytologist, and Nobel Laureate, was born.
7 July 1941 – the Nazis killed five thousand Jews in the European country of Lithuania.
7 July 1948 – Damodar Valley Corporation was established on this day.
7 July 1948 – Independent India's first multipurpose project took place.
7 July 1978 – The Solomon Islands gained independence from Britain. Europeans discovered this island group in 1567.
7 July 1979 – The Soviet Union conducted nuclear tests in eastern Kazakh.
7 July 1998 – Pt. Vishwa Mohan Bhatt was awarded the UN. Received prestigious America's Most Admired Person of the Decade honor.
7 July 2003 – The United Communist Party of Armenia was formed on this day.
7 July 2007 – The US telecommunications satellite Direct V-10 was launched by Russia's Proton-M rocket.
7 July 2011 – Harry Potter and the Deathly Hallows Part 2, the final film in the Harry Potter series, premiered in London.
7 July 2013 – After defeating Novak Djokovic in the final of the Wimbledon tennis tournament, Andy Murray became the first player from England to win the title since 1936.