5 January: Remembering Harold Urey on his Punya Tithi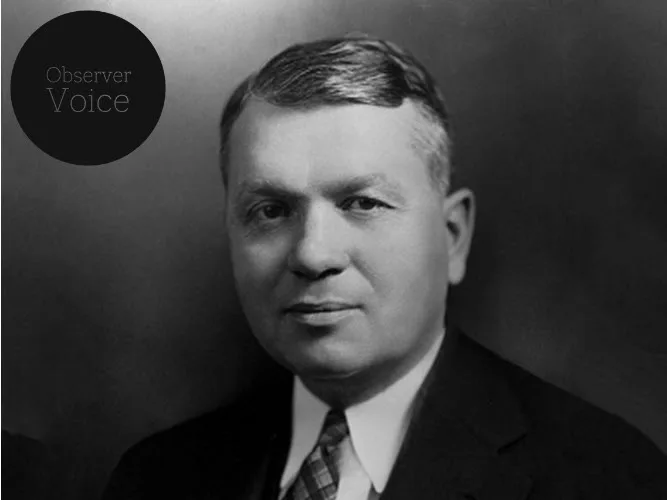 Harold Urey (29 April 1893 – 5 January 1981) was an American physicist and chemist who came to prominence for his pioneering work on isotopes.
Early Life and Education
Harold Urey was born on 29 April 1893, in Walkerton, Indiana, U.S. During his early education, he enrolled in an Amish grade school before going to high school in Kendallville, Indiana.
He enrolled at the University of Montana in Missoula in 1914. He graduated with a bachelor's degree in Zoology three years later. In the same year, the US entered World War I, and he began to work for Barrett Chemical Company.
Afterward, he went to work at the University of Montana as a Chemistry instructor. He studied thermodynamics at the University of California, Berkeley for his Ph.D. in 1921. Using spectroscopic data, he developed accepted methods for calculating thermodynamic properties.
The American-Scandinavian Foundation awarded Urey a fellowship to study under Danish physicist Niels Bohr after he finished his Ph.D. in 1923.
When he returned to the US, he was offered a fellowship at Harvard University and a research associate job at Johns Hopkins University.
Career
He was appointed associate professor of Chemistry at Columbia University in 1929. Urey wrote Atoms, Quanta, and Molecules with Arthur Ruark the following year. The book was one of the first to apply quantum mechanics to atoms and molecules.
The theory of isotopes was developed in the 1930s. Throughout the world, chemists have known that elements can have the same number of protons but different masses. In spite of the isotopes of carbon, nitrogen, and oxygen being discovered, hydrogen remained a mystery. He set out to find out about hydrogen isotopes.
As part of a series of experiments, Urey and Murphy figured out how to calculate hydrogen isotopes. To get liquid hydrogen that they could use in their experiments, he even went to the cryogenics lab at the National Bureau of Standards in Washington DC.
Ferdinand Brickwedde and Murphy helped Urey with his experiments. Several times, he evaporated hydrogen. Finally, they saw seven times more intense Balmer lines for 'Heavy Hydrogen' than usual. Eventually, they got confirmation of their discovery of deuterium.
The discovery of deuterium was announced publicly by Urey, Murphy, and Brickwedde in 1932. He was also promoted to professor at Columbia University that year. Aside from that, he started the Journal of Chemical Physics and was its first editor until 1940.
During World War II, he was Director of War Research at Columbia University's Atomic Bomb Project.
Urey's investigation and research did not stop with deuterium. He kept discovering more about carbon, nitrogen, hydrogen, oxygen, and sulphur isotopes. Throughout his career, he developed methods for separating rarer isotopes of all these elements, making them easily accessible for lab work.
As World War II broke out, Urey had become famous in the scientific world and was widely regarded as the world's expert on isotope separation. Until then, he had only dealt with lighter elements. He published papers in 1939 about centrifugal separation for separating heavier isotopes.
Neils Bohr's suggestion that uranium 235 was potentially fissile caused some controversy. In order to clear up his doubts, Urrey studied uranium intensively. To determine the results, he used everything from gaseous diffusion to thermal diffusion.
In 1941, he was part of the uranium research team at the Office of Scientific Research and Development. He went to England the next year to establish atomic bomb cooperation with George B Pegram.
He became a Distinguished Service Professor of Chemistry at the Institute for Nuclear Studies at the University of Chicago after World War II. He became a chemistry professor at Ryerson in 1952.
During 1956 and 1957, he was George Eastman's Visiting Professor at Oxford, and in 1958, he became Professor-at-Large at the University of California.
After the war, he always fought against military control of nuclear energy. Instead, he supported the Atomic Energy Commission. Also, he went on lecture tours against war and got involved in Congressional debates about nuclear power.
His last years were spent researching the planetary sciences. He wrote a book called 'The Planets: Their Origin and Development' in which he outlined the origins of the Earth, Moon, meteorites, and solar system. He studied lunar samples brought by Apollo 11 at the Lunar Receiving Laboratory, along with six other scientists.
Award
He won the Nobel Prize in Chemistry in 1934 for discovering heavy hydrogen.
Death
He died on 5 January 1981, in California, U.S.
Read More: 5 January: Remembering Max Born on his Punya Tithi