30 September in Indian and World History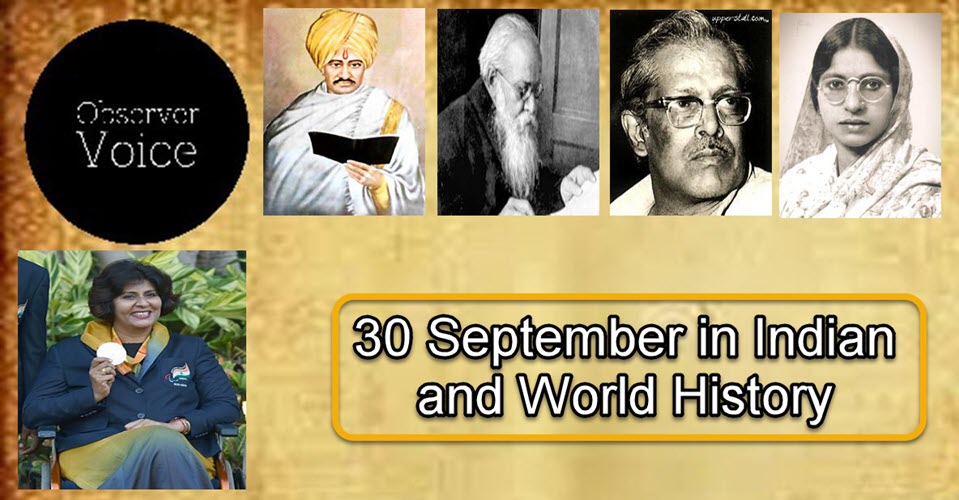 30 September in Indian and World History is celebrated, observed, and remembered for various reasons. 30 September is the birth anniversary of Pandit Shraddharam Sharma, Hrishikesh Mukherjee, and Deepa Malik.
30 September is also observed as the death anniversary of Ramananda Chatterjee, and Sumitra Kumari Sinha.
Birth Anniversary
30 September in Indian history is celebrated as the birth anniversary of the following personalities:
Pandit Shraddharam Sharma or 'Shraddharam Phillauri' (30 September 1837 – 24 June 1881), a famous astrologer, but not an astrologer. He did not get the fame that he got because of the immortal aarti "Om Jai Jagdish Hare" written by him. Aarti of 'Om Jai Jagdish Hare' written by Pandit Shraddharam Sharma is sung all over India. This aarti was composed by Shraddharam Sharma in 1870 AD. Pandit ji was a Sanatan religious preacher, astrologer, freedom fighter and musician as well as a famous litterateur of Hindi and Punjabi. On the strength of his extraordinary talent and eloquent eloquence, he had awakened a new social consciousness and religious fervor in Punjab, which later on got a fertile land already created for the Arya Samaj. Most of the works of Shraddharam Sharma are in prose. He was the representative lyricist of Hindi and Punjabi in the second half of the 18th century. In his Hindi prose, there is a predominance of Khari dialect. There is also a background of Urdu and Punjabi everywhere. He was Born on 30 September 1837 in India.
Hrishikesh Mukherjee (30 September 1922 – 27 August 2006), is noted in Hindi films as a filmmaker who, despite making serious films on very minor subjects, never ignored his entertainment side. did not do. This is the reason why his films like Satyakam, Ashirwad, Chupke-Chupke and Anand are still very much liked. Most of Hrishikesh Mukherjee's films are kept in the realm of family films as they portrayed the nuances of human relationships very well. Star actors and actresses like Rajesh Khanna, Amitabh Bachchan, Dharmendra, Sharmila Tagore, Jaya Bhaduri also forget their stardom and blend in with the characters in their films. Hrishikesh Da also produced serials for television like 'Talaash', 'Hum Hindustani', 'Dhoop Chhaon', 'Rishtey' and 'Ujale Ki Ore'. He was Born on 30 September 1922 in Kolkata.
Deepa Malik is an Indian athlete. She started her career at the age of 30. She is the first Indian woman to win a medal in Paralympic Games and won a silver medal at the 2016 Summer Paralympics in shot put.[3] She also won gold in the F-53/54 Javelin event at the para-athletic Grand Prix held in Dubai in 2018. She is currently the world number one in the F-53 category. She has won accolades for her participation in various adventure sports. She is associated with Himalayan Motorsports Association (H.M.A.) and Federation of Motor Sports Clubs of India (F.M.S.C.I.). She has undertaken an 8-day, 1,700-km drive in sub-zero temperatures which included a climb to 18,000 feet (5,500 m). It was – Raid De Himalaya. Malik participated in the grid and national anthem ceremony at the start of the 2013 Indian Grand Prix at the Buddh International Circuit. Her aim of joining motorsports is to spread awareness towards the fact that physically challenged individuals can obtain an official license and attain independence and self-reliance through driving. Deepa Malik has undertaken numerous rallies to promote this cause. She was Born on 30 September 1970 in Haryana.
Read More: 29 September in Indian and World History
Death Anniversary
30 September in Indian history is observed as the death anniversary of the following personalities:
Ramananda Chatterjee (29 May 1865 – 30 September 1943), a pioneer in the journalism world. He was the founder, editor and owner of the magazine 'Modern Review' published from Kolkata. He is considered the "Father of Indian Journalism". He worked especially in the field of journalism. Apart from this, he had worked as a teacher and principal. Ramanand was an ardent supporter of the Indian National Congress. After some years he supported the Congress Nationalist Party and the Hindu Sabha. Ramanand was a strong supporter of the freedom of editorial thought. He was greatly influenced by Acharya Jagdish Chandra Bose and Shivnath Shastri. He also got an offer to study further in England, but Ramanand did not accept it. By then the Brahmo Samaj had influenced him. He died on 30 September 1943.
Sumitra Kumari Sinha (1913 – 30 September 1994), a popular Hindi poet and writer. He made an active contribution to the freedom movement. Sumitra also used to recite poetry with melodious voice in poet-sammelans. Sumitra Kumari Sinha was associated with All India Radio Lucknow. He has also done important work in the field of children's literature. His son Ajit Kumar Sinha was a talented writer. His daughter Kirti Choudhary made her mark as a famous poetess of Tar Saptak. Sumitra Kumari Sinha had made an active contribution to the freedom movement. She died on 30 September 1994.
Read More: 27 September in Indian and World History
Notable events on 30 September in Indian and World history
30 September 1898 – The American city of New York was founded on this day.
30 September 1929 – The first rocket carrying man took off on this day.
30 September 1993 – Earthquake in Aurangabad in the Indian state of Maharashtra killed more than 10,000 people and left millions homeless.
30 September 2002 – A temple was vandalized by radical Muslims in Pakistan, with China expressing a desire to make voluntary talks with India more meaningful.
30 September 2003 – Viswanathan Anand won the World Rapid Chess Championship.
30 September 2009 – Eminent playback singer Manna Dey was selected for the prestigious Dadasaheb Phalke Award for the year 2007.
30 September 2010 – The Lucknow bench of the Allahabad High Court gave a three-part division of the land in the disputed Babri Masjid case to Ramlala, Nirmohi Akhara and the Waqf Board.
30 September 2011 – Gaspar Henaine, a Mexican actor, died.