29 September in Indian and World History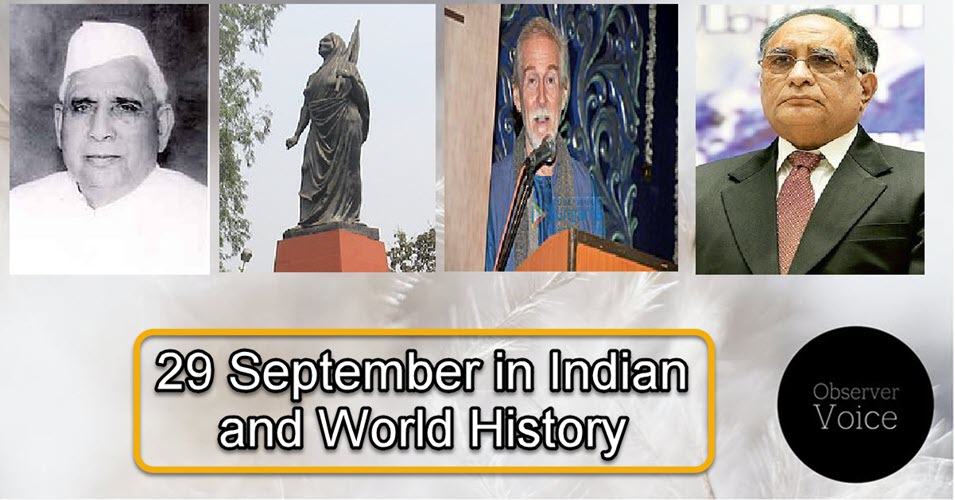 29 September in Indian and World History is celebrated, observed, and remembered for various reasons. 29 September is the birth anniversary of Brijesh Mishra, Sarosh Homi Kapadia, and Mehmood Ali.
29 September is also observed as the death anniversary of Matangini Hazara, and Thomas Beach Alter.
Birth Anniversary
29 September in Indian history is celebrated as the birth anniversary of the following personalities:
Brijesh Mishra (29 September 1928 – 28 September 2012), India's first National Security Advisor and Principal Secretary to former Prime Minister Atal Bihari Vajpayee. He was the son of former Chief Minister of Madhya Pradesh Dwarka Prasad Mishra. His father was awfully close to Indira Gandhi. During the tenure of Atal Bihari Vajpayee, he played a central role in giving goal-oriented direction to national security and foreign policy. Prior to this, he had retired as the Secretary of the Ministry of External Affairs. Thereafter he worked as the Permanent Representative of India to the United Nations. Mishra played an important role in assisting Vajpayee during the Kargil War in 1999. After the fall of the NDA government in 2004 and Vajpayee's distance from politics, Mishra also distanced himself from the Bharatiya Janata Party. Brijesh Mishra had supported the nuclear deal between India and America during the tenure of Prime Minister Manmohan Singh. He was an exceptional advocate of close relations between India and America. We will all miss Brijesh Mishra, but the world will remember his contribution for years. He was Born on 29 September 1928 in New Delhi.
Sarosh Homi Kapadia (29 September 1947 – 4 January 2016), the 38th Chief Justice of India. s. H. Kapadia was appointed as the Chief Justice of the Supreme Court on May 12, 2010 and retired from the position on September 28, 2012. In addition to a judge, S. H. Kapadia was also deeply knowledgeable in economics, public finance, theoretical physics. He also studied Hindu and Buddhist philosophies deeply. His way of living was amazingly simple. In the early days of the Bombay High Court, he used to eat only gram for breakfast. Even after retirement in 2012, S. H. Kapadia did not take any position in any committee, he just kept working from his office. He was Born on 29 September 1947 in Mumbai.
Mehmood Ali (29 September 1932 – 23 July 2004), popularly known simply as Mehmood, was an Indian actor, singer, director, and producer best known for playing comic roles in Hindi films. During his career of more than four decades, he worked in over 300 Hindi films. Ali is known as India's national comedian. Mehmood received 25 Nominations for film fare awards, 19 for 'Best Performance in a Comic Role', while the awards started in 1954, awards for the best comedian category started only in 1967. In the late 1970s, Mehmood's popularity began to decline as other comedy actors like Jagdeep, Asrani, Paintal, Deven Verma and Kader Khan shot to prominence. Between 1990 and 1999, he made a handful of movies, but most of them were either shelved or made no impression. Mehmood reportedly taught table tennis to actress Meena Kumari. After marrying legendary actress Meena Kumari's younger sister Madhu in the early 1950s and becoming a father by having a son, Masood, he decided to act to earn a better living starting with a small break as a killer in the film C.I.D. (1956 film). He started off by doing small, unnoticed roles in films like the peanut seller in Do Bigha Zameen and Pyaasa. He was Born on 29 September 1932 in Mumbai.
Read More: 27 September in Indian and World History
Death Anniversary
29 September in Indian history is observed as the death anniversary of the following personalities:
Matangini Hazara (19 October 1870 – 29 September 1942), the heroines of Bengal who sacrificed her life for the independence of India. His name is taken with great respect in Indian history. Matangini Hazara was a widowed woman. But when the occasion came, he had shown indomitable bravery and courage. Under the 'Quit India Movement', the armed British army asked the agitators to stop. Matangini Hazara, showing courage, took the national flag in her hands and came to the forefront of the procession. At the same time, bullets were fired at her, and this heroine sacrificed her life for the country. In 1932 there was a procession in your village, in which there was no woman. Seeing this, Matangini joined the procession. He also participated in Gandhiji's Salt Satyagraha. Many people were arrested in this, but seeing Matangini's old age, they were released. As soon as he got the opportunity, he went quietly to the court of Tamluk, which was under police guard, and unfurled the tricolor flag. He was so beaten on this that blood started coming out of his mouth. In 1933, he had to undergo 6 months imprisonment for showing the black flag to the governor. She died on 29 September 1942.
Thomas Beach Alter (22 June 1950 – 29 September 2017), an Indian actor. He is best known for his work in Hindi cinema, and Indian theatre. In 2008, he was awarded the Padma Shri by the Government of India. Alter was the son of American Presbyterian missionaries of English, Scottish and Swiss German ancestry and lived for years in Mumbai and the Himalayan hill station of Landour. His grandparents migrated to Madras, India from Ohio, U.S., in November 1916. From there, they moved to and settled in Lahore, in present-day Pakistan. His father was born in Sialkot.  After the Partition of India, Alter's family too split into two; his grandparents chose to stay in Pakistan while his parents moved to India. After living in Allahabad, Jabalpur and Saharanpur, in 1954 they finally settled in Rajpur, Uttarakhand, then a small town located between Dehradun and Mussoorie; Rajpur is now considered a suburb of Dehradun. Some of his most famous movie roles have been as Musa in Vidhu Vinod Chopra's acclaimed crime drama Parinda, Mahesh Bhatt's blockbuster romance Aashiqui, and Ketan Mehta's Sardar, in which Alter essayed the role of Lord Mountbatten. He died on 29 September 2017.
Read More: 25 September in Indian and World History
Notable events on 29 September in Indian and World history
29 September 1915 – The first transcontinental message by telephone was sent.
29 September 1927 – Telephone service between the US and Mexico began.
29 September 1959 – Aarti Saha swam across the English Channel on this day.
29 September 1962 – Birla Planetarium in Kolkata opened on this day.
29 September 1988 – Charles Addams, an American cartoonist, died because of heart attack.
29 September 2001 – The United Nations passed the US Anti-Terrorism Resolution.
29 September 2006 – The world's first female space tourist Anusheh Ansari, a US citizen of Iranian origin, returned safely to Earth.
29 September 2009 – In the latest ranking of the International Boxing Federation, Bijender was ranked first in 75 kg with 2700 points.
29 September 2011 – China successfully put Tiangong-1, the first space laboratory, into space orbit from the Jiquan Satellite Launch Center.
This day is celebrated World Heart Day every year on '29 September'. Due to chaotic lifestyle and unbalanced diet, the number of victims of heart disease has increased rapidly across the world. In the fast-paced life, people do not get a chance to pay attention to their health, Due to many reasons like stress, fatigue, pollution etc., it is difficult for this very important blood exchange organ to do its work, that is why 'World Heart Day' awakens the feeling among people that they should be aware of heart diseases. Stay. 'World Heart Day' is celebrated all over the world. This day is celebrated in relation to the diseases related to the heart and keeping it healthy.