3 May in Indian and World History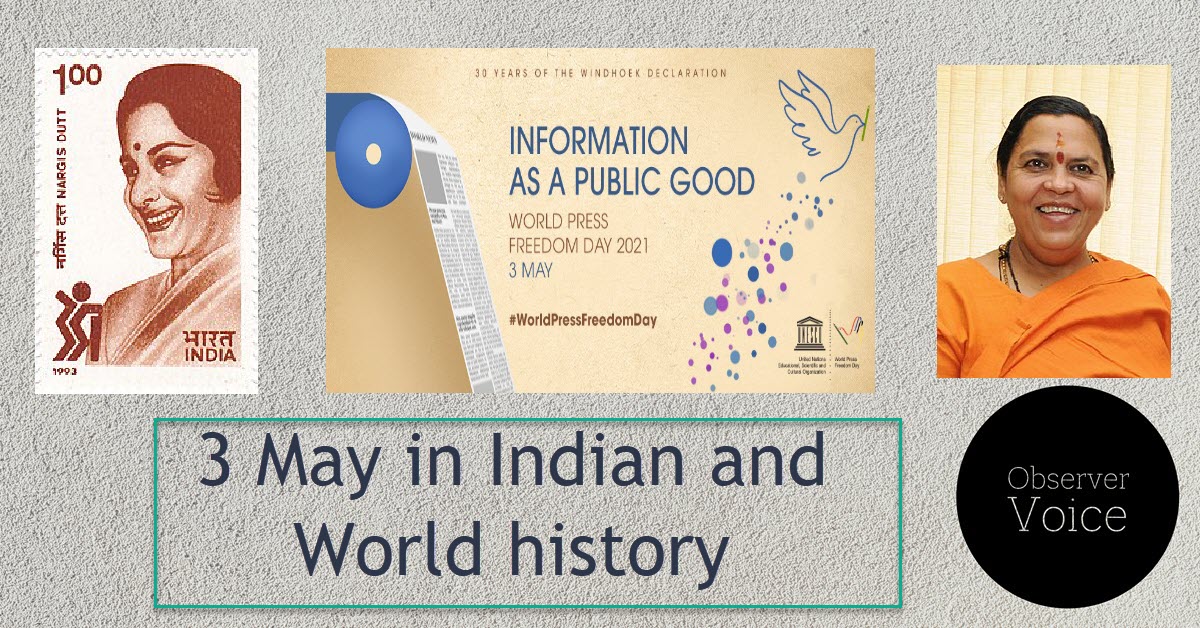 3 May in Indian and World History is celebrated, observed, and remembered for various reasons. 3 May is the birth anniversary of Tukoji Rao II, Bhalji Pendharkar, V.K. Krishna Menon, Ashok Gehlot, Raghubar Das, Uma Bharti, Hamlet Bareh Ngapkynta, and Manpreet Singh Pawar.
3 May is also observed as the death anniversary of Nargis Dutt, Pramod Vyankatesh Mahajan, and Shakuntala Paranjpye.
Birth Anniversary
Tukoji Rao II (3 May 1815 – 17 June 1886) the Maharaja of Indore (Hokar State) belonging to the Holkar dynasty of the Marathas. He was born on 3 May 1815 in Khurd Tal – Nashik, Maharashtra.
Bhalji Pendharkar (3 May 1897 – 26 November 1994) a film director, producer, and writer. He also got the Dadasaheb Phalke Award, the most prestigious award in the field of film making. He was born on 3 May 1897.
V.K. Krishna Menon (3 May 1896 – 6 October 1974) an Indian politician, non-career diplomat, and nationalist. He was chairman of the Indian delegation at the United Nations General Assembly from 1951 to 1962. He belongs to Indian National Congress Party. Menon has introduced the idea of the Constituent Assembly of India. He was born on 3 May 1896 in Tellicherry, Malabar District, Madras Presidency, British India.
Ashok Gehlot, an Indian politician, and the current Chief Minister of Rajasthan. He was in this position from December 1998 to 2001, and from 2008 to 2011, and again from 17 December 2018. He belongs to the Indian National Congress party. Gehlot was born on 3 May 1951 in Jodhpur, Rajasthan, India.
Raghubar Das, an Indian politician who served as the sixth Chief Minister of Jharkhand state of India. He became the 6th chief minister of Jharkhand on 28 December 2014. He belongs to Bharatiya Janata Party (BJP). He was also appointed as the vice president of the National Committee of BJP on 16 August 2014. He was born on 3 May 1955.
Uma Bharti, an Indian politician and former Chief Minister of Madhya Pradesh. She held in the various ministries of Human Resource Development, Tourism, Youth Affairs, and Sports, and also in Coal and Mines during the second as well as the third ministry of Prime Minister Atal Bihari Vajpayee. She was appointed as the Minister for Water Resources, River Development, and Ganga Rejuvenation after Narendra Modi became Prime Minister in 2014. Uma Bharti was born on 3 May 1959 in Dunda, Tikamgarh District in the state of Madhya Pradesh.
Hamlet Bareh Ngapkynta an Indian writer, historian, and film director from the Northeast Indian state of Meghalaya. He was the chairman of the executive committee of the Rajiv Gandhi University, Arunachal Pradesh, and a recipient of the 2004 Meghalaya Day Award. He also got the fourth highest civilian honor of the Padma Shri in 2004. He was born on 3 May 1911, Jaiaw Lumsyntiew, Meghalaya, India.
Manpreet Singh Pawar, an Indian field hockey player and the captain of India men's national field hockey team since May 2017. He was born on 3 May 1985 in a farming family in Mithapur village on the outskirts of Jalandhar city of Punjab in India.
 Read More: 2 May in Indian and World History
Death Anniversary
Nargis Dutt (01 June 1929 — 03 May 1981), an Indian actress and politician who worked in Hindi cinema. She started her acting career with the film Tamanna (1942). She married her Mother India co-star Sunil Dutt in 1958. Nargis got Filmfare Best Actress Award for the film Mother India in 1958. She was the first film actress who got the Padma Shri title in 1958. She was died on 03 May 1981 at the age of 51 due to Cancer in Bombay, Maharashtra.
Pramod Vyankatesh Mahajan (10 October 1949 – 3 May 2006), an Indian politician from Maharashtra. He was a member of the Rajya Sabha and a General Secretary of his party. He belongs to Bharatiya Janata Party (BJP), he also becomes the telecommunications minister between 2001 and 2001. He died on 3 May 2006 at the age of 56 in Mumbai.
Shakuntala Paranjpye (17 January 1906 – 3 May 2000), an Indian writer, actor, and prominent social worker. She was awarded Padma Bhushan in recognition of her pioneering work in the field of family planning. She died on 3 May 2000.
Read More: 1 May in Indian and World History
Notable events on 3 May in Indian and World History
3 May 1817 – The University of Athens is founded.
3 May 1962 – Express train crashed into wreckage of a commuter train & a freight due to which 161 were killed and 400 were injured in Tokyo, Japan.
3 May 1968 – The first heart transplant in Britain is successfully carried out by a team of 18 doctors and nurses at the National Heart Hospital in Marylebone, London.
3 May 1987–  Dalida, an Italian-French singer and actress, died because of suicide.
3 May 2001 – The United States loses its seat on the U.N. Human Rights Commission for the first time since the commission was formed in 1947.
3 May 2002 – A military MiG-21 aircraft crashes into the Bank of Rajasthan in India that killed 8.
3 May – World Press Freedom Day
Every year World Press Freedom Day is observed on 3rd May to evaluate press freedom around the world and to pay tribute to journalists who have lost their lives in the exercise of their profession. World Laughter Day is also celebrated on the first Sunday of May every year. In 1998, the first celebration took place in Mumbai, India. It was arranged by Dr. Madan Kataria founder of the worldwide Laughter Yoga movement.
3 May – World Asthma Day
The Global Initiative for Asthma (GINA), a World Health Organization collaborative organization founded in 1993, organizes World Asthma Day on 3 May 2022. It is celebrated to raises awareness about asthma around the world. For more info refer to GINA Official website (www.ginasthma.org).