Important Days and Dates in May 2022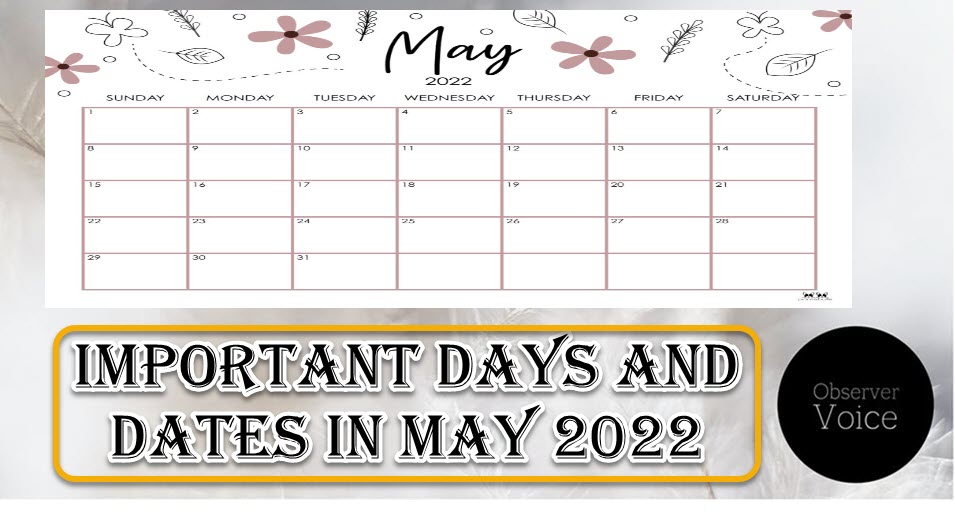 Important Days and Dates in May 2022: In every month, there are important days and events to remember and honour the things that have happened. This month has some of the important celebrations and days to honour the cause and raise awareness about different diseases, events, and honour past sacrifices, few of them include International Labour Day, Mother's Day, Buddha Jayanti, and World Turtle Day, etc. In this article, we provide a glance at important days and dates which not only help you boost your general knowledge but also prepare you for upcoming competitive exams. We have compiled a list of important days and dates based on festivals and events celebrated in India and around the world.
Detail about Days and Dates in April 2022
1 May 2022 – International Labour Day
International Workers' Day, also known as Labour Day in most countries and also known as May Day, is a celebration of laborers and the working classes that is promoted by the international labor movement every year on 1 May.
Read More: International Workers Day: History, Theme, and Significance
1 May 2022 – World Laughter Day
World Laughter Day is celebrated every year on the first Sunday of May to promote awareness about the healing power of laughter. The first Sunday in May is celebrated in more than 70 countries around the world as World Laughter Day.
3 May – World Press Freedom Day
Each year, 3 May is dedicated to celebrating the fundamental principles of press freedom, evaluating press freedom around the world, defending media freedom, and paying tribute to journalists who have lost their lives while undertaking their profession. World Press Freedom Day was declared by the UN General Assembly in 1993 following a Recommendation adopted by UNESCO's General Conference at its 26th session in 1991.
3 May – World Asthma Day
The Global Initiative for Asthma (GINA), a World Health Organization collaborative organization founded in 1993, organizes World Asthma Day on 3 May 2022. It is celebrated to raises awareness about asthma around the world. For more info refer to GINA Official website (www.ginasthma.org).
4 May – International Firefighters' Day
Firefighters dedicate their lives to protecting lives and property. This dedication may take the form of countless hours of volunteering over many years, or it may take the form of many selfless years spent working in the industry. International Firefighters' Day (IFFD) is a day when the world's community can recognize and honor the sacrifices that firefighters make to ensure that their communities and environment are as safe as possible. It is also a day on which current and past firefighters can be thanked for their contributions.
4 May – Coal Miners Day
Coal Miners Day is celebrated on 4 May every year for the toughest professionals and coal miners. Workers commemorate this day to honor those who have sacrificed their lives and to remember those who have suffered tragedies as a result of their hard work.
7 May – World Athletics Day
World Athletics Day is observed every year on 7 May. The International Amateur Athletic Federation (IAAF) introduced the project in 1996 as a social responsibility project called, 'Athletics for a better world'. Every year, the International Day of Fitness and Health is celebrated across the globe to create awareness among children and young people about the importance of fitness and being healthy.
7 May – Rabindranath Tagore Jayanti
Rabindranath Tagore Jayanti marks the birth anniversary of one of the world's most celebrated writers. Rabindranath Tagore, the son of Debendranath Tagore and Sarada Devi, was also known as Gurudev, Kabiguru, and Biswakabi. On the 25th day of the Bengali month of Boishakh, Rabindranath Tagore Jayanti is celebrated annually and globally on 7 May.
8 May – World Red Cross Day
Every year, World Red Cross Day is observed on the 8th of May. On this day we celebrate the principles, the history, the values, and the impact of the International Red Cross and Red Crescent Movement on the world today. As part of this day, people pay tribute to the members and volunteers of the organization who have contributed to the work of humanitarians.
8 May – Mother's Day
Mother's Day is celebrated across the world every year on the second Sunday of May. It is marked to recognize the immeasurable contribution of mothers in building the lives of their children.
8 May – World Thalassaemia Day
Every year, the 8th of May is observed as World Thalassemia Day. The intent of the day is to commemorate the struggles of the patients suffering from this genetic disorder, and to raise awareness of the symptoms of the disease.
11 May – National Technology Day
The National Technology Day is celebrated on May 11 every year in honor of the accomplishments of scientists, researchers, engineers, and everyone else involved in the science and technology fields. The day is meant to remind Indians of the technological advancements made by the country.
12 May – International Nurses Day
A worldwide celebration of Nurses Day takes place on May 12 every year to commemorate the birth of Florence Nightingale. She was the founder of modern nursing. The International Council of Nurses commemorates this important day every year with the production and distribution of the International Nurses' Day resources and evidence.
15 May – International Day of Families
The International Day of Families is celebrated annually on 15 May. The UN General Assembly proclaimed the Day in 1993 with resolution A/RES/47/237, illustrating the importance the international community places on families. Families International Day provides the opportunity to raise awareness of issues relating to families and increase understanding of social, economic, and demographic factors that affect families. The theme for the day in 2022 is Families and Urbanization.
16 May – Buddha Jayanti
Buddha Jayanti, also known as Buddha Purnima, is a Buddhist festival celebrated in most of East Asia and South Asia commemorating the birth of Prince Siddhartha Gautama, who was the founder of Buddhism. According to Buddhist tradition, Gautama Buddha was born around the year 563-483 BCE in Lumbini, Nepal.
17 May – World Telecommunication Day
The goal of World Telecommunication and Information Society Day (WTISD) is to create awareness of the opportunities that Internet use and other ICTs can provide for societies and economies, as well as ways to bridge the digital divide. The 17th of May commemorates the signing of the first International Telegraph Convention and the creation of the International Telecommunication Union.
17 May – World Hypertension Day
World Hypertension Day is observed every May 17th to raise awareness and to promote the prevention, detection, and control of hypertension.
18 May – International Museum Day
International Museum Day has been celebrated by ICOM since 1977. ICOM also recognizes the significance of International Museum Day on an international level. On 18 May, the museum community celebrates International Museum Day. The day emphasizes the importance of museums in society. Every year, the International Council of Museums (ICOM) Advisory Committee organizes the theme of the event and various countries participate.
18 May – World AIDS Vaccine Day
The World AIDS Vaccine Day, also known as HIV Vaccine Awareness Day, occurs annually on May 18. Vaccine advocates promote the urgency of developing a vaccine to prevent HIV infection and AIDS on this day. As part of a comprehensive response to HIV/AIDS, they call on the international community to have an understanding of the importance of investing in new technologies as a critical element of a comprehensive response.
20 May – National Endangered Species Day
Every year, the third Friday in May is designated as National Endangered Species Day. The purpose of this day is to highlight the need to protect endangered species around the world. National Endangered Species Day was established in 2006.
21 May – National Anti-Terrorism Day
Every year, May 21 is observed in India as Anti-Terrorism Day. This day is observed to dissuade the youth from terrorism and violence by highlighting the suffering of the common people and showing that it is detrimental to national interests.
22 May – International Day for Biological Diversity
To increase understanding and awareness of biodiversity issues, the United Nations has proclaimed May 22 as The International Day for Biological Diversity (IDB). In late 1993, the UN General Assembly's Second Committee designated 29 December (the date of entry into force of the Convention on Biological Diversity) as The International Day for Biological Diversity.
23 May – World Turtle Day
Every year on May 23, we observe World Turtle Day. Turtle Day was established as an annual observance to encourage people to celebrate and protect turtles and tortoises, as well as their disappearing habitats around the world.  A study on biodiversity awareness days identified World Turtle Day as an example of how it increases searches on the protected species online.
31 May – National Memorial Day
In observance of National Memorial Day, we honor the sacrifice of soldiers who served in the United States Armed Forces. Memorial Day was observed on May 30 between 1868 and 1970, but since 1970 the last Monday in May has become Memorial Day in the United States.
31 May – No Tobacco Day
It is observed around the world every 31 May as World No Tobacco Day (WNTD). World Health Day celebrates the dangers of tobacco use, the business practices of tobacco companies, what the World Health Organization (WHO) is doing to combat the use of tobacco, and what people around the world can do to claim their right to health and healthy living and to protect future generations.
List of Important Days and Dates throughout the year
Important Days and Dates in March 2022
Important Days and Dates in April 2022
Important Days and Dates in May 2022
Important Days and Dates in July 2022