24 December in Indian and World History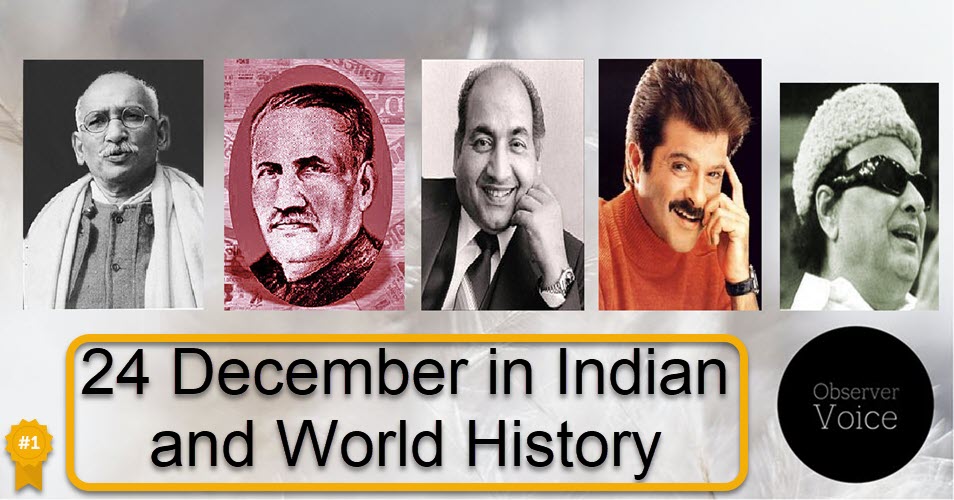 24 December in Indian and World History is celebrated, observed, and remembered for various reasons. 24 December is the birth anniversary of Bhogaraju Pattabhi Sitaramayya, Banarasidas Chaturvedi, Narayan Bhai Desai, Muhammad Rafi, and Anil Kapoor.
24 December is also observed as the death anniversary of Ramaswamy Naicker Periyar, and Marudur Gopalan Ramachandran.
Birth Anniversary
24 December in Indian history is celebrated as the birth anniversary of the following personalities:
Bhogaraju Pattabhi Sitaramayya (24 December 1880 – 17 December 1959), an Indian freedom fighter, Gandhian and journalist. He played an important role in awakening the spirit of independence in South India. You always put national interests above other interests. Sitaramaiah was one of the main associates of the Father of the Nation, Mahatma Gandhi. When Pattabhi Sitaramaiah was defeated by Subhash Chandra Bose in the election of Congress President in 1939, Mahatma Gandhi called his defeat his defeat. After the independence of India, he was the Governor of Madhya Pradesh state from 1952 to 1957. Sitaramaiah was also known as a writer. He also wrote the history of 'Indian National Congress. He was born on 24 December 1880.
Banarasidas Chaturvedi (24 December 1892 – 2 May 1985), a famous journalist and an inspiration for the publication of literature in memory of martyrs. He is counted among the foremost journalists and litterateurs. Although the signs of love for Hindi literature and the writer's interest were visible in him even before he became a journalist. From the year 1914, he started writing on the problems of the diaspora. Banarsidas was also a member of the Rajya Sabha for twelve years. He was honored with 'Padma Bhushan' in 1973 by the Government of India in the field of literature and education. He was born on 24 December 1892.
Narayan Bhai Desai (24 December 1924 – 15 March 2015), an Indian Gandhian and author. He was the son of Mahadev Haribhai Desai, a trusted secretary of Mahatma Gandhi. Mahadev Desai had recorded the speech, writing, and activities of Mahatma Gandhi in his diary for 25 years. The English translation of Gandhiji's autobiography was also done by him. It was expected that Mahadev Desai would also write a comprehensive biography of Gandhi, which he could not write due to his death in prison. In this background, Narayan Bhai Desai, son of Mahadev Desai, wrote a biography of Gandhiji in four large volumes titled 'Maru Jeevan Aaj Mari Vani'. He was awarded the 'Murti Devi Award' in 2004 for this book. He was born on 24 December 1924.
Muhammad Rafi (24 December 1924 – 31 July 1980), one of the greatest playback singers of Hindi cinema, has recorded over 25,000 songs in film singing in nearly 40 years. He had made a different identity among his contemporaries. He was also known as 'Shahenshah-e-Tarannum'. He was born on 24 December 1924.
Anil Kapoor, an Indian film actor, and producer, is known for his acting and dialogues in Bollywood and Hollywood films. He did many films in his career. He has worked in films of all genres and has also received a lot of appreciation from the audience. He has also received many Filmfare Awards. He was born on 24 December 1959.
Read More: 23 December in Indian and World History
Death Anniversary
24 December in Indian history is observed as the death anniversary of the following personalities:
Ramaswamy Naicker Periyar (17 September 1879 – 24 December 1973), a prominent leader of the Dravidian movement and was anti-Hindu despite being a Brahmin. For this condition of the downtrodden and backward classes, the Brahmin dominated, and the culture of Hinduism based on Manusmriti was held responsible. He had to face opposition, especially in North India regarding these ideas. He died on 17 September 1879 in Erode, Tamil Nadu.
Marudur Gopalan Ramachandran (17 January 1917 – 24 December 1987), a famous actor, film producer-director of Tamil films who later entered politics and became the Chief Minister of Tamil Nadu. From 1977 to his death in 1987, he was the Chief Minister of the Indian state of Tamil Nadu. He was born on 17 January 1917.
Read More: 22 December in Indian and World History
Notable events on 24 December in Indian and World history
24 December 1798 – Signing of the Second Anti-French Coalition between Russia and Britain.
24 December 1894 – Organized the first medical conference in Calcutta.
24 December 1924 – eight people died in a plane crash at the Croydon London airfield.
24 December 1962 – The Soviet Union conducted nuclear tests at Novaya Zemlya.
24 December 1979 – The Viet Cong invaded Afghanistan.
24 December 1986 – The Lotus Temple was opened to devotees.
24 December 1986 – In India, the Consumer Protection Act was passed by the Parliament. Therefore, 24 December is celebrated as National Consumer Day in India.
24 December 1989 – The country's first amusement park 'Essel World' was opened in Mumbai, the capital of Maharashtra.
24 December 1996 – Agreement concluded to end the civil war in Tajikistan.
24 December 2000 – Viswanathan Anand became the World Chess Champion.
24 December 2004 – The US State Department began preparations to hand over power to Iraq on 30 June 2004.
24 December 2005 – The European Union included the organization 'Khalistan Zindabad Force' in the terrorist list.
24 December 2006 – In the summit meeting held, Israel was ready to give many facilities to Palestine.
24 December 2007 – To discover the mysteries of Mars, the European Space Agency vehicle Mars completed its four thousand orbits in the orbit of Mars.
24 December 2011 – The Cuban government announced the release of 2900 prisoners.
24 December 2014 – Bharat Ratna was announced for Atal Bihari Vajpayee and Madan Mohan Malviya.
24 December is observed as National Consumer Rights Day. It is celebrated annually with a particular theme across the country and provides awareness about consumer rights and responsibilities. The Consumer Protection Act, 1986 had received the assent of the president on this day.