15 October in Indian and World History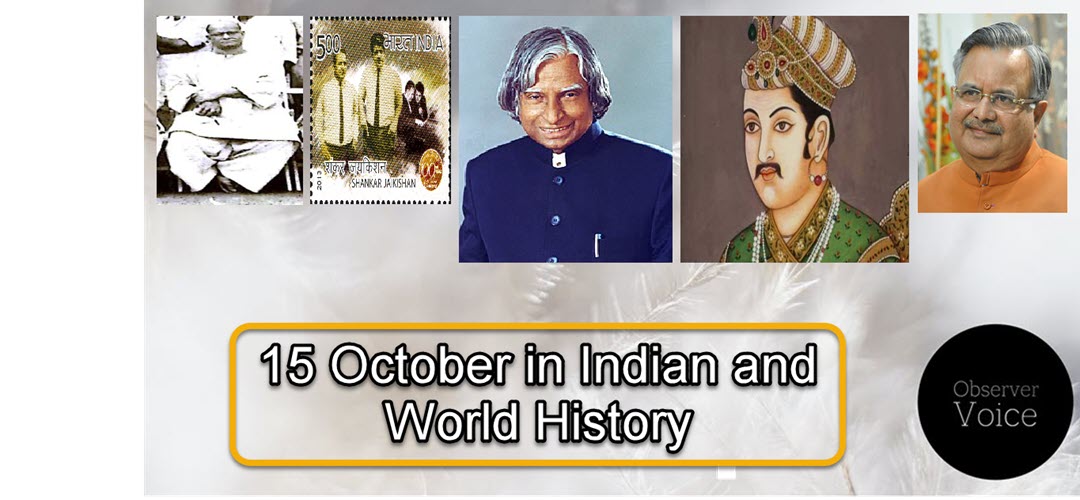 15 October in Indian and World History is celebrated, observed, and remembered for various reasons. 15 October is the birth anniversary of Jalal-ud-din Muhammad Akbar, Shankar Jaikishan, Avul Pakir Jainulabdeen Abdul Kalam, and Raman Singh.
15 October is also observed as the death anniversary of Deviprasad Rai Chaudhuri.
Birth Anniversary
15 October in Indian history is celebrated as the birth anniversary of the following personalities:
Jalal-ud-din Muhammad Akbar (15 October 1542 – 27 October 1605) was the greatest Mughal emperor of India (reigned 1556 – 1605 AD) which expanded Mughal power to most parts of the Indian subcontinent. To maintain the unity of his empire, such policies were adopted by Akbar, which could win the loyalty of non-Muslims. Today, the name of Akbar is very famous in the history of India. He respected all religions during his reign, treated people of all caste-classes as equal and established his friendship with them. Akbar tried to bring the whole of India under one empire during his reign, in which he was also successful to a great extent. He was born on 15 October 1542 in Amarkot, Sindh (Pakistan).
Shankar Jaikishan, a famous music composer duo of Hindi films. Whenever there is talk of melodious music that gives a feeling of relaxation and freshness in Indian films. Composer Jaikishan and his companion Shankar are simply remembered. They were the first composer duo to rule the music world as kings for nearly two decades and bring Hindi film music to international popularity for the first time. Among them Shankar was born on 15 October 1922.
Avul Pakir Jainulabdeen Abdul Kalam (15 October 1931 – 27 July 2015), an Indian aerospace scientist who served as the 11th president of India from 2002 to 2007. He spent four decades as a scientist and science administrator, mainly at the Defence Research and Development Organisation (DRDO) and Indian Space Research Organisation (ISRO) and was intimately involved in India's civilian space programme and military missile development efforts. He thus came to be known as the Missile Man of India for his work on the development of ballistic missile and launch vehicle technology. He also played a pivotal organisational, technical, and political role in India's Pokhran-II nuclear tests in 1998, the first since the original nuclear test by India in 1974. In 1963 to 1964, he visited NASA's Langley Research Center in Hampton, Virginia; Goddard Space Flight Center in Greenbelt, Maryland; and Wallops Flight Facility. Between the 1970s and 1990s, Kalam tried to develop the Polar Satellite Launch Vehicle (PSLV) and SLV-III projects, both of which proved to be successful. He was Bron on 15 October 1931 in Tamil Nadu.
Raman Singh, an Indian politician. He is the former Chief Minister of Chhattisgarh. Bharatiya Janata Party leader Raman Singh was a member of the Madhya Pradesh Legislative Assembly in 1990 and 1993. After that in 1999, he was elected a member of the Lok Sabha. In 1999 and 2003, he also held the post of Minister of State in the Government of India. Dr. Raman Singh, practicing as a private doctor at Thakurpara in his home town, Kawardha, has treated the poor free of cost and gained special popularity as a doctor for the poor. He was Born on 15 October 1952 in Chhattisgarh
Read More: 14 October in Indian and World History
Death Anniversary
15 October in Indian history is observed as the death anniversary of the following personalities:
Deviprasad Rai Chaudhuri (15 June 1899 – 15 October 1975), an Indian painter and sculptor. He was awarded the Padma Bhushan in 1958. Debi Prasad Roy Choudhury MBE was an Indian sculptor, painter and the founder chairman of the Lalit Kala Akademi. He was known for his bronze sculptures, including Triumph of Labour and Martyr's Memorial, and is rated by many as one among the major artists of modern Indian art. Roy Choudhury, reported to be influenced by the works of the French sculptor, Auguste Rodin, had his first solo exhibition in Kolkata in 1993 after which had several exhibitions in India, including Birla Academy of Art and Culture, Kolkata, Jehangir Art Gallery, Mumbai, National Gallery of Modern Art, Delhi and Lalit Kala Akademi, New Delhi, among other. He died on 15 October 1975.
Read More: 13 October in Indian and World History
Notable events on 15 October in Indian and World history
15 October 1686 – The Mughal ruler Aurangzeb signed a peace agreement with Bijapur.
15 October 1806 – The fighting between the armies of Pras and France started. The day before this, Napoleon had defeated the army of Pros in the Six-Day War.
15 October 1815 – Napoleon Bonaparte arrived on the island of Saint Helena to live in exile after the defeat.
15 October 1866 – In the French-dominated Quebec region of Canada, a massive fire destroyed 2500 houses.
15 October 1917 – During the First World War, Mata Hari, a famous dancer from the Netherlands, was shot by French soldiers on charges of spying for Germany.
15 October 1923 – The fifth tropical storm of the year struck north of the Leeward Islands.
15 October 1924 – US President Calvin Coolidge declared the Statue of Liberty a national monument.
15 October 1932 -The Tata company started the country's first airline called Tata Sons Limited.
15 October 1935 – The first flight of the Tata airline (which later became Air India) took off.
15 October 1978 – The Soviet Union conducted nuclear tests in the East Kazakhstan region.
15 October 1988 – Ujjwala Patil became the first woman from Asia to sail around the world.
15 October 1990 – Soviet Union President Mikhail Gorbachev was awarded the Nobel Peace Prize.
15 October 1996 – Fiji became the first country to ratify the Comprehensive Test Ban Treaty.
15 October 1997 – Arundhati Roy was selected for Britain's most prestigious Booker Prize for her novel The God of Small Things.
15 October 1998 – India's Fatima Bi was awarded the United Nations Prize for poverty alleviation.
15 October 1999 – China successfully test-fired a missile named 'DF-41 ICBM' with a range of 12,000km, General Joseph Rolston appointed as the Supreme Vice Commander of NATO.
15 October 2000 – Konrad Emil Bloch a German American biochemist, and Nobel Laureate, was died.
15 October 2006 – The United Nations imposed sanctions on North Korea.
15 October 2007 – The Nobel Prize in Economics was awarded to three American economists – Leonid Hurwicz, Eric Muskin and Roger Myerson.
15 October 2008 – the Reserve Bank announced a reduction of one percent in the CRR.
15 October 2012 – British author Hilary Mantle was awarded the Man Booker Prize for her novel "Bring Up the Buddies".
15 October 2013 – 7.2 magnitude earthquake killed more than 215 people in the Philippines.