11 October in Indian and World History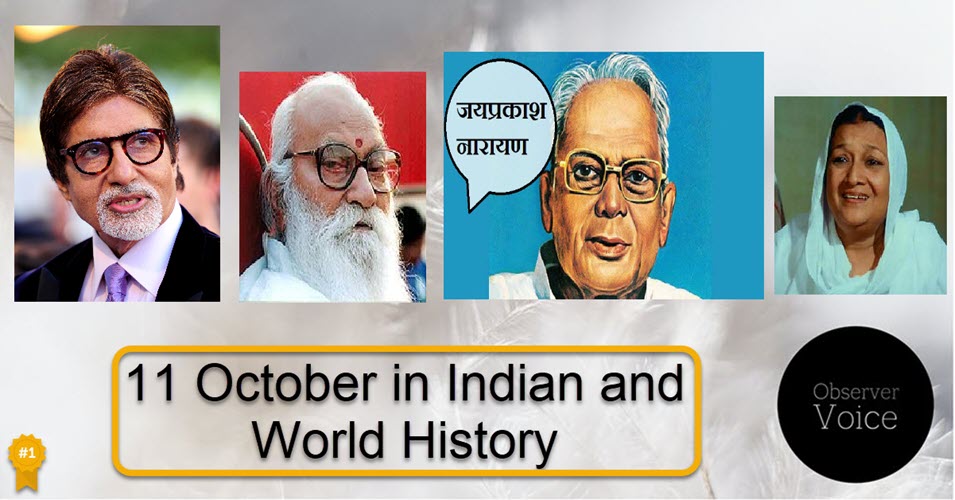 11 October in Indian and World History is celebrated, observed, and remembered for various reasons. 11 October is the birth anniversary of Magan Bhai Desai, Jayaprakash Narayan, Chandikadas Amritrao Deshmukh, and Amitabh Bachchan.
11 October is also observed as the death anniversary of Sister Nivedita, and Dina Pathak.
Birth Anniversary
11 October in Indian history is celebrated as the birth anniversary of the following personalities:
Magan Bhai Desai (11 October 1889 – 1 February 1969), a famous Gandhian thinker and educationist. He was also a writer of Gujarati language. After independence, Magan Bhai Desai did not lag behind in criticizing the policies of the Congress government on any occasion. He was born on 11 October 1889 in Kheda district, Gujarat.
Jayaprakash Narayan (11 October 1902 – 8 October 1979), a great statesman, social reformer, freedom fighter and influential speaker of the country. He is also known as Lok Nayak. He strongly opposed the immoral and undemocratic methods of the Indira Gandhi government and even demanded the resignation of Indira Gandhi. He completed his higher education from Bihar Vidyapeeth by boycotting British-style schools in protest against the Jallianwala Bagh massacre. He was born on 11 October 1902.
Chandikadas Amritrao Deshmukh (11 October 1916 – 27 February 2010), a strong pillar of the 'Rashtriya Swayamsevak Sangh' and an eminent social worker. Nanaji Deshmukh was awarded the Padma Vibhushan, the country's second highest civilian award, is always remembered for the work done for education, health and self-reliance among rural people. Nanaji, who was the founder of Bharatiya Jana Sangh, had retired from politics after the age of 60. He spent the rest of his life in the welfare of the villages of Chitrakoot and wrote a new story of their development. Nanaji Deshmukh was posthumously awarded the country's highest award, the Bharat Ratna. He was born on 11 October 1916 in Maharashtra.
Amitabh Bachchan, one of the greatest stars of Indian cinema, who dominated the Hindi film industry for more than four decades. Amitabh Bachchan is called the superhero of the millennium. In addition to acting, Amitabh Bachchan is a playback singer, film producer and TV producer. Also known as Speaker and an elected member of the Indian Parliament. Amitabh was called the Angry Young Man of Bollywood cinema in the 1970s and became the most important figure in Indian film history. Even after 40 years, there is no one in front of his stature in Bollywood. Even today, he is counted among the busiest actors of Bollywood. The voice that initially made the directors refused to take Amitabh from their films, that voice later became his specialty.
Read More: 10 October in Indian and World History
Death Anniversary
11 October in Indian history is observed as the death anniversary of the following personalities:
Sister Nivedita (28 October 1867 – 11 October 1911), is considered to be one of the prolific speakers for the establishment of the Indian National Congress in 1885 and the promotion of new ideas of national consciousness, unity, renaissance and national independence, which culminated in India's independence in 1947. She died on 11 October 1911 Darjeeling, India.
Dina Pathak (4 March 1922 – 11 October 2002), a Hindi film actress. Pathak famous movies include 'Mausam', 'Kinara', 'Kitaab', 'Chitchor', 'Gharaunda', 'Golmaal', 'Khoobsurat'. Dina Pathak did most of her career with art directors. This is because she was associated with the theater world, and she did not like the glamor of commercial films. In the Indian cinema world, Dina Pathak not only played her sting in the field of acting, but she also played a very important role in connecting the theater world with cinema. Before independence, women's association with theatre was very less. Even at such a time, Dina Pathak made theatre his workplace and tried to achieve success in it. Dina Pathak also contributed to the war of fighting with the British. He appealed to the public to unite against the British through street plays and plays. Dina Pathak's contribution has been very important in making Gujarati theatre its identity. Dina Pathak started working in Gujarati theatres from 1940 itself. Dina Pathak's daughters Ratna Pathak and Supriya Pathak are also famous actresses of Hindi art world. Both have made their mark in most of the comedy-oriented TV shows. Dina Pathak also appeared in the most popular TV show 'Malgudi Days' of the 80s. Dina Pathak's last film was 'Pinjar' in the year 2003. She died on 11 October 2002 in Bandra, Mumbai.
Read More: 9 October in Indian and World History
Notable events on 11 October in Indian and World history
11 October 1521 – Christian cleric Pope Leo X had given the title of protector to King Henry VIII of England.
11 October 1689 – Tsar Peter the Great was sitting on the throne of Russia.
11 October 1726 – Benjamin Franklin, one of the founders of America, reached Philadelphia in America from England.
11 October 1737 – In Calcutta (now Kolkata), 3 lakh people died due to earthquake, half the city was destroyed in this natural disaster.
11 October 1869 – American inventor Thomas Alva Edison applied for a patent for his first invention. This electric machine was used for counting of votes.
11 October 1881 – American inventor David Henderson Houston patented the first roll film of cameras.
11 October 1910 – Theodore Roosevelt became the first US President to travel in an airplane.
11 October 1932 – The first broadcast for a political campaign in New York took place.
11 October 1936 – The first quiz program on radio in the name of 'Professor Quiz' was broadcast.
11 October 1939 – US President Roosevelt wrote to Albert Einstein urging him to rapidly develop America's nuclear program.
11 October 1945 – The Chinese civil war between the government of Chiang Kai-sheki and the Communist Party of Mao Zedong began.
11 October 1968 – The launch of America's first manned Apollo mission 'Apollo 7' was first televised from orbit.
11 October 1972 – Panama, the largest country in Central America, implemented its new constitution.
11 October 1984 – American space scientist Katherine D. Sullivan became the first woman astronaut to walk in space. She was aboard the Space Shuttle Challenger.
11 October 1987 – India's peacekeeping force launched Operation Pawan in Sri Lanka. This campaign was launched to end the occupation of LTTE and liberate Jaffna.
11 October 2001 – Trinidad-born British writer Vidyadhar Suraj Prasad Naipal was awarded the Nobel Literature Prize for the year 2001.
11 October 2002 – Nepal King Gyanendra appointed Lokendra Bahadur as Prime Minister.
11 October 2005 – Gregory Olsen, the third space tourist, returned to Earth.
11 October 2007 – British novelist Doris Lassing was selected for the 2007 Nobel Prize in Literature.
11 October 2008 – a blind driver from Belgium set a new world record for the fastest driving on earth.
11 October 2008 – Prime Minister Manmohan Singh flagged off the first train running in the Valley of Kashmir from Naugaon station.