1 June in Indian and World History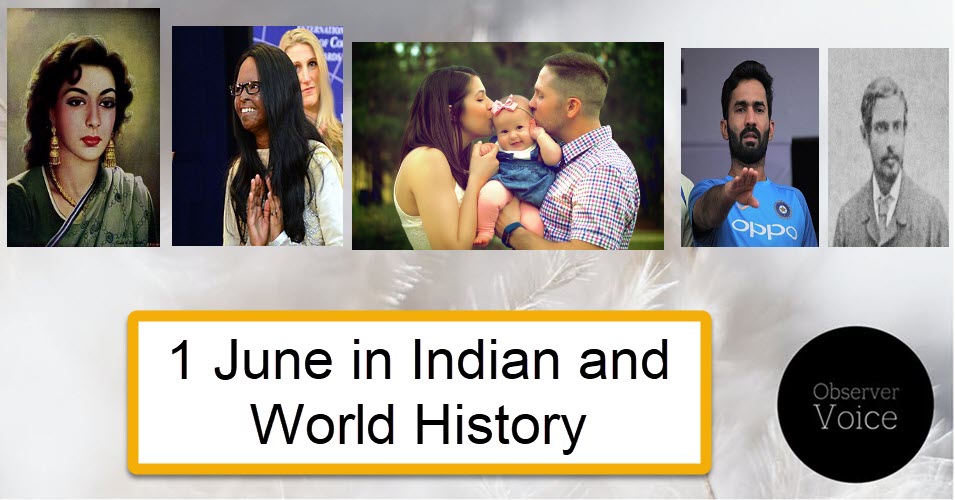 1 June in Indian and World History is celebrated, observed, and remembered for various reasons. 1 June is the birth anniversary of Satyendranath Tagore, Nargis Dutt, Ashok Kumar, Laxmi Agarwal, and Dinesh Karthik.
1 June is also observed as the death anniversary of Swaminarayan, Nana Palshikar, and Neelam Sanjiva Reddy.
Birth Anniversary
1 June in Indian history is celebrated as the birth anniversary of the following personalities:
Satyendranath Tagore (1 June 1842 – 9 January 1923), the second eldest brother of Rabindranath Tagore, an author, song composer, and linguist. He made a significant contribution towards the emancipation of women in Indian society during the British Raj. He was the first Indian to join the Indian Civil Service. He was born on 1 June 1842 in Calcutta, Bengal, British India.
Nargis Dutt (01 June 1929 — 03 May 1981), an Indian actress and politician who worked in Hindi cinema. She did her first film Talaash-e-Haq as a child artist at the age of just 6 years, later in the year 1942 she made a tremendous performance as an actress in the film "Tamanna", after that she appeared in Humayun, Barsaat, Aadhi. Had acted in films like Raat, Andaaz, Jaan Pehchan, Awara, Amber, Anhoni, Papi, Shree 420, Chori-Chori, Pardeshi, Mother India, Lajwanti, Kala Bazaar, Yaadon and Raat Aur Din. She was the first film actress who got the Padma Shri title in 1958. Nargis was born on 1 June 1929 in Calcutta, Bengal Presidency, British India.
Ashok Kumar, an Indian former professional field hockey player, and the son of the Indian hockey player Dhyan Chand. Kumar was known for his exceptional skills and ball control. He was a member of the Indian team that won the 1975 World Cup. He was awarded the Arjuna Award in 1974 and, in 1975, scored the winning goal against Pakistan to achieve India's only win in the World Cup. He was awarded Yash Bharti Samman by the Government of Uttar Pradesh in 2013. Kumar was born on 1 June 1950 in Meerut, Uttar Pradesh, India.
Laxmi Agarwal, an Indian acid attack survivor, a campaigner for the rights of acid attack victims, and the former director of Chhanv Foundation, an NGO dedicated to helping acid attack survivors in India. Laxmi Agarwal was attacked in 2005 in New Delhi at the age of 15. She has since established campaigns for tackling the surge of acid attacks. The film Chhapaak is based on Agarwal's life story and was released on 10 January 2020 which stars Deepika Padukone in her role. Agarwal was born on 1 June 1990 in New Delhi, India.
Dinesh Karthik, an Indian professional wicketkeeper, batsman, and the current vice-captain of the Kolkata Knight Riders. He also captains the Tamil Nadu Cricket Team. Karthik made his debut for the Indian cricket team in 2004. He was born on 1 June 1985 in Thoothukudi, Tamil Nadu, India.
Read More: 31 May in Indian and World History
Death Anniversary
1 June in Indian history is observed as the death anniversary of the following personalities:
Swaminarayan (3 April 1781 – 1 June 1830), also known as Sahajanand Swami, was a yogi and ascetic whose life and teachings brought a revival of central Hindu practices of dharma, ahimsa, and brahmacharya. Swaminarayan died on 1 June 1830 in Gadhada (present-day Gujarat, India).
Nana Palshikar (1907 – 1 June 1984), an Indian film actor who appeared in more than 80 Hindi films. He made his film debut in 1935 with Dhuwandhar and went on to play character roles in both Hindi mainstream and arthouse films. Palshikar was awarded the Filmfare Award for Best Supporting Actor twice, in 1962 and 1965. He died on 1 June 1984 (aged 76–77) in Bombay, Maharashtra, India.
Neelam Sanjiva Reddy (19 May 1913 – 1 June 1996), the Sixth President of India, serving from 1977 to 1982 who was the youngest-ever Indian president. He started his political career with the Indian National Congress Party in the independence movement. Reddy holds some important offices of independent India and became the first Chief Minister of Andhra Pradesh and a two-time Speaker of the Lok Sabha and a Union Minister. He died on 1 June 1996 a the age of 83 in Bangalore, Karnataka, India.
Read More: 30 May in Indian and World History
Notable events on 1 June in Indian and World history
1 June 1670 – King Charles II of England and King Louis 14th of France signed the Anti-Dutch Secret Treaty.
1 June 1835 – Teaching work started in Calcutta Medical College.
1 June 1874 – The East India Company was dissolved on this day.
1 June 1880 – On this day the first pay-phone service was introduced.
1 June 1922 – The Royal Ulster Police was officially established on this day.
1 June 1930 – India's first deluxe train ran between Deccan Queen Bombay VT to Pune.
1 June 1965 – About 250 people died in a coal mine explosion in the Fukuoka region of Japan.
1 June 1969 – Tobacco products and related advertisements were completely banned in Canada on radio and TV.
1 June 1979 – On this day, after 90 years of minority white rule in Rhodesia, it was announced that the country would now be known as Zimbabwe.
1 June 1980 – The cable news network (CNN) television network first began broadcasting.
1 June 1992 – The air agreement between India and Israel was signed on this day.
1 June 1996 – HD Deve Gowda became the 12th Prime Minister of India.
1 June 2008 – US presidential candidate Barack Obama resigned from the Trinity United Church in Chicago.
1 June 2010 – In Central America, Tropical Storm Agatha from the Pacific Ocean in Guatemala killed 150 people.
1 June 2014 – 40 people lost their lives in a blast at a football field in Nigeria.
1 June is observed as World Milk Day every year to celebrate the important contributions of the dairy sector to sustainability, economic development, livelihoods, and nutrition. This Day was established by the Food and Agriculture Organisation of the United Nations to appreciate dairy farmers and the dairy sector and recognize the importance of milk as a global food. The theme and focus of World Milk Day 2021 is "sustainability in the dairy sector with messages on nutrition".
1 June 2021 is also celebrated as Global Day of Parents to honor parents across the world. It provides an opportunity to appreciate and encourage all parents in all parts of the world for their selfless commitment to children. The theme of Global Day of Parents this year is "Appreciate all parents throughout the world".