National Voters' Day and its significance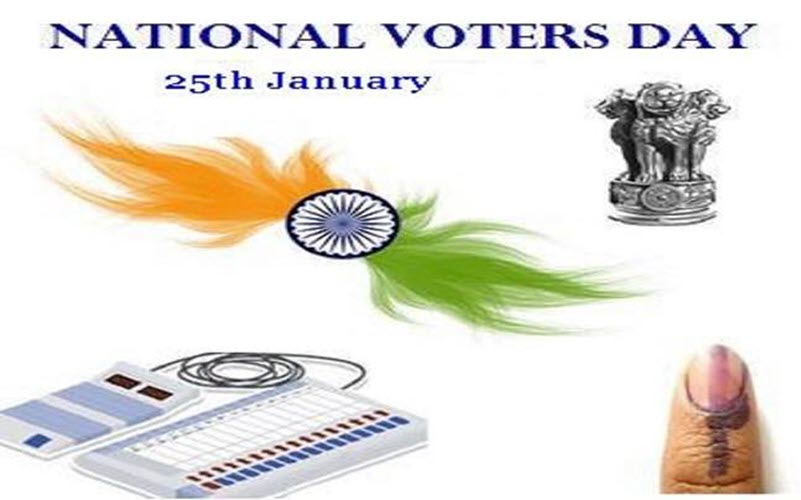 National Voters' Day is observed every year in India on 25 January. This is a campaign to get young people involved in politics. The primary purpose of the observance is to encourage voters to cast their ballots, encourage others and be part of the democratic process. Voting is one of the most fundamental rights in a democracy. Individuals get to decide who their political leaders are & what kind of development and wellness program they want for their country or community.
Millions of people are hesitant to vote or don't know what to do as informed citizens. Every year, the Government of India celebrates "National Voters' Day". It started on 25 January 2011 to mark the foundation day of the Election Commission of India.
Theme of National Voters' Day 2022
India will celebrate its 12th National Voters' Day on 25 January 2022. It's aimed at getting young people and all voters involved.
'Making Our Voters Empowered, Vigilant, Safe and Informed' was the theme of National Voters' Day 2021. ECI reiterates its commitment to conduct COVID-safe elections, as well as making each voter informed, ethical and vigilant. On the 11th National Voters' Day, the President of India conveyed:
We should always respect the valuable right to vote. The right to vote is not a simple right; people around the world have struggled a lot for this. Since independence, our Constitution has given equal voting rights to all citizens without any discrimination on the basis of merit, religion, race, caste. For this, we are indebted to the makers of our Constitution.
The theme of National Voters' Day 2022 is 'Electoral Literacy for Stronger Democracy'. It was meant to improve electoral literacy and to keep up with public responsibilities. Whether it's registering to vote or helping others do it.
"Liking" an article online may mean less time spent reading it
Quick facts about National Voters
Here are few facts about the voters in India.
Voting is open to all Indians over 18. The Constitution (Sixty-first Amendment) Act, 1988 lowered the age to vote for the Lok Sabha and the Legislative Assemblies of States from 21 to 18 years old.
India's voters are 900 million out of India's 1.3 billion people, according to the Election Commission, the body that oversees it all.
Less than half of the eligible voters are women, and 300 million are illiterate. 39,000 people identify as transgender.
912 million people were eligible to vote, and 67 percent turned out – the highest ever turnout, and the highest ever turnout of women.
Shiyam Saran Negi (born July 1, 1917) cast the first vote in the 1951 general election in India – the nation's first election since 1947 when the British left.
History of National Voters' Day
Former Prime Minister Manmohan Singh chaired the 2011 Cabinet meeting that approved National Voters' Day. Former Information and Broadcasting Minister Ambika Soni said the youths weren't interested in getting on the rolls. This is why the Election Commission decided to start identifying all eligible voters who turn 18 every year as of January 1. On January 25, every year, eligible voters will be enrolled and given their Electoral Photo Identity Cards (EPICs). The new voters will also get a badge with 'Proud to be a voter – Ready to vote' on it.