Mission Amrit Sarovar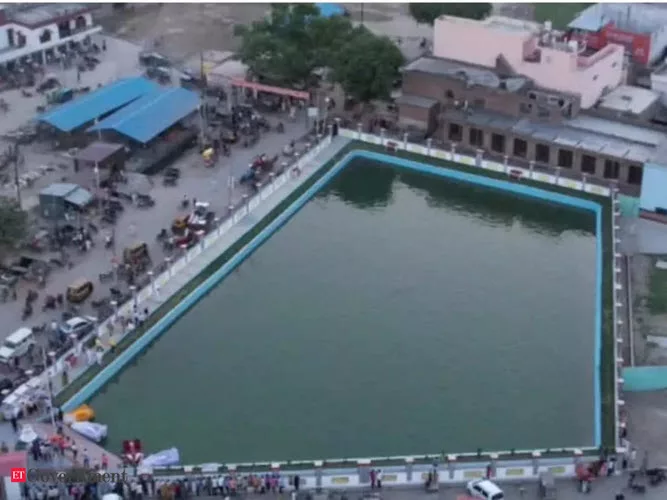 The goal of the Jal Shakti Abhiyan (JSA) is to build roof-top rainwater harvesting systems and water harvesting pits in compounds, maintain RWHS and build check dams and ponds, renovate traditional WHS, remove encroachment from tanks and lakes and their catchment channels, de-silt tanks, reuse and recharge wells, and develop watersheds; rejuvenate small rivers and rivulets; revive wetlands and protect flood banks. A new JSA campaign, "Jal Shakti Abhiyan: Catch the Rain" (JSA: CTR)-2022, was launched on 29.3.2022 to cover all districts and villages across the country. By developing water bodies and implementing the aforementioned measures, agriculture can rely less on rainwater.
For the 'Azadi Ka Amrit Mahotsav', the government of India has launched 'Mission Amrit Sarovar', where 75 'Amrit Sarovars' will be built/developed in every district. Similar structures are covered by Mahatma Gandhi National Rural Employment Guarantee Scheme (MGNREGS). As part of the Har Khet Ko Pani (HKKP) scheme under Pradhan Mantri Krishi Sinchayee Yojana (PMKSY), Surface Minor Irrigation (SMI) and Water Bodies Repair, Renovation & Restoration (RRR) are being implemented to make it easier to get to the water on the farm, expand cultivable area under assured irrigation, improve water use on the farm, and introduce water conservation practices. Through Micro Irrigation, the Per Drop More Crop Scheme (PDMC) aims to improve water use efficiency on farms. In the above programs and schemes, water is secured for the rural and urban populations, and farmers will be able to save their crops under adverse conditions.