Google Doodle Observes Dr. Martin Luther King Jr. Day 2023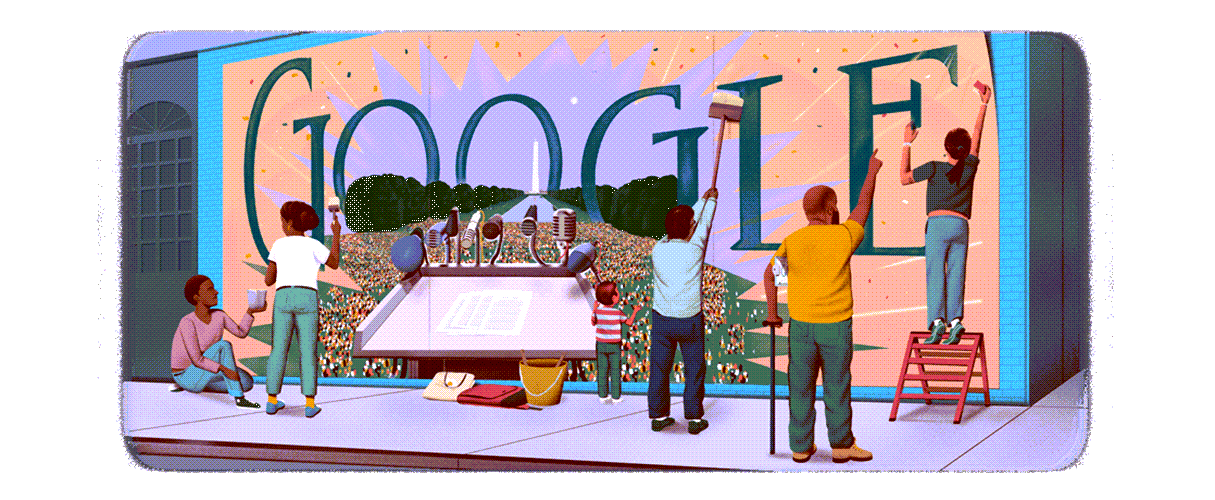 Today's Doodle celebrates Dr. Martin Luther King Jr. Day or MLK Day in the United States and was illustrated by Brooklyn-based guest artist Richard A. Chance. The national day of service honors Dr. King — the late civil rights movement leader and activist who was a lifelong advocate for social and racial equality.
Dr. King was born on 15 January 1929, in Atlanta, Georgia. From a young age he was heavily influenced by his father — a pastor and community organizer — and eventually began his own career of service in Montgomery, Alabama as a community leader in the NAACP.  In 1955, Dr. King helped lead the Montgomery bus boycott after Rosa Parks was arrested for refusing to give up her bus seat and violated local Jim Crow laws in Alabama. These peaceful protests — which are widely considered the first mass demonstration against segregation — lasted for 385 days and gained national attention.
He continued to spearhead some of America's most groundbreaking social justice demonstrations. In 1963, more than 200,000 demonstrators marched towards the Lincoln Memorial in Washington D.C. to protest economic and racial inequality. This March on Washington is one of the most famous acts of the Civil Rights Movement, and it is where Dr. King delivered his exalted "I Have a Dream" speech. It remains one of the largest rallies for human rights in the U.S. and is credited for helping to pass the Civil Rights Act of 1964. He also participated in the Selma to Montgomery Marches in 1965 to advocate for equal voting rights. That same year, the Voting Rights Act was passed.
Dr. King was later awarded the Nobel Peace Prize, and posthumously awarded the Presidential Medal of Freedom and the Congressional Gold Medal. In honor of his birthday, MLK Day is celebrated on the third week of January every year. It was signed into law in 1983 and has been celebrated by all 50 states since 2000.
What Dr. Martin Luther King Jr. Day
Dr. Martin Luther King Jr. Day is a federal holiday in the United States that is observed on the third Monday of January each year. The holiday is observed to honor the civil rights leader Martin Luther King Jr., who played a key role in the American civil rights movement during the 1950s and 1960s. Dr. King is best known for his role in the advancement of civil rights using nonviolent civil disobedience based on his Christian beliefs.