Delivery of 15B stealth guided missile destroyers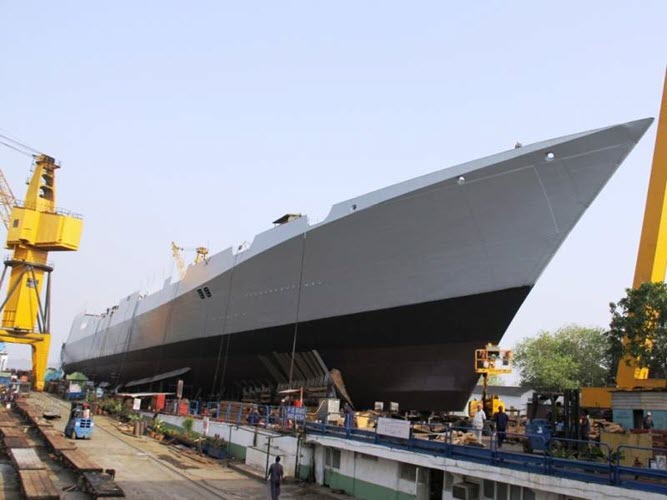 Y 12704 (Visakhapatnam), the lead ship of Project 15B stealth guided-missile destroyers being built at Mazgaon Docks Limited (MDL) | Source: Indian Navy
Y 12704 (Visakhapatnam), the lead ship of Project 15B stealth guided-missile destroyers being built at Mazgaon Docks Limited (MDL), was delivered to the Indian Navy on 28 Oct 2021. The contract for four ships of Project 15B, as the Visakhapatnam class ships are known, was signed on 28 January 2011. This project is a follow-on of the Kolkata class (Project 15A) destroyers commissioned in the last decade.
the series of vessels were designed by the Directorate of Naval Design, the Indian Navy's in-house design organization; and built by  Mazagon Dock Shipbuilders Ltd, Mumbai. These four ships are named after major cities from all four corners of the country viz. Visakhapatnam, Mormugao, Imphal, and Surat.
The keel of Visakhapatnam was laid in October 2013 and the ship was launched in April 2015. The design has largely maintained the hull form, propulsion machinery, many platforms equipment, and major weapons & sensors as the Kolkata class to benefit from series production.
DRDO successfully flight tests New Generation Agni P Ballistic Missile
Each vessel will measure 163m long and 17.4m wide, with a displacement of 7,300t. The ships will be operated by a crew of 350, including 50 officers and 250 sailors. The accommodation and working areas will offer superior ergonomics and habitability. Apart from myriad indigenous equipment in the 'Float' and 'Move' categories, the destroyer is also installed with major indigenous weapons which include: –
Medium Range Surface-to-Air Missiles (BEL, Bangalore).
BrahMos Surface-to-Surface Missiles (BrahMos Aerospace, New Delhi).
Indigenous Torpedo Tube Launchers (Larsen & Toubro, Mumbai).
Anti-Submarine Indigenous Rocket Launchers (Larsen & Toubro, Mumbai).
76mm Super Rapid Gun Mount (BHEL, Haridwar).
The ships will be equipped with a combined gas and gas (COGAG) configuration integrating four gas turbines. The power plant will also integrate two diesel engines and four generator sets. The propulsion system will allow the ships to achieve speeds of more than 30k and a maximum range of 4,000nm.
The delivery of Visakhapatnam is an affirmation of the impetus being given by the Government of India and the Indian Navy towards 'Aatma Nirbhar Bharat' as part of 75 years of Indian Independence. The induction of the destroyer, despite the COVID challenges, is a tribute to the collaborative efforts of the substantial number of stakeholders and would enhance the maritime prowess of the country in the Indian Ocean Region.