CWG 2022: PM congratulates Mohit Grewal for winning the Bronze medal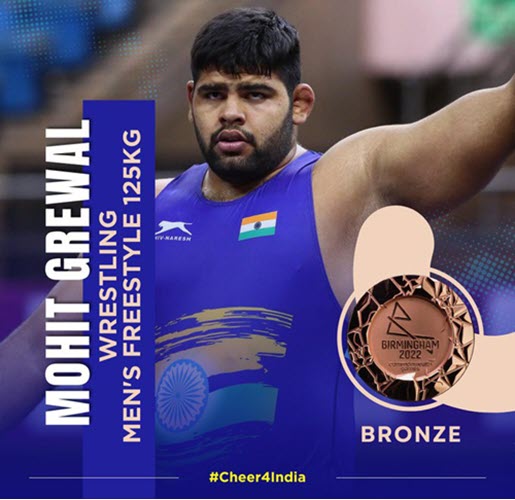 The Prime Minister, Shri Narendra Modi has congratulated Mohit Grewal for winning the Bronze medal in 125 kg wrestling at Commonwealth Games, 2022.
The Prime Minister tweeted;
"Incredible form demonstrated by our wrestlers. Adding to the medals tally is Mohit Grewal. His sharp focus stands out as he brings home a Bronze medal. Congratulations to him. I hope he scales new heights of success in the times to come."
Mohit Grewal defeated Johnson 5-0 in the bronze medal match. He bagged the medal in only 3 minutes and 30 seconds. It was a spectacular day for India in wrestling as they won medals including three gold at the ongoing Commonwealth Games 2022.
The CWG 2022 is scheduled to be held in Birmingham from 28th July till 08th August 2022. A total of 215 athletes, participating in 141 events across 19 sporting disciplines, will represent India in the CWG 2022.