6 July in Indian and World History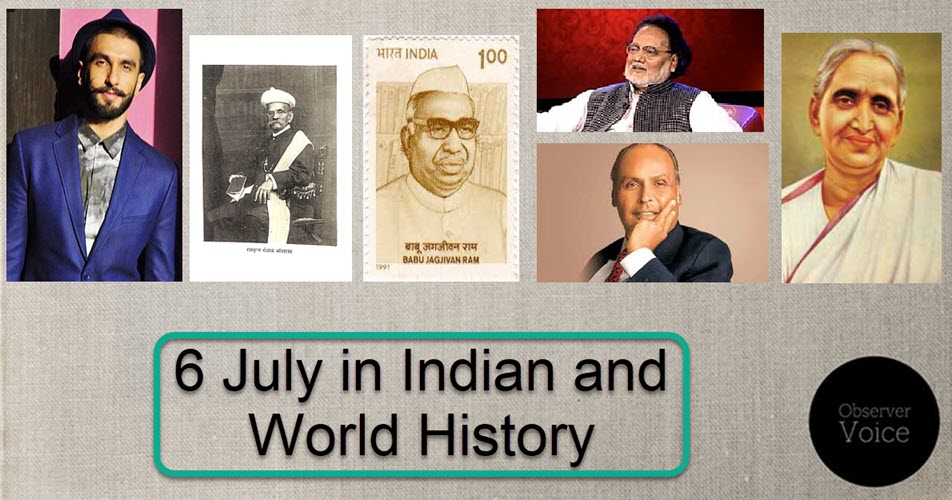 6 July in Indian and World History is celebrated, observed, and remembered for various reasons. 6 July is the birth anniversary of Ramkrishna Gopal Bhandarkar, Syama Prasad Mookerjee, Laxmibai Kelkar, Dalai Lama, Anwar Jalalpuri, Anil Madhav Dave, and Ranveer Singh.
6 July is also observed as the death anniversary of Man Singh, Pratap Narayan Mishra, Jagjivan Ram, Chetan Anand, and Dhirajlal Hirachand Ambani.
Birth Anniversary
6 July in Indian history is celebrated as the birth anniversary of the following personalities:
Ramkrishna Gopal Bhandarkar (6 July 1837 – 24 August 1925), an Indian historian, social reformer, and educationist. He was an active member of the 'All India Social Conference' (All India Social Conference), supported widow marriage on the basis of his research-based findings, playing an important role in the social movements of his time. Along with this, he also denounced the caste system and the evil practice of child marriage. As a scholar of ancient Sanskrit literature, he also wrote the first book on Sanskrit and the second book on Sanskrit, which is one of the earliest books to learn Sanskrit through the English medium. He was born on 6 July 1837 in Malvan in the Sindhudurg district of Maharashtra.
Syama Prasad Mookerjee (6 July 1901 – 23 June 1953) was a great educationist and thinker as well as the founder of the Bharatiya Jana Sangh. He is still remembered as a strong nationalist and staunch patriot. Mookerjee was a worshiper of humanity in the true sense and a firm man of principles. In Parliament, he had always kept the establishment of national unity as his first goal. In his speech in the Parliament, he strongly said that "the foundation of a golden future can be laid only on the ground of national unity". His image in Indian history is that of a person with a hardworking and combative personality, who is an ideal and a guide to many Indians even after so many years of his death. He was born on 6 July 1901 in Calcutta, Bengal Presidency, British India (now Kolkata, West Bengal, India).
Laxmibai Kelkar (6 July 1905 – 27 November 1978), an eminent social reformer of India. He founded an organization called 'Rashtra Sevika Samiti'. His original name was Kamal, but people used to call him 'Mausi Ji' with respect. Laxmibai Kelkar fought fiercely with the orthodox society. He kept Harijan servants in his house. With the inspiration of Mahatma Gandhi, he got the spinning wheel at home. Once when Mahatma Gandhi appealed to donate in a meeting, Lakshmibai donated her gold chain. She was born on 6 July 1905 in Nagpur, Maharashtra.
The 14th Dalai Lama, known as Gyalwa Rinpoche to the Tibetan people, is the current Dalai Lama, the highest spiritual leader and former head of state of Tibet.  He was born on 6 July 1935. He is the highest spiritual leader and former head of state of Tibet.
Subsequent to the Annexation of Tibet by the People's Republic of China, during the 1959 Tibetan uprising, the Dalai Lama escaped to India, where he currently lives in exile while remaining the most important spiritual leader of Tibet. The Dalai Lama advocates for the welfare of Tibetans while continuing to call for the Middle Way Approach with China to peacefully resolve the issue of Tibet; "The Tibetan people do not accept the present status of Tibet under the People's Republic of China.
Anwar Jalalpuri (6 July 1947 – 2 January 2018), a famous Urdu poet honored with 'Yash Bharti'. He translated the Hindu religious text 'Srimad Bhagwat Gita' into Urdu poetry. One of the famous personalities of the Urdu world. Anwar Jalalpuri is considered to be the life of Mushairas, wrote the books 'Rahrau Se Rehnuma Tak', 'Urdu Shayari Mein Geetanjali' and 'Urdu Shayari Mein Geeta', an Urdu version of the Bhagavad Gita which were highly appreciated. He also wrote dialogues for the serial 'Akbar the Great'. He got awarded with Padma Shri in 2018. Jalalpuri was born on 6 July 1947 in Jalalpur, Ambedkar Nagar, Uttar Pradesh.
Anil Madhav Dave (6 July 1956 – 18 May 2017), the Rajya Sabha member of the Bharatiya Janata Party from Madhya Pradesh and Government of India in Environment, Forest and Climate Change Was the minister of state. He was born on 6 July 1956 in Badnagar, Madhya Pradesh, India.
Ranveer Singh, an Indian actor who is known for his work in Hindi films. The recipient of several awards, including four Filmfare Awards, he is among the highest-paid Indian actors and has been featured in Forbes India's Celebrity 100 list since 2012. Singh gained Greatly praised for portraying Bajirao I and Alauddin Khilji in Bhansali's period dramas Bajirao Mastani (2015) and Padmaavat (2018), respectively. He was born on 6 July 1985 in Bombay, Maharashtra, India.
Read More: 5 July in Indian and World History
Death Anniversary
6 July in Indian history is observed as the death anniversary of the following personalities:
Man Singh (21 December 1550 – 6 July 1614) was the son of Raja Bhagwan Das. The pillars of Akbar's kingdom due to his intelligence, courage, relations, and high lineage. and was the leader of the chieftains. Due to his actions and behavior, he was sometimes called by the name of Farjad and sometimes Mirza Raja. Man Singh died on 6 July 1614.
Pratap Narayan Mishra (24 September 1856 – 6 July 1894) is considered one of the creators of modern Hindi. He is called the Unnayak of Hindi Khari Boli and Bharatendu era. Pratap Narayan Mishra had gained special fame as a writer, poet, and journalist. Mishra ji had unparalleled faith in Bharatendu Harishchandra. He came to be known as 'Pratibhartendu' or 'Second Chandra' due to the composition style, subject matter, and linguistic features like Bharatendu. There is an ample variety of topics in the essays written by Mishra. Patriotism, social reform, and general entertainment were the main subjects of his essays. He wrote essays on all kinds of subjects in a monthly paper called 'Brahmin'. Mishra died on 6 July 1894.
Jagjivan Ram (5 April 1908 – 6 July 1986), the pinnacle of modern Indian politics, was respectfully addressed as 'Babuji'. His dedication and loyalty to the nation in his parliamentary life of nearly 50 years are unmatched. His entire life has been full of political, social activism, and distinguished achievements. The legal provisions made by Jagjivan Ram to protect the fundamental rights of Dalits, workers, exploited, and oppressed for centuries are historical. Jagjivan Ram was such a personality who never compromised with injustice and always struggled for the honor of Dalits. From student life, he raised his voice against injustice. Babu Jagjivan Ram has a great contribution to the development of parliamentary democracy in India. He died on 6 July 1986 in New Delhi.
Chetan Anand (3 January 1915 – 6 July 1997) was a noted Hindi film producer-director and screenwriter. The credit for bringing Bollywood films to this level for the first time goes to Chetan Anand. Chetan Anand was the elder brother of the evergreen actor Dev Anand. Dev Anand could enter the film industry only because of Chetan Anand. He died on 6 July 1997 in Mumbai.
Dhirajlal Hirachand Ambani (28 December 1932 – 6 July 2002) was an Indian industrialist who founded Reliance Industries. He had only studied till the tenth standard, but based on his determination, he established his own huge trading and industrial empire. In just three decades, he transformed his small business into a huge industrial company. He died on 6 July 2002 in Mumbai.
Read More: 4 July in Indian and World History
Notable events on 6 July in Indian and World history
6 July 1787 – The Indian Botanical Garden was established in Shibpur, West Bengal.
6 July 1885 – Louis Pasteur successfully tested the rabies vaccine.
6 July 1859 – Scottish cleric and famous explorer David Levingston first set foot on this earth. After which, Britain took control of this country.
6 July 1923 – The Soviet Socialist Republic was established in.
6 July 1944 – For the first time, Netaji Subhash Chandra Bose called Mahatma Gandhi the Father of the Nation.
6 July 1961 – 300 people died in an explosion on a Portuguese ship near Mozambique.
6 July 1964 – Malawi, a country on the continent of Africa, became independent from Britain in 1964 and this day was declared as the national day of this country.
6 July 1990 – The Electronic Frontier Foundation was established.
6 July 2002 – Abdul Qadir, the Vice President of Afghanistan, was assassinated on this day.
6 July 2005 – Forty-thousand-year-old human footprints were found in Mexico.
6 July 2006 – France defeated Portugal at the World Cup of Football.
6 July 2006 – After 44 years, the Nathula Pass, which was closed since the 1962 Indo-China war, was opened. From here trade between India and China took place.
6 July 2009 – Jadranka Kosor became the first female Prime Minister of Croatia in 2009.
6 July 2012 – According to the World Investment Report-2012 released by the United Nations Conference on Trade and Development (UNCTAD), China was the most attractive investment destination for multinational companies in the period 2012 to 2014. America was followed by India.
6 July 2014 – The Israeli Air Force killed seven Hamas members in an attack on the Gaza Strip.
6 July is observed as World Zoonoses Day to emphasize and bring problem awareness amongst people and teach them to take the right action. The first vaccination against a zoonotic disease was administered by Louis Pasteur on 6 July 1885. Zoonosis is an infectious disease caused by a pathogen that originated in animals but jumped to humans directly or through an intermediary species.