30 December in Indian and World History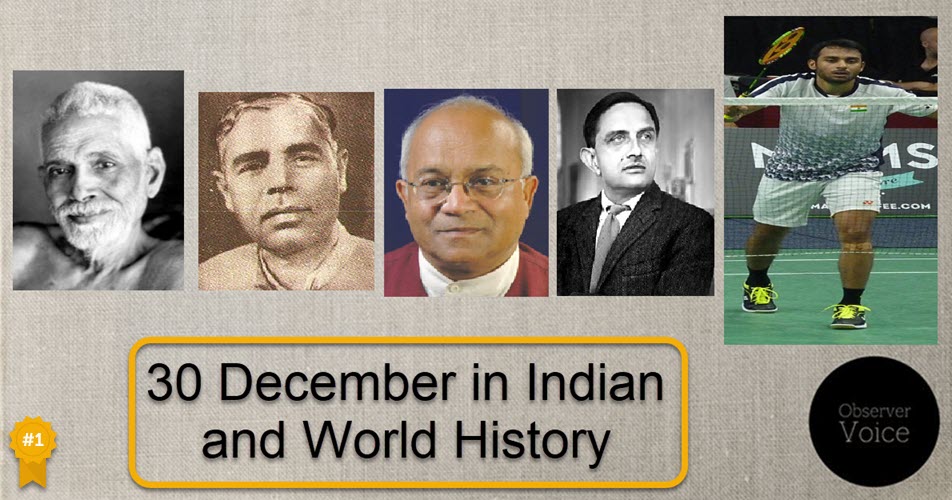 30 December in Indian and World History is celebrated, observed, and remembered for various reasons. 30 December is the birth anniversary of Ramana Maharshi, Prakash Vir Shastri, Sourabh Verma, and Ved Pratap Vaidik.
30 December is also observed as the death anniversary of Vikram Sarabhai, Dushyant Kumar, and Raghuvir Sahay.
Birth Anniversary
30 December in Indian history is celebrated as the birth anniversary of the following personalities:
Ramana Maharshi (30 December 1879 – 14 April 1950), a great twentieth-century sage who meditated deeply on the sacred Arunachala hill in Tamil Nadu. He is known as a calm sage not only in India but also abroad. He laid great emphasis on self-reflection. On coming in contact with Ramana Maharishi, there was an experience of immense peace. Even today people in search of peace visit the ashram of Ramana Maharishi in Tiruvannamalai, Arunachala hill, and Arunachaleshwara temple. Maharishi made the country proud by spreading his light in many countries of the West as well as India and did valuable service to mankind. Ramana Maharishi's name is foremost among the spiritual beloved sons of India. He was born on 30 December 1879.
Prakash Vir Shastri (30 December 1923 – 23 November 1977), a member of the Lok Sabha of the Indian Parliament. He was also famous as a scholar of Sanskrit and leader of Arya Samaj. His real name was 'Vidya Shankar Shastri'. Prakash Veer Shastri's name is taken among those who give speeches of high order in Indian politics. The arguments in Prakash veer's speeches were very powerful. He was born on 30 December 1923.
Sourabh Verma, a badminton player from India. He is a three-time men's singles title Champion at the Indian National Championships. He was born on 30 December 1992 in Dhar, Madhya Pradesh, India.
Ved Pratap Vaidik, an Indian political analyst, senior journalist, and Hindi lover. He always makes meaningful efforts towards establishing Hindi on India and the world stage. On the question of language, the name of Dr. Ved Pratap Vaidik is leading among those who carried forward the tradition of Swami Dayanand Saraswati, Mahatma Gandhi, and Ram Manohar Lohia. He was born on 30 December 1944 in Indore, Madhya Pradesh.
Read More: 29 December in Indian and World History
Death Anniversary
30 December in Indian history is observed as the death anniversary of the following personalities:
Vikram Sarabhai (12 August 1919 – 30 December 1971), considered the 'Father of Space Program' of India. His full name is 'Dr. Vikram Ambalal Sarabhai. He took India to new heights in the field of space research and recorded the country's presence on the international map. Vikram Sarabhai made equally pioneering contributions in other fields as well. He continued to work in textiles, pharmaceuticals, nuclear energy, electronics, and many other sectors till the end. Dr. Sarabhai was a creative scientist, a successful and futuristic industrialist, an innovator of the highest order, a great institution builder, a different kind of educationist, a connoisseur of the arts, an entrepreneur of social change, a leading management teacher, and many more. He died on 30 December 1971.
Dushyant Kumar (1 September 1933 – 30 December 1975), a Hindi poet and ghazalkar. The popularity that Dushyant Kumar got in the field of contemporary Hindi poetry, especially Hindi ghazals, is rare for a poet after decades. Dushyant is a timeless poet, and such poets remain relevant even after the change in time. The voice of Dushyant's writing echoes from the road to the Parliament. This poet wrote in all genres of poetry, songs, ghazals, poetry, drama, stories. But the immense popularity of ghazals put other genres in the background. He died on 30 December 1975.
Raghuvir Sahay (9 December 1929 – 30 December 1990), counted among those poets of Hindi literature whose language and craft had the influence of journalism and his works The plight of the common man was reflected in me. Raghuveer Sahay was an influential poet as well as a story writer, essay writer, and critic. He was also a renowned translator and journalist. He was awarded the Sahitya Akademi Award in 1982 for his book Log Bhool Gaye Hai. Sahai belonged to the generation that grew up after independence with a lot of aspirations. Sahai has expressed the same aspirations in his poems. Sahay is also counted among such poets who preferred to be future-oriented instead of looking into the past for inspiration. He died on 30 December 1990.
Read More: 28 December in Indian and World History
Notable events on 30 December in Indian and World history
30 December 1687 – Issued a charter in which people's representative rule was established.
30 December 1703 – The earthquake in Japan's capital Tokyo killed 37 thousand people.
30 December 1803 – Britain's East India Company controlled Delhi, Agra, and Bharuch.
30 December 1873 – Formation of the Metrological Society for Measurement in New York, USA.
30 December 1893 – Russia and France signed a military agreement.
30 December 1906 – The All-India Muslim League was founded in Dhaka (now Bangladesh).
30 December 1919 – Admission of the first female student to the law in London.
30 December 1922 – The creation of the Soviet Union was formally announced at the Bolshoi Theater in Moscow, the capital of Russia.
30 December 1922 – The Soviet Union (USSR) was established. The Soviet Union existed as a very powerful communist nation for almost 7 decades.
30 December 1935 – Sweden's Red Cross unit in the African country of Ethiopia was destroyed in an attack by Italian fighter planes.
30 December 1938 – VK Jorikin patented the electronic television system.
30 December 1943 – Freedom fighter Subhas Chandra Bose hoisted the flag of India's independence at Port Blair.
30 December 1947 – With the resignation of the King of Romania, the monarchy regime in this country came to an end and democracy was established.
30 December 1975 – The constitution came into effect in the African country of Madagascar.
30 December 1979 – The West African country of Togo adopted the constitution.
30 December 1993 – The Vatican recognized Israel.
30 December 1996 – The civil war in Guatemala that had been going on for the last 36 years ended.
30 December 2000 – General Omar-il Basil was re-elected President of Sudan declared Colombia the most violent and dangerous country in the world.
30 December 2002 – Australia won the fourth Ashes Test against England.
30 December 2003 – Australia won the Melbourne Test by 9 wickets over India.
30 December 2006 – Saddam Hussein, the former dictator of Iraq, was executed.
30 December 2007 – Bilawal, son of the late Benazir Bhutto, was elected the chairman of the Pakistan People's Party.
30 December 2012 – 19 killed in a suicide attack in Pakistan's Balochistan.