21 June in Indian and World History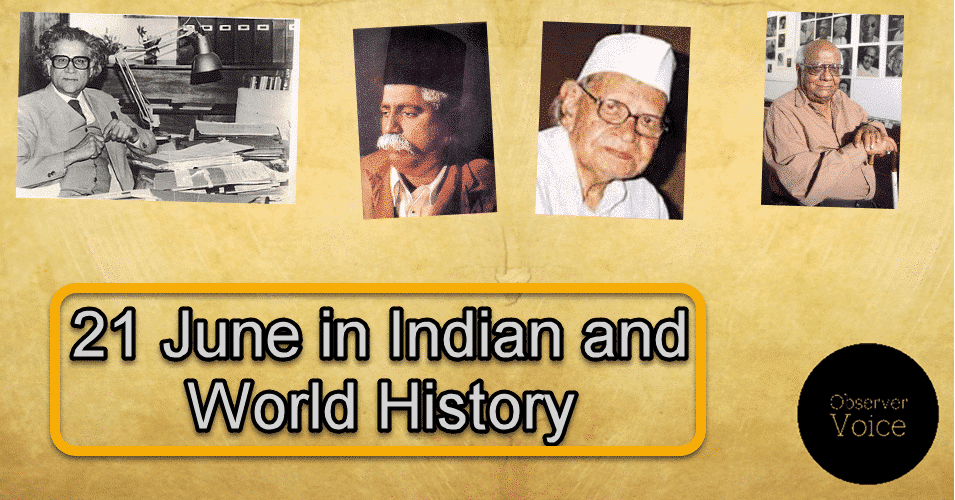 21 June in Indian and World History is celebrated, observed, and remembered for various reasons. 21 June is the birth anniversary of Vishnu Prabhakar, Bikash Bhattacharjee, Reema Lagoo, and Abhinandan Varthaman.
21 June is also observed as the death anniversary of Keshav Baliram Hedgewar, Professor Jayashankar, Abid Hussain, and Sunil Janah
Birth Anniversary
21 June in Indian history is celebrated as the birth anniversary of the following personalities:
Vishnu Prabhakar (21 June 1912 – 11 April 2009), a Hindi writer. He had several short stories, novels, plays, and travelogues to his name. Prabhakar's works have elements of patriotism, nationalism, and messages of social upliftment. He was the First Sahitya Academy Award winner from Haryana. He was honored with the Sahitya Akademi Award in 1993, the Mahapandit Rahul Sankrityayan Award in 1995, and the Padma Bhushan by the Government of India in 2004. He was born on 21 June 1912.
Bikash Bhattacharjee (21 June 1940 – 18 December 2006), an Indian painter. Through his paintings, he depicted the life of the average middle-class Bengali – their aspirations, superstitions, hypocrisy and corruption, and violence. He worked in oils, acrylics, and water-colours. In 2003, he was awarded the highest award of Lalit Kala Akademi, India's National Academy of Arts, and the Lalit Kala Akademi Fellowship. He was born on 21 June 1940 in Kolkata.
Reema Lagoo (21 June 1958 – 18 May 2017), an Indian theatre and screen actress known for her work in Hindi and Marathi cinema. She began her acting career in the Marathi theatre, after which she became a household name for playing motherly roles in the 1990s and early 2000s. She was born on 21 June 1958.
Wing Commander Abhinandan Varthaman, an Indian Air Force fighter pilot who, during the 2019 India–Pakistan standoff, was held captive in Pakistan for 60 hours after his aircraft was shot down in an aerial dogfight. He was awarded a medal by the Indian government for shooting down a PAF F-16 with his MiG-21 Bison. Varthaman has conferred the Vir Chakra gallantry award in August 2019. He was born on 21 June 1983 in Tamil Nadu, India.
Read More: 20 June in Indian and World History
Death Anniversary
21 June in Indian history is observed as the death anniversary of the following personalities:
Keshav Baliram Hedgewar (1 April 1889 – 21 June 1940), the founding Sarsanghachalak of RSS. He founded Nagpur in 1925 based on Hindutva Ideology. Hedgewar died on 21 June 1940.
Professor Jayashankar (6 August 1934 – 21 June 2011), an Indian academic and Social Activist. He was a leading ideologue of the Telangana Movement and has been fighting for a separate state since 1952. He died on 21 June 2011.
Abid Hussain (26 December 1926 – 21 June 2012), an Indian economist, civil servant, and diplomat. He was India's ambassador to the United States of America from 1990 to 1992 and a member of the Planning Commission from 1985 to 1990. He died on 21 June 2012 in London, England.
Sunil Janah (17 April 1918 — 21 June 2012), an Indian photojournalist and documentary photographer. Sunil Janah is internationally acclaimed for documenting India's independence movement, its peasant and labor movements, famines and riots, rural and tribal life, as well as the years of rapid urbanization and industrialization. He was best known for his coverage of the Bengal famine of 1943. The Government of India awarded him the civilian honor of Padma Shri in 2012. He died on 21 June 2012 in California, USA
Read More: 19 June in Indian and World History
Notable events on 21 June in Indian and World history
21-June-1576 – Mughal army defeated Rana Pratap in the battle of Haldighat.
21-June-1814 – Gilbert Aliat Minto, Governor-General of East Indian Company, died.
21-June-1941 – Chakravorty Rajgopalachari became the First Indian Governor-General of India.
21 June 1940 – Italy begins an unsuccessful invasion of France.
21 June 1942 – Tobruk falls to Italian and German forces; 33,000 Allied troops are taken, prisoner.
21 June 1942 – A Japanese submarine surfaces near the Columbia River in Oregon, firing 17 shells at Fort Stevens in one of only a handful of attacks by Japan against the United States mainland.
21 June 1945 – The Battle of Okinawa ends when the organized resistance of Imperial Japanese Army forces collapses in the Mabuni area on the southern tip of the main island.
21 June 1991 – P.V. Narasimha Rao becomes Prime Minister of India as head of the Congress minority government.
21 June 2001 –  Soad Hosny, was known as the "Cinderella of Egyptian cinema", died.
International Yoga Day is celebrated on 21 June to spread awareness about the importance and effects of yoga on the health of people.
World Music Day
21 June is observed as World Music Day. Citizens and residents are encouraged to play music in their neighborhoods and parks on Music Day. Free concerts are also held, where musicians play for fun.