19 June in Indian and World History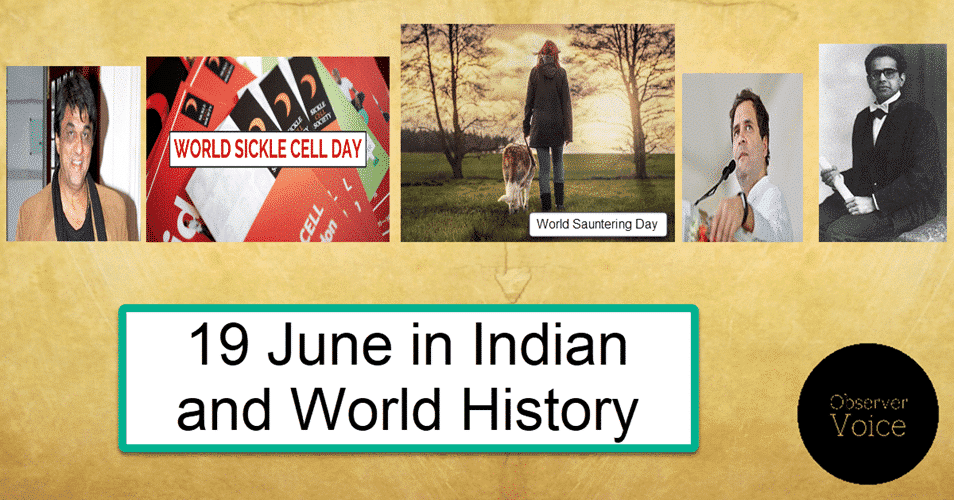 19 June in Indian and World History is celebrated, observed, and remembered for various reasons. 19 June is the birth anniversary of Madhavrao Sapre, Sudarshan Agarwal, Mukesh Khanna, and Rahul Gandhi.
19 June is also observed as the death anniversary of Subhash Mukhopadhyay, and Jandhyala.
Birth Anniversary
19 June in Indian history is celebrated as the birth anniversary of the following personalities:
Madhavrao Sapre (19 June 1871 – 23 April 1926) a prolific thinker, sage editor, freedom fighter, and a series of activists dedicated to public works. The work and contribution of Guru Karmayogi Pt. Madhavrao Sapre ji's story 'Ek Basket Bhar Mitti' has the credit of being the first story in Hindi. He was born on 19 June 1871 in Patharia Village, Damoh District, Madhya Pradesh.
Sudarshan Agarwal (19 June 1931 – 3 July 2019), a former Governor of Uttarakhand and Sikkim. At present, he is appointed as the Vice-Chairman of the Jury awarding the 'Jindal Award'. There have been many glorious aspects of Sudarshan Agarwal's personality. He held the post of Secretary-General of Rajya Sabha from 1981 to 1993. He was also the President of 'Delhi Gymkhana Club', he has also been a trustee of 'Sanskruti Kendra Sanskriti Pratishthan'. Sudarshan Agarwal is a Rotarian for the last 45 years. He is the former President of the 'Rotary Club' of India and has also been honored with the post of District Governor and Member and President of several committees of Rotary International. Sudarshan Agarwal was born on 19 June 1931 in Ludhiana, Punjab.
Mukesh Khanna, an Indian actor who works in Hindi films and television, and the former chairman of the Children's Film Society. He is best known for his portrayal of Shaktimaan in Doordarshan's Shaktimaan and Bhishma Pitamah in the Mahabharat. Mukesh Khanna was born on 23 June 1958 in Bombay, Bombay State, India.
Rahul Gandhi, an Indian politician, and a member of the Indian Parliament, representing the constituency of Wayanad, Kerala in the 17th Lok Sabha. Rahul started his political career in 2004. He contested the first Lok Sabha election from his father's constituency Amethi in Uttar Pradesh. He was appointed General Secretary of All India Congress Committee on 24 September 2007. He is a member of the Indian National Congress, he served as the President of the Indian National Congress from 16 December 2017 to 3 July 2019. Rahul Gandhi was born on 19 June 1970 in New Delhi, India.
Read More: 18 June in Indian and World History
Death Anniversary
19 June in Indian history is observed as the death anniversary of the following personalities:
Subhash Mukhopadhyay (16 January 1931 – 19 June 1981), an Indian scientist, physician from Hazaribagh, Bihar and Orissa Province, British India (now in Jharkhand, India), who created the world's second and India's first child using in-vitro fertilisation. He died on 19 June 1981.
Jandhyala (14 January 1951 – 19 June 2001), an Indian screenwriter, director, and actor known for his works in Telugu cinema. In a film career spanning twenty-four years, he has garnered four state Nandi Awards and the Filmfare Award. He died on 19 June 2001, due to a massive heart attack, at the age of 50 in Hyderabad, Andhra Pradesh, India (present-day Telangana).
Read More: 17 June in Indian and World History
Notable events on 19 June in Indian and World history
19 June 1865 – Union General Graner freed all slaves in Texas on this day.
19 June 1910 – The first Father's Day was celebrated in Washington on this day.
19 June 1968 – 50,000 people demonstrated economic justice under the leadership of Martin Luther King.
19 June 1982 – Hezbollah kidnapped the president of Beirut University in a terrorist attack.
19 June 1999 – The Group-8 summit began on 19 June 1999 in Cologne (Germany).
19 June 2005 – Forbes magazine ranked Ofra Winfe first among the 100 most powerful celebrities in the world.
19 June 2006 – Japan gave North Korea a stern warning over the nuclear test case.
19 June 2007 – Pakistan President Pervez Musharraf removed Mohammad Ali Durrani from the post of Information Minister. Pakistan was ranked 12th in the list of politically unstable countries in the world.
19 June 2008 – The Uttarakhand government suspended the 480 MW Pala Maneri and 380 MW Bhairondhari projects under construction on the Ganga.
19 June is observed as World Sickle Cell Awareness Day, held annually since 2008 to raise awareness about Sickle Cell Disease (SCD). Sickle cell anemia is a genetic red blood cell disorder. People with sickle cell disorders don't have enough healthy red blood cells to carry oxygen throughout the body.
World Sauntering Day is also celebrated on the 19th of June every year. It reminds everyone to hold up for a day and take it easy instead of rushing always. Sauntering is just a way of taking a leisurely walk. This day also reminds us to take easy, take time to see nature that is so beautiful, look at the sky, and enjoy life.