14 October: Gautam Gambhir an Indian politician and former cricketer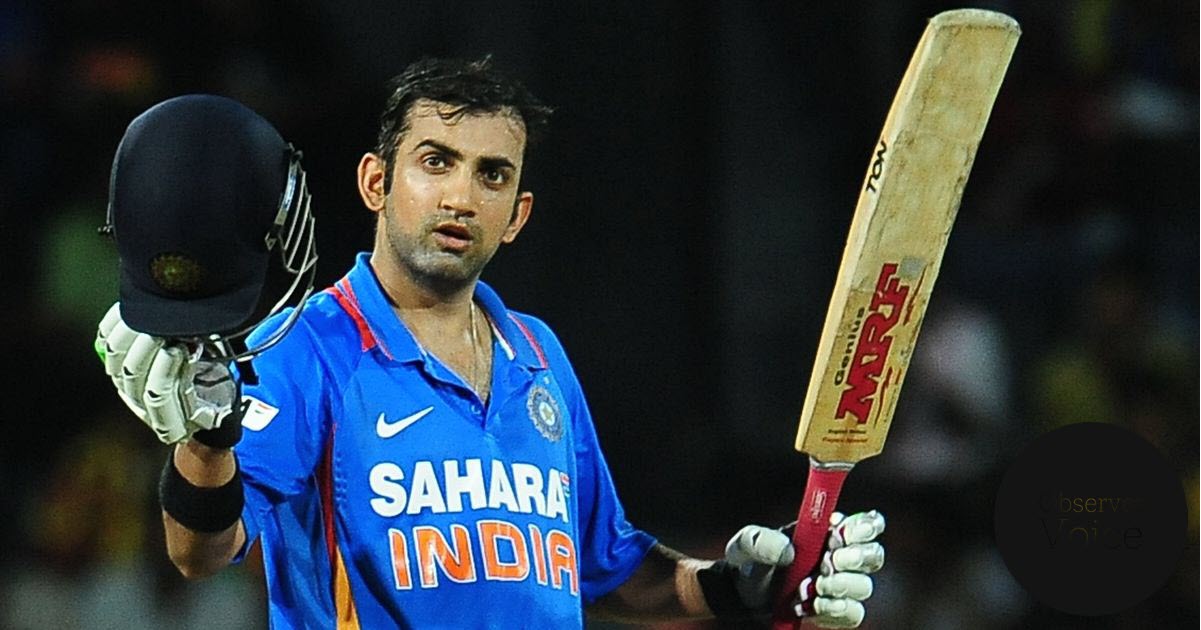 Gautam Gambhir (born 14 October 1981) is an Indian politician and former cricketer, who has played all formats of the game. Since 2019, he has served as a member of the Lok Sabha.
Early Life
Gautam Gambhir was born on 14 October 1981 in New Delhi. He started playing cricket at the age of 10. He attended Modern School, New Delhi, and graduated from Hindu College, University of Delhi. When he was a kid, he stayed at his maternal uncle Pawan Gulati's house. Raju Tandon and Sanjay Bharadwaj coached Gambhir at Lal Bahadur Shastri Academy. In 2000, Gambhir was selected for the first intake of the National Cricket Academy.
IPL Career
In the first player auction of the Indian Premier League, Gambhir was picked up by Delhi Daredevils for US$725,000. His 534 runs from 14 matches made him the second-highest run scorer of the inaugural season. In 2008, he was named to the Cricinfo IPL XI. In 2010, he was promoted to captain of Delhi Daredevils. During the IPL, he became the only Delhi Daredevils player to score more than 1000 runs.
He's the highest-paid cricketer in the history of IPL with a bid of $2.4 million from The Kolkata Knight Riders in the 2011 auction. After that, he became the team's captain. By beating defending champs Chennai Super Kings by 5 wickets at home in 2012, he led the side to their first title. He's the highest run-scorer for the Kolkata Knight Riders and was named captain of the Cricinfo IPL XI for 2012. He scored six half-centuries in the same season, becoming only the second player in IPL history to cross the 2000 runs mark and the second-highest run-scorer ever. In 2014, he led Kolkata Knight Riders to their second title by beating Kings XI Punjab. During the 2016 and 2017 seasons, he led Kolkata Knight Riders to the playoffs and scored the most runs. During the 2017 IPL season, he was named to the Cricinfo and Cricbuzz IPL XI.
During the IPL Auction on 27 January 2018, he was bought by the Delhi Daredevils and appointed captain. Gambhir resigned as captain of the Delhi Daredevils on 25 April, citing poor performance of the team, and Shreyas Iyer replaced him.
Gambhir became the mentor of the Lucknow Super Giants in December 2021.
International Career
Gautam Gambhir was selected for India's squad for the 2007 ICC World Twenty20 in South Africa, which they won by beating Pakistan in the final. During the tournament, Gambhir scored 227 runs at an average of 37.83, including three half-centuries, including 75 runs off 54 balls against Pakistan in the final. During the 2007 T20I World Cup, he was named 'Team of the Tournament by Cricinfo.
During the 2011 Cricket World Cup final, Gambhir hit 97 off 122 balls. He came into bat in the first over after Virender Sehwag was dismissed and anchored the Indian innings. He had a good partnership with Kohli, and then a match-winning partnership with Dhoni.
During his illustrious cricket career, he played 58 Tests and scored 4,154 runs in 104 innings at an average of 41.95, with nine centuries and 22 fifties. His highest score was 206. He scored 5,238 runs in 147 one-day international matches at an average of 39.68, with 11 tons and 34 fifties. His highest score was 150. He scored 932 runs in 37 T20Is at an average of 27.41 and a strike rate of 119.02, with 7 half-centuries.
Politics
He joined the BJP on 22 March 2019 with Arun Jaitley and Ravi Shankar Prasad. In the 2019 general election, he was the party's candidate from East Delhi. He declined a debate challenge from his opponent Atishi Marlena, saying he doesn't believe in "dharna and debates". In the elections, Gautam won by 695,109 votes over Atishi Marlena and Arvinder Singh Lovely.
Award
In 2019, he received the Padma Shri, the fourth-highest civilian award in India.
Read More: 13 October: Remembering Sister Nivedita on her Punya Tithi