11 February in Indian and World History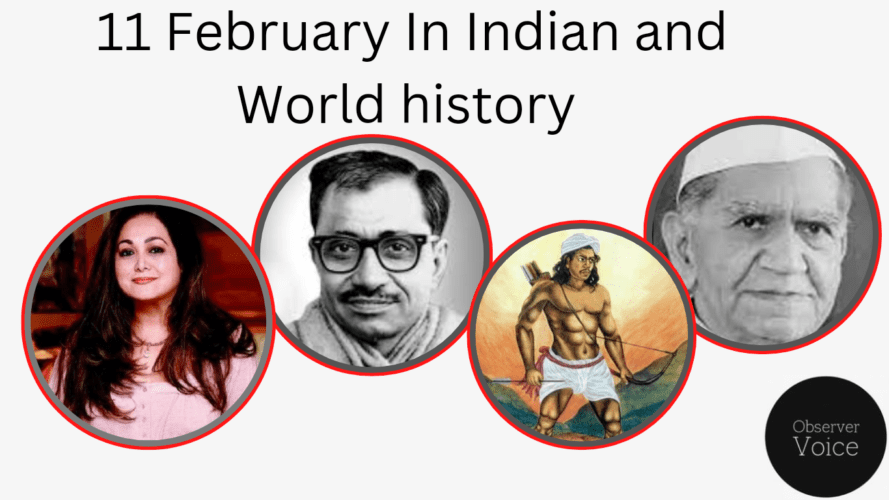 11 February in Indian and World History is celebrated, observed, and remembered for various reasons. 11 February is the birth anniversary of Tilka Manjhi, Damodar Swaroop Seth, and Tina Ambani.
11 February is also observed as the death anniversary of Jamnalal Bajaj, Harikrishna 'Jauhar', Deendayal Upadhyaya, and Fakhruddin Ali Ahmed.
Birth Anniversary
11 February in Indian history is celebrated as the birth anniversary of the following personalities:
Tilka Manjhi (11 February 1750 – 1785), the first martyr of the 'Indian War of Independence. He had waged a long battle against British rule. He also led the famous 'Santhal rebellion' by the Santhals. Tilka Manjhi's name is taken as the first freedom fighter and martyr of the country. He raised his voice strongly against the heinous acts of the barbarism of British rule. This brave freedom fighter was arrested in 1785 and then hanged. He was born on 11 February 1750 in Sultanganj, Bihar.
Damodar Swaroop Seth (11 February 1901 – 1965), a famous revolutionary and patriot. He was the Secretary of the Forward Bloc and a member of the Congress Party. He was born on 11 February 1901 in Bareilly, Uttar Pradesh.
Tina Ambani, a former Indian actress. She is married to Anil Ambani, Chairman of Reliance Group. She is actively involved in many foundations and charities. She was born on 11 February 1957 in Bombay, Bombay State, India.
Read More: 9 February in Indian and World History
Death Anniversary
11 February in Indian history is observed as the death anniversary of the following personalities:
Jamnalal Bajaj (4 November 1889 – 11 February 1942), a freedom fighter, industrialist, and anthropologist. He was very close and true follower of Mahatma Gandhi. Jamnalal Bajaj became the treasurer of the Congress in 1920 and he remained in this post for life. He had established 'Satyagraha Ashram' in Wardha. Apart from this, institutions like Gau Seva Sangh, Gandhi Seva Sangh, Cheap Sahitya Mandal etc. were also established by him. Jamnalal Bajaj was opposed to caste discrimination and also tried for the upliftment of Harijans. The 'Jamnalal Bajaj Award' has been instituted in his memory for doing commendable work in social fields. He was born on 11 February 1942 in Wardha.
Harikrishna 'Jauhar' (1880 – 11 February 1945), his name is taken with great respect among the early Hindi novel writers. He has an important place among the occult and detective novel writers. Harikrishna 'Jauhar' had contributed significantly in developing the novel tradition established by Babu Devkinandan Khatri in the direction of tilasmy novels. He died on 11 February 1945, Kashi.
Deendayal Upadhyaya (25 September 1916 – 11 February 1968), a leader of the Bharatiya Jana Sangh. Pandit Deendayal Upadhyay was a brilliant thinker, excellent organizer, and a leader who valued his personal honesty and integrity throughout his life. He has been a source of ideological guidance and moral inspiration for the Bharatiya Janata Party. Pandit Deendayal Upadhyay considered those who divided Indian culture based on religion and sect responsible for the partition of the country. He was not only a Hindu nationalist, but at the same time, he was also a pioneer of Indian politics. Deendayal believed that Hindus were not a religion or a sect, but the national culture of India. Deendayal Upadhyay's book is Integral Humanism, in which both communism and capitalism have been critiqued. He died on 11 February 1968.
Fakhruddin Ali Ahmed (13 May 1905 – 11 February 1977), known as the fifth President of India. His election as President is also vivid proof of the secular constitutional system of India. India was partitioned on the premise that the 'Muslim class will not be able to get respect in independent India'. The Muslim League and its leaders had also caused great damage to mutual harmony due to gluttony of power. But when the second Muslim person in the form of Fakhruddin Ali Ahmed became the President of India, it became clear that Indian constitutional secularism has no match in the world. He died on 11 February 1977.
Read More: 8 February in Indian and World History
Notable events on 11 February in Indian and World History
11 February 1543 – Rome and England signed a treaty against France.
11 February 1613 – the Mughal emperor Jahangir allowed the East India Company to set up a factory in Surat.
11 February 1720 – A peace agreement between Sweden and Prussia.
11 February 1793 – Venlo in the Netherlands was captured by the Prussian army.
11 February 1814 – The European country of Norway declared independence.
11 February 1826 – The University of London was established under the name of 'University College London'.
11 February 1889 – The Meiji Constitution was adopted in Japan.
11 February 1933 – The publication of Mahatma Gandhi's Harijan Weekly started.
11 February 1944 – German forces recaptured Aprilia, Italy.
11 February 1948 –  Sergei Eisenstein, a Soviet film director, screenwriter, film editor, and film theorist, died.
11 February 1953 – The Soviet Union broke diplomatic relations with Israel.
11 February 1955 – Newspapers were first published in India.
11 February 1959 – Indian cricketer Vinoo Mankand played his last Test against West Indies in Delhi.
11 February 1963 – The US recognized the new government of Iraq.
11 February 1964 – Taiwan broke diplomatic relations with France on this day.
11 February 1964 – The war between the Turks and the Greeks began.
11 February 1990 – The great leader of South Africa, Nelson Mandela was released on this day from a 27-year-long prison sentence.
11 February 1992 – Security forces in Algeria also recovered a huge amount of weapons, including the arrest of four Muslim guerrillas.
11 February 1997 – Indian astrophysicist Jayant V Narlikar was awarded the 1996 UNESCO Kalinga Prize.
11 February 2003 – the England cricket team refused to play their World Cup match, as it was to be played in Zimbabwe. Let us tell you that this was the first case of not playing the match in World Cup cricket because of the venue.
11 February 2007 – US aluminum firm Novelis acquired by Hindalco.
11 February 2008 – Russian Prime Minister Viktor Zubkov arrived in India on a two-day visit.
11 February 2009 – Saraswati Samman was announced to the famous Assamese writer Dr. Lakshmi Nandan Bora.
11 February 2013 – 18 mineworkers were killed in an explosion in Russia's Komi region.
11 February 2014 – a military transport plane crashed in a mountainous area in Oum el Buadhi province in eastern Algeria, killing about 77 people.
11 February 2015 – A university student was murdered in Turkey after she resisted an attempted rape.
11 February is observed as World Day of the Sick. This day was introduced by Pope John Paul II as a way for believers to offer prayers for those suffering from illness.
11 February is also Observed as International Day of Women and Girls in Science. It is celebrated to recognize the role of women and girls in science, not only as beneficiaries but also as agents of change. Also, to achieve gender equality and empowerment of women and girls.