Remembering Milena Salvini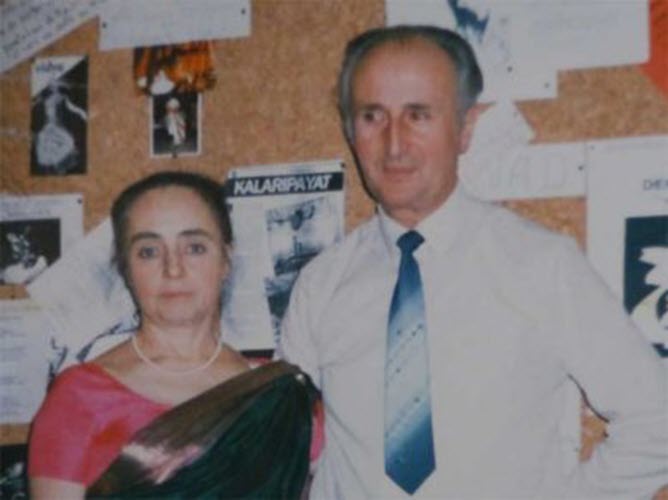 Milena Salvini and Roger Filipuzzi | Image Source: https://narthaki.com/info/gtsk/gtsk113.html
Milena Salvini (1930s – 25 January 2022) was a French teacher of Indian classical dance. She was famous for teaching Kathakali. Padma Shri, India's fourth highest civilian award, was awarded to her in 2019.
Life and action
Salvini was born in Milan. Her father died when she was four years old. When she was five, her mother brought her to France, where she began learning music. She also studied modern dance; in 1963, she danced with the Ballets Contemporaines de Karin Waehner in Sensemaya by Sara Pardo.
The History Which They Did not Teach you in Class – "Quit India Movement"
Salvini got a scholarship to train in Kathakali at the Kerala Kalamandalam in 1962. Milena was the first French disciple of veteran guru M. K. Saroja in 1967.
Upon her return to France, she set up a tour for the Kathakali troupe of the Kalamandalam under the auspices of UNESCO. Salvini and her husband, Filipuzzi,  opened the Mandapa Center in Paris, France, in 1975 to teach classical dance. In 1980, she arranged for Kalamandalam's Kutiyattam troupe to travel to Europe with UNESCO funding. Another Kutiyattam tour she organized resulted in an application to UNESCO's newly established Intangible Cultural Heritage of Humanity program. Kutiyattam made the list in May 2001.
Award and Legacy
Prime Minister Narendra Modi personally handed over the Padma Shri award to her in 2019 on his visit to France. The Prime Minister remembered her passion towards Indian culture.
Ms. Milena Salvini will be remembered for her passion towards Indian culture. She made numerous efforts to further popularise Kathakali across France. I am anguished by her passing away. My thoughts are with her family and well-wishers. May her soul rest in peace.

— Narendra Modi (@narendramodi) January 26, 2022
Immortality
Milena Salvini, founder-director of Mandapa Centre, Paris, died on January 25, 2022. She was 88.
Read Also: World Sanskrit Day