Remembering Kaifi Azmi on his punya tithi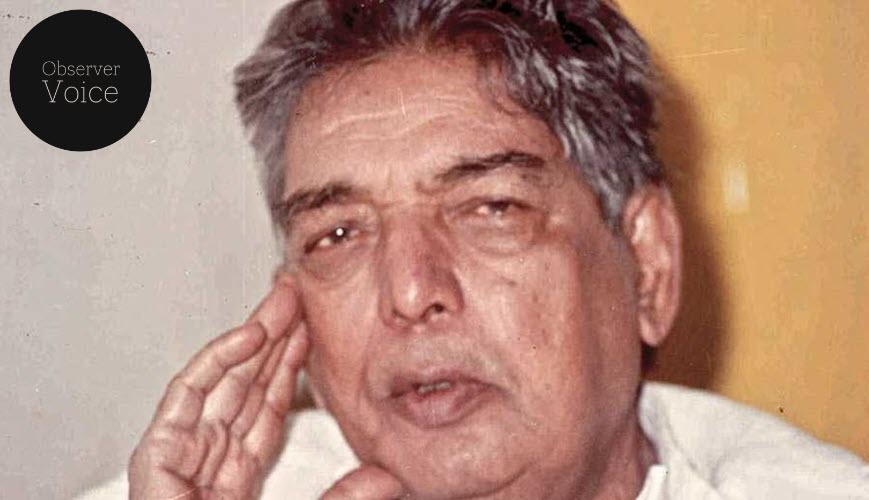 Kaifi Azmi (14 January 1919 – 10 May 2002) was an Indian Urdu poet. one of the most renowned Indian poets of the 20th century.
Early Life
Kaifi Azmi was born on 14 January 1919, in Uttar Pradesh, India. His family wanted him to be a cleric, so he attended a seminary. After the Quit India Movement, he gave up formal education and joined the Communist Party of India.
He started writing ghazals from a very young age and the first ghazal that he wrote was Itna To Zindagi Mein Kisi Ki Khalal Pade. 
Career
In 1943, Azmi moved to Mumbai, where he worked as a trade unionist and wrote for Urdu papers, including Qaumi Jung ("People's War"). His first poetry book, Jhankar, came out that year too. During this time, he was closely associated with the Progressive Writers Association and the Indian People's Theatre Association. He even appeared in plays with leftists like Balraj Sahni.
Aakhir-e-Shab, Awaara Sajde, Kaifiyaat, Sarmaya, and Nai Gulistan are some of his most famous poems.
Along with poetry, he did movies too. Initially he wrote the lyrics for the 1951 film Buzdil. Then he became a writer for some of the most famous films of the golden era, like Yahudi Ki Beti, Miss Punjab Mail, and Parvin. His written film Heer Ranjha was arguably the biggest hit of his career. In addition to writing and lyricizing, he also acted. He played Naseem's grandfather in the 1995 movie Naseem. His story was the subject of Raman Kumar's documentary titled Diksha, released in 2015.
He is best known for the classic songs he wrote, including "Waqt ne kiya kya haseen sitam" (Kaagaj ke Phool, 1959), "Dhire dhire machal" (Anupama, 1966), "Chalte chalte yun hi koi" (Pakeezah, 1971), and "Koi ye kaise bataye" (Arth, 1982).
Awards
In 1974, he received the Padma Shri, the fourth highest civilian award of India.
In 1975, he was awarded the Sahitya Akademi Award for Urdu for his collection Awaara Sajde. He was also honoured with the prestigious Sahitya Akademi Fellowship for lifetime achievement.
Death
He died on 10 May 2002, in Mumbai, Maharashtra, India.