Olaf Scholz elected as Chancellor of Germany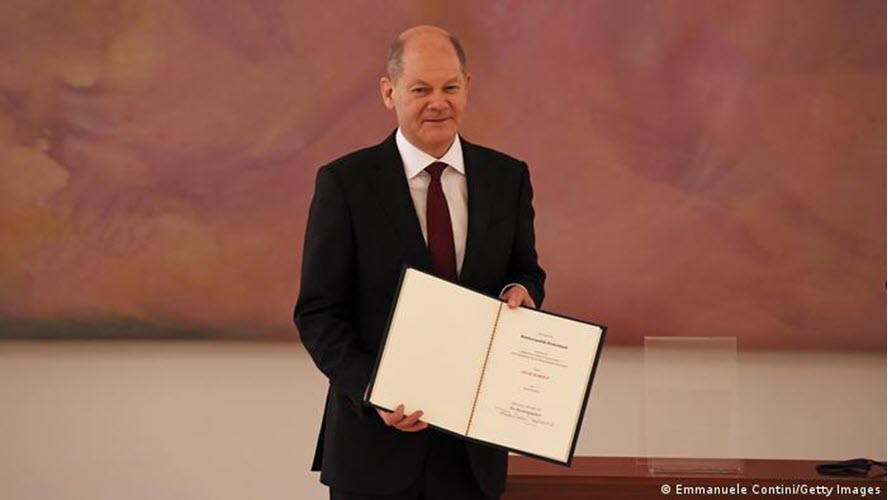 Olaf Scholz elected as Chancellor of Germany
Olaf Scholz elected as Chancellor of Germany. Center-left Social Democrat Olaf Scholz has been elected by the Bundestag as the new chancellor of Germany, replacing Angela Merkel, and will head a coalition government with the Green Party and the neoliberal Free Democrats. With this, 16 years of conservative rule under Angela Merkel ended. It is paving the way for a pro-European coalition government that has promised to boost green investment.
Scholz, 63, who served as vice chancellor and finance minister in Merkel's outgoing government, got a clear majority on Wednesday of 395 votes from lawmakers in the Bundestag lower house of parliament.
Angela Merkel became the first female chancellor of Germany on 10 October 2005. During her tenure as Chancellor, Merkel was frequently referred to as the de facto leader of the European Union and the most powerful woman in the world.
Congratulatory message from Shri Narendra Modi
The Prime Minister, Shri Narendra Modi has congratulated H. E. Olaf Scholz on being elected as the Federal Chancellor of Germany. In his message, he congratulated the new Chancellor. Simultaneously, Shri Narendra Modi expressed his hope and interests to further strengthen the Strategic Partnership between India and Germany.
My heartiest congratulations to @OlafScholz on being elected as the Federal Chancellor of Germany. I look forward to working closely to further strengthen the Strategic Partnership between India and Germany.

— Narendra Modi (@narendramodi) December 9, 2021