14 January: Rememebring Mahasweta Devi on Birth Anniversary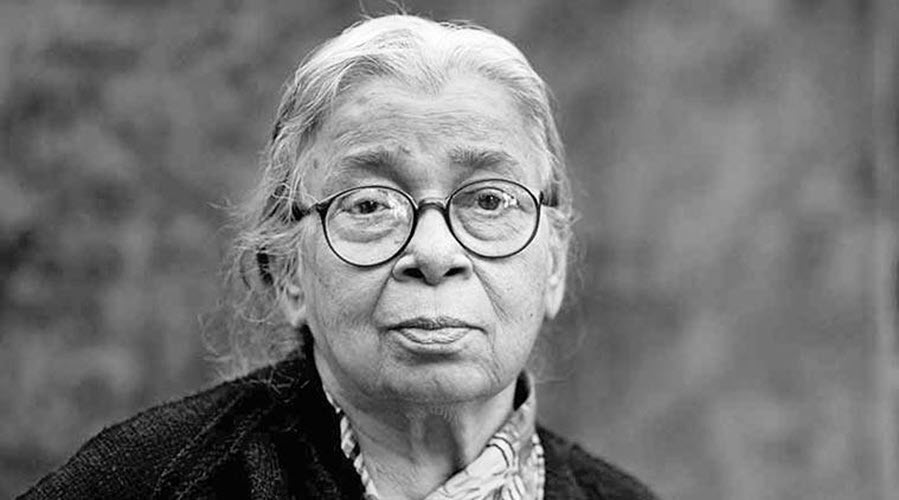 Mahasweta Devi (14 January 1926-28 July 2016) was an Indian writer and social activist. She wrote several essays, novels, and short stories, including Aranyer Adhikar, Rudali, and Hajar Churashir Maa. She received the Padma Vibhushan and Padma Shri, the second and fourth-highest civilian awards of India.
Life and Career
Mahasweta Devi was born on 14 January 1926, in Dhaka, Bangladesh. She's the daughter of poet and novelist Manish Ghatak. In 1930, she studied at Eden Montessori School in Dhaka. After the partition of Bengal, she moved to West Bengal. After that, she finished high school and got her bachelor's degree in English from Visva-Bharati, Shantiniketan. Then, she earned an M.A. degree in English from Kolkata University.
She started teaching at Vijaygarh Jyotish Ray College in 1964. At the time, Vijaygarh Jyotish Ray College was a working-class girls' college. During that time, she worked as a journalist and a creative writer.
In 1956, she wrote her first novel, "The Queen of Jhansi". Based on a true story about the Rani of Jhansi, a woman who turns into a warrior during the Indian Rebellion of 1857.
More than 100 novels and 20 collections of short stories she wrote in Bengali.
Her specialty is studying Indian aborigines, Dalits, and women from marginalized backgrounds. Their protests were against British colonialism, the Mahajanas, and upper-class corruption and injustice. Over the years, she befriended Adivasi people in West Bengal, Bihar, Madhya Pradesh, and Chhattisgarh, and learned from them. Through her words, she captures their struggles and sacrifices. "Her stories aren't hers, they're her people's stories," she says. "Chotti Mundi Ebong Tar Tir" is an example. In her novel "Mother of 1084" (1974), she tells the story of a bereaved mother fighting against Maoist rebels in India's tribal belt, a region where unrest has occurred.
Several times, she spoke out against the discrimination Indian tribes face. In her 1977 novel Aranyer Adhikar, she wrote about the life of Birsa Munda. As a result of Devi's activism, the Jharkhand state government finally took off the manacles on Munda's statue in June 2016. The sculpture was based on a photo from the British era, so the manacles had to go.
In an interview with Revolutionary Democracy in 1999, she said "My firm belief is that the most valuable historical material is what's in the hearts and minds of the people".
She died on 28 July 2016, Kolkata, India. She suffered from diabetes, sepsis, and a urinary infection.
Award and Legacy
She received the Padma Vibhushan and Padma Shri, the second and fourth-highest civilian awards in India.
In 1979, she was honored with the Sahitya Akademi Award. In 1996, she received the Jnanpith Award, and the Ramon Magsaysay Award, in 1997. On 14 January 2018, Google doodle celebrated Mahasweta Devi's 92nd Birthday.
Read More; Rakesh Sharma, the first Indian who went into space