Leela Games 2022 for a better Alang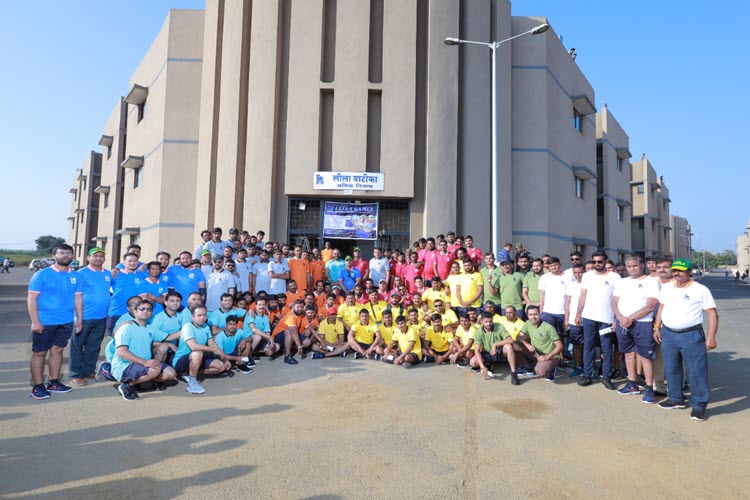 On 20th Nov 2022 this year, a total of 180 players participated in this half-day event. 3 games (1.5 km Run, Volleyball, and Tug-of-War) were played among all eight (8) teams. Team names (Ganga, Yamuna, Saraswati, Brahmputra, Tapti, Narmada, Godavari, and Krishna) were given after the Indian majestic river name.
The Top management of Leela Worldwide has taken the lead in organizing the 3rd annual event of Leela Games, which included the Leela Worldwide workers, players from Leela Worldwide's other business verticals, players from other yards, auditors, contractors, NGOs, local residents, cash-buyers, local schools and invited guests from all over Gujarat.
The purpose of organizing this game was to bring the whole ship recycling industry to one common platform, other than the work. This event has aimed to have more bonding among the workers in ship recycling yards in Alang and other stakeholders, who are directly or indirectly connected to this industry. This annual event has also aimed to promote mental health among everyone, related to this ship recycling industry.
Organizing this annual event for the last three years successfully has helped Leela Worldwide to set a benchmark and convey the message that all the stakeholders are really serious about working towards a Better Alang.
The Leela Games was started in 2020 with very few enthusiastic players in the Leela Group of Ship Recycling Yards. It was later extended to all 4 yards of Leela Group of Ship Recycling Yards, contractors, and local residents in the year 2021.
Under the guidance of Leela Worldwide Chairman and Managing Director (Mr. Komalkant F. Sharma), Mr. Vishaal Raj Soni (CEO) himself led the event with the help of Mr. Prabhat Kumar (VP-HSEQ/Naval Arch) to emphasize on the belief that lead by example is the best way to motivate the team to work on the common goal.
Out of eight (8), four (4) teams were formed from each yard of the Leela Group of Ship Recycling Yards and other four (4) teams were formed from the guests. All teams played very well but the overall winner (1.5 km Run, Volleyball, and Tug-of-War) cup was won by Team Yamuna. Everyone, who was physically present during the event and those, who could not attend this event due to some limitations, is looking forward to participating in this wonderful event the next year in 2023.
About Leela Worldwide
The Leela Group of Companies is a prominent business house of Gujarat, with diverse interests in ship recycling, and Buying and Selling of Ships, Travel and Tours, Real Estate and Construction, Hospitality, Fine Diamond Jewelry, and Electronic and Print Media.
More information can be found on its social media pages
LinkedIn (https://www.linkedin.com/company/leela-group-of-ship-recycling-yards/)
Facebook (https://lnkd.in/eutCMpkk)
Twitter (https://lnkd.in/edQk5j9f)
Instagram (https://lnkd.in/ex_7aDRu)
Youtube (https://lnkd.in/dDa4MMDj)"