Dwijendranath Tagore, an Indian poet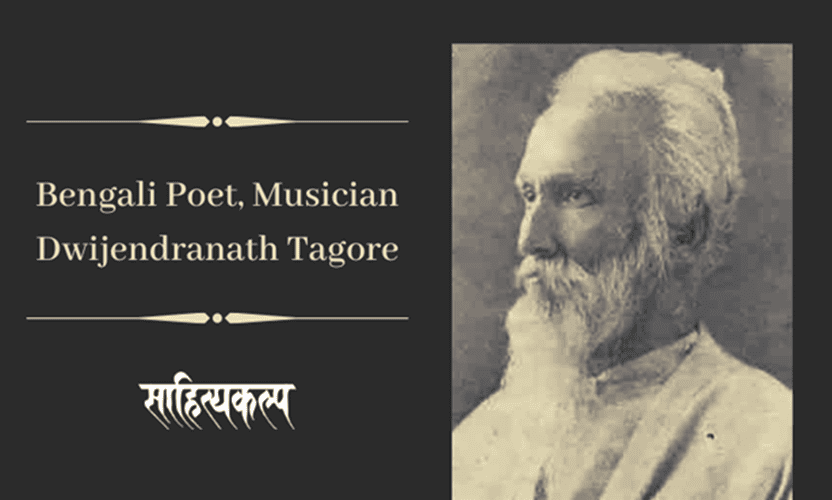 Dwijendranath Tagore (11 March 1840 – 19 January 1926) was an Indian philosopher, translator, poet, mathematician, and music composer.
Early Life
Dwijendranath Tagore was born on 11 March 1840. His father Debendranath Tagore was a social and religious reformer, and one of the founders of Brahmo Samaj, a Hindu reform movement. He got his education mostly from a tutor. He also attended St. Paul's School and Hindu College in Kolkata. His brother Satyendranath Tagore was very close to him. Despite some differences, they were very close. Dwijendranath was a devoted follower of the traditional reforms of the time, and Satyendranath was against these reforms and in favor of creating a new modern society. His brother Rabindranath Tagore, a Nobel laureate and poet, was born in 1861.
Career
His first collection of poetry, Swapnaprayan, is about a young man traveling all over the world and was published in 1875. In it, the many rhythmic styles he uses come to the fore, and it's considered one of the most significant works of Bengali literature.
Dwijendranath was heavily influenced by the poet Michael Madhusudan Dutta at the time when he started writing poetry.
In addition to translating the Upanishads into Bengali, Dwijendranath translated the Brahmo Dharma Grantha, a prayer book from the Brahmo Samaj.
In addition to the National Society, he helped found the Biddvajan-Samagam. The Bhagavadgita is his favorite book.
The Adwaita Mater Samalochana, and Aryadharma O Boudhya Dharmer Ghat-Protighat are some other philosophical works by him.
Over 20 years he edited Tattwabodhini Patrika, and he started Hitabadi.
From 1897 to 1900, he was the president of the Bangiya Sahitya Parishad. He invented Bengali shorthand and Bengali notation.
He was secretary of the Adi Brahmo Samaj between 1866 and 1871.
His works include Bhratrbhab, Tattvabidya, Sonar Kathi Rupar Kathi, Aryami ebang Sahebiana, Advaitamater Samalochana, Brahmajnan O Brahmasadhana and Prabandhamala. Also, he wrote a lot of devotional and patriotic songs.
In Santiniketan, he spent the last two decades of his life. Lots of people came to meet him.
Death
He died on 19 January 1926 at Santiniketan.
Read More; 11 March in Indian and World History