"Government of India is improving the healthcare and medical education sectors through a holistic approach that not only envisages creating more quality healthcare infrastructure but also trained manpower to efficiently run institutions. Health is today being linked with development because only a health society can become a developed society". This was stated by Dr Mansukh Mandaviya, Union Minister for Health and Family Welfare during his address to the plenary session of the Uttar Pradesh Global Investors Summit in the presence of Shri Brajesh Pathak, Deputy Chief Minister, Uttar Pradesh and Shri Mayankeshwar Sharan Singh, Minister of State, Health and Family Welfare and Medical Education, Govt of Uttar Pradesh, here today.
The purpose of the session was to discuss the progress and way forward on priorities in the healthcare and medical education sector. In this interactive session, the Uttar Pradesh govt also provided information on new medical facilities to the investors and highlighted opportunities available in medical colleges, para medical colleges and diagnostic facilities in the state.
Speaking on the occasion, Dr Mansukh Mandaviya stated that "Uttar Pradesh is the land of Sushrut and Charaka. Under the leadership of Shri Narendra Modi at the centre and Shri Yogi Adityanath in the state, UP is a land of opportunities".
Encouraging investors and businesses to encash on the opportunities available in the healthcare and medical education sectors in the state, Dr Mandaviya stated that "the govt has created a conducive ecosystem for businesses to grow and has brought in long-term policies to encourage investors in the healthcare sector". He emphasized that because of the policies of the government, there are over 100 unicorns in the country today.
Dr Mandaviya also highlighted that govt schemes like the Ayushman Bharat initiative has empowered and enabled even the poorest of the poor to benefit from quality treatment, even in private medical institutions.
The Union Health Minister also stated that the country is today 65% dependent on import of medical devices and urged entrepreneurs to reduce this high dependency. Reminding the audience of India successfully reducing the dependency of APIs for critical medicines in recent years, he also encouraged them to innovate in producing medical devices indigenously.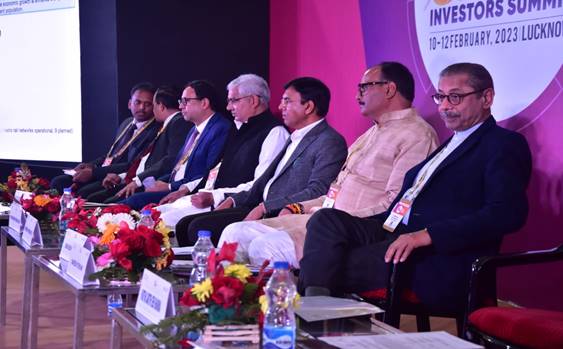 Shri Brajesh Pathak highlighted that investment proposals to the tune of Rs. 54,000 cr has been received in the healthcare sector and proposals of Rs. 17,000 cr has been received in medical education sector.
Shri Mayankeshwar Sharan Singh noted that the country is moving towards 'atmanirbharta' in the healthcare sector. He urged investors to also invest in the rural areas which are witnessing rapid development.
Shri Partha Sarathi Sen Sharma, Principal Secretary, Health and Family Welfare, Govt of Uttar Pradesh, Shri Alok Kumar, Principal Secretary, Medical Education, Govt of Uttar Pradesh, Smt. Sangeeta Singh, CEO – State Health Agency, ABPMJAY and senior officials of the Union Govt and State Govt were present in the meeting.
**PIB India**
Tags:
Dr Mansukh Mandaviya
,
PIB INDIA