9 January in Indian and World History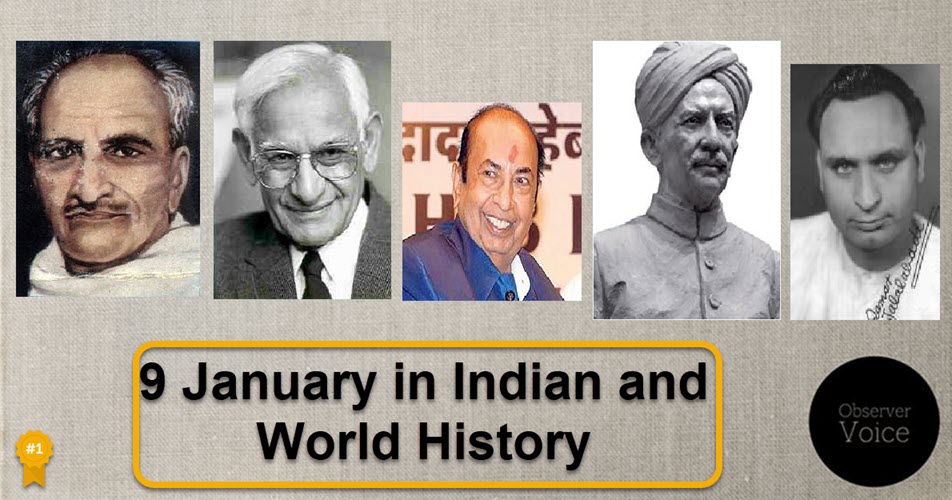 9 January in Indian and World History is celebrated, observed, and remembered for various reasons. 9 January is the birth anniversary of Vrindavan Lal Verma, Hargobind Khorana, Sunderlal Bahuguna, and Mahendra Kapoor.
9 January is also observed as the death anniversary of Sir Chhoturam, and Qamar Jalalabadi.
Birth Anniversary
9 January in Indian history is celebrated as the birth anniversary of the following personalities:
Vrindavan Lal Verma (9 January 1889 – 23 February 1969), a historical novelist and essayist. His father's name was Ayodhya Prasad. The Vidya-guru of Vrindavanlal Verma ji was Late Pandit Vidyadhar Dixit. He was born on 9 January 1889 in Mauranipur, Jhansi (Uttar Pradesh).
Hargobind Khorana (9 January 1922 – 9 November 2011), an Indian-born American biochemist. In 1968, in the field of physiology and medicine along with Marshall W. Nirenberg and Robert W. Hawley he received the Nobel Prize for research. This research helped to discover how the nucleic acid nucleotides that carry the cell's genetic code control the cell's protein synthesis. He was born on 9 January 1922.
Sunderlal Bahuguna (9 January 1927 – 21 May 2021), a renowned environmentalist and a prominent leader of the 'Chipko Movement'. He was awarded the 'National Integration Award' in 1984. According to Sunderlal Bahuguna, "It is more important to plant trees than to cut them". In 1949, after meeting Meeraben and Thakkar Bappa, Sunderlal Bahuguna made efforts for the upliftment of the students of the Depressed Classes and also established 'Thakkar Bappa Hostel' in Tehri for them. He also started a movement to get the right of temple entry to the Dalits. He was born on 9 January 1927.
Mahendra Kapoor (9 January 1934 – 27 September 2008), an Indian singer whose songs are sung even today. A versatile genius who enthralled generations with his songs, Mahendra Kapoor was one of the key figures of the golden age of Hindi film music and whenever patriotic songs are mentioned, he is the first name that comes to mind. The patriotic songs sung by him have a unique ability to fill people with the feeling of doing something for the country. With songs like 'Mere Desh ki Dharti Sona Ugle…', 'Bharat Ka Rahe Wala Hoon…', 'Abke Baras Tujhe Dharti Ki…', Mahendra Kapoor became synonymous with patriotic songs in his four decades. Sung about 25 thousand songs in the film journey. His talent was not limited to Hindi only, but he also gave vocals to songs in regional languages ​​like Punjabi, Marathi, Bhojpuri, etc. He was born on 9 January 1934.
Read More: 8 January in Indian and World History
Death Anniversary
9 January in Indian history is observed as the death anniversary of the following personalities:
Sir Chhoturam (24 November 1881 – 9 January 1945), an Indian freedom fighter and politician. As a brother of the poor, he was called 'Rahbar-e-Azam'. He was physically a man of short stature, but his personality was of great height. The real name of Chaudhary Chhotu Ram was Rai Richpal, but everyone in the family used to call him 'Chhotu' with love, then his name was also unknowingly entered in the register of the school and from here the real name of the boy Rai Richpal was Chhoturam. He died on 9 January 1945 in Lahore.
Qamar Jalalabadi (1919 – 9 January 2003), a famous lyricist and poet of Indian Hindi films. He continued to provide Hindi film world by writing more than one song as a lyricist for four decades. Songs written by Qamar Jalalabadi are still widely heard in India. The fun-filled songs "Mera Naam Chin Chin Choon" and "Aaiye Meherbaan Baithye Jaane Jaan" from the film 'Howrah Bridge' have become classics. He died on 9 January 2003.
Read More: 7 January in Indian and World History
Notable events on 9 January in Indian and World history
9 January 1718 – France declared war on Spain.
9 January 1760 – The Marathas were defeated by the Afghans in the Battle of Barari Ghat.
9 January 1768 – Philip Astley performed the first 'Modern Circus'.
9 January 1788 – Connecticut became the fifth US state.
9 January 1792 – Turkey and Russia signed a peace treaty.
9 January 1793 – The world's first hot air balloon took off in Philadelphia, USA.
9 January 1811 – The first women's golf tournament in the world was held.
9 January 1816 – Sir Humphry Davy tested the first 'Davy lamp' for miners.
9 January 1915 – Mahatma Gandhi reached Mumbai after returning from South Africa.
9 January 1941 – Six thousand Jews were killed in Bucharest, the capital of the European country Romania.
9 January 1957 – British Prime Minister Sir Anthony Eden resigned from his post due to health problems.
9 January 1970 – The Constitution of Singapore was adopted.
9 January 1982 – The first Indian scientific team reached Antarctica.
9 January 2001 – Apple announced iTunes at the Mack World Expo in San Francisco.
9 January 2001 – Bill to return the property of Hindus in Bangladesh passed.
9 January 2002 – Michael Jackson was awarded the Artist of the Century Award at the American Music Awards.
9 January 2007 – The first Ministry of State in Japan was formed.
9 January 2011 – Iran Air Flight 277 crashed, killing 77 people.
9 January 2012 – Lionel Messi won FIFA's (Best Footballer) award for the second year in a row in 2012.
9 January is Observed as NRI (Non-Resident Indian) Day or Pravasi Bharatiya Divas. It is celebrated every year on 9 January to mark the contribution of the overseas Indian community towards the development of India. This day also commemorates the return of Mahatma Gandhi from South Africa to Mumbai on 9 January 1915.